Have you ever wondered how technology is changing the way we look at the construction industry? In particular, a touch screen table is revolutionizing the way architects develop designs, inspectors review plans, and engineers examine structures. This blog post will explore why intelligent touchscreen tables are becoming increasingly popular among professionals working with code enforcement and plan review.
First, let's dive into the basics of what a touch screen table is and does. Touchscreen tables are interactive work surfaces that allow multiple users to interact at once. They're designed to recognize finger taps, slides, swipes, and even simple gestures like a pinch or twist. By responding quickly to input from multiple people at the same time, touchscreen tables can bring the entire team together in one collaborative space.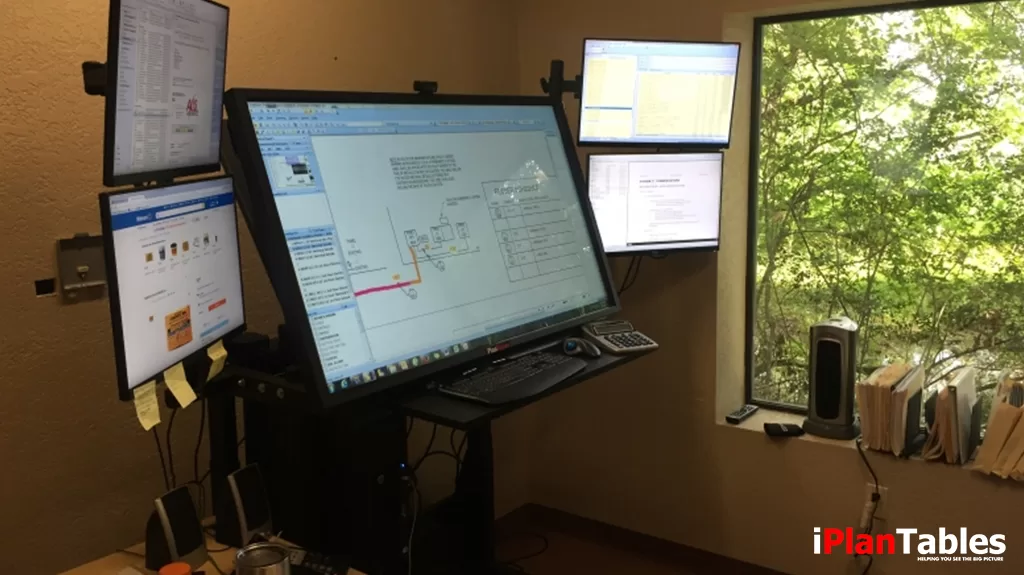 Enhancing Construction Efficiency and Collaboration
Now here's the rub. Many touch screen monitors tout the number of touches they can handle at any given time. The higher the number, the better it sounds right? Why pick a monitor that can handle 2 touches if another can handle 10? 20? 60? This information is all smoke and mirrors. Software that you must use on any touch screen monitor (the software you use right now) CANNOT distinguish and accommodate for multiple touches. So the higher the number means nothing.
Now let's look at how touchscreen tables are being used in construction and building industries. Architects are using interactive screens to help them develop intricate blueprints more quickly and accurately. Building code enforcement officers appreciate how much easier it is to review plans when they're presented on a large touch screen monitor table. And engineers are taking advantage of the tables' interactive capabilities to assess building structures within a matter of minutes. And don't forget estimators and take-offs. Zooming in with two fingers to see the details of a site photo. The list is endless.
But what's really incredible about intelligent touch screens is how much faster they're enabling professionals to work in the construction and building industries. Touch screen technology can easily reduce project review times, from weeks down to days or even hours! This means that deadlines can be met more efficiently and costly delays are avoided.
The advantages of using a touchscreen table don't end there. For example, they're a great way to keep track of plans and blueprints in real-time so that changes can be made on the fly. And with multiple users working together at once, meetings become much more efficient because everyone is able to focus on the same task simultaneously.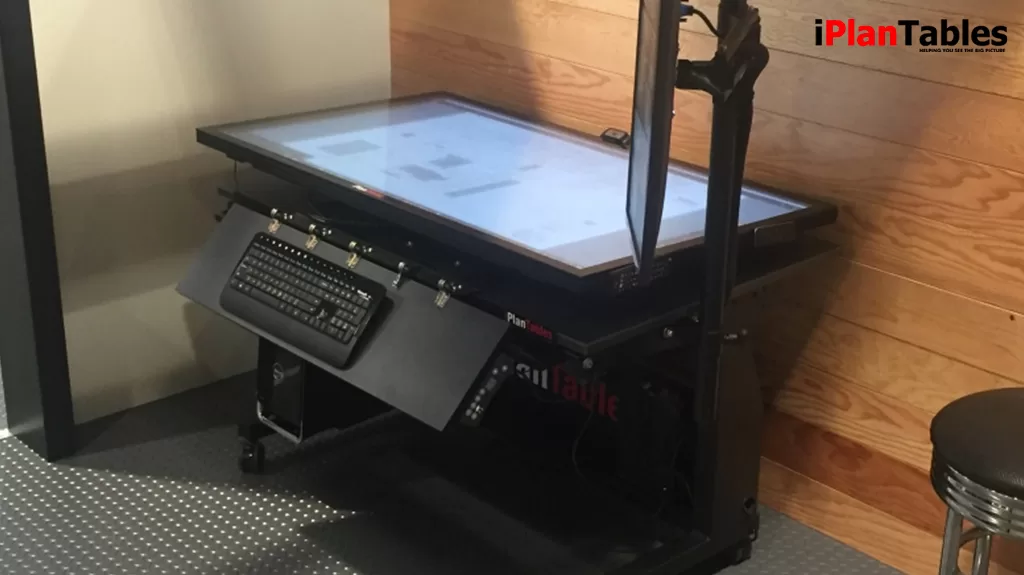 Finally, interactive tables are also beneficial for communication between teams and stakeholders. With one unified platform, everyone is able to engage in productive conversations over plans and designs from any location in the world. This makes it easier to collaborate with far-off partners while still adhering to project deadlines.
Adding a touchscreen table into your daily routine not only eliminates the need to print paper documents, plans, and specs, but it is quickly becoming an essential tool for construction and building professionals. Not only do they speed up the review process, but they also help ensure clear communication between all stakeholders involved in a project.
When it comes to construction and building industries, touchscreen tables are a must-have for any team looking to maximize efficiency and collaboration. Not only do they allow for intricate plans and specs to be quickly and accurately developed, but they also enable code enforcement officers and plan reviewers to review plans in record time. Plus, with multiple users working simultaneously on the same project, everyone is able to stay connected and up-to-date on changes or modifications.
Elevate Your Construction Efficiency with Cutting-Edge Touch Screen Table Technology
At iPlanTables, we understand the importance of harnessing touchscreen technology in the construction and building industries. That's why our team of experts is dedicated to helping you make the most out of your touchscreen table solution. With our selection of interactive displays, you can be sure that your team will have all the tools they need to stay ahead in an increasingly competitive industry. So don't wait – join us on the leading and innovative edge of touchscreen table technology and discover why iPlanTables is the best choice for your construction and building projects.
Styles of touchscreen tables vary, so it's important to choose one that fits your particular workflow needs. Take a look at our available options and find out which model best suits your team. With intuitive design and easy-to-use features, iPlanTables touch screen monitor workstations are the perfect touchscreen table solution for your business.
We know that successfully utilizing a touchscreen table takes more than just purchasing the device. That's why we also offer helpful online webinar training sessions to ensure you get the most out of your new tool. Our knowledgeable staff is always available to answer any questions you may have when it comes to setting up and using your new touchscreen table.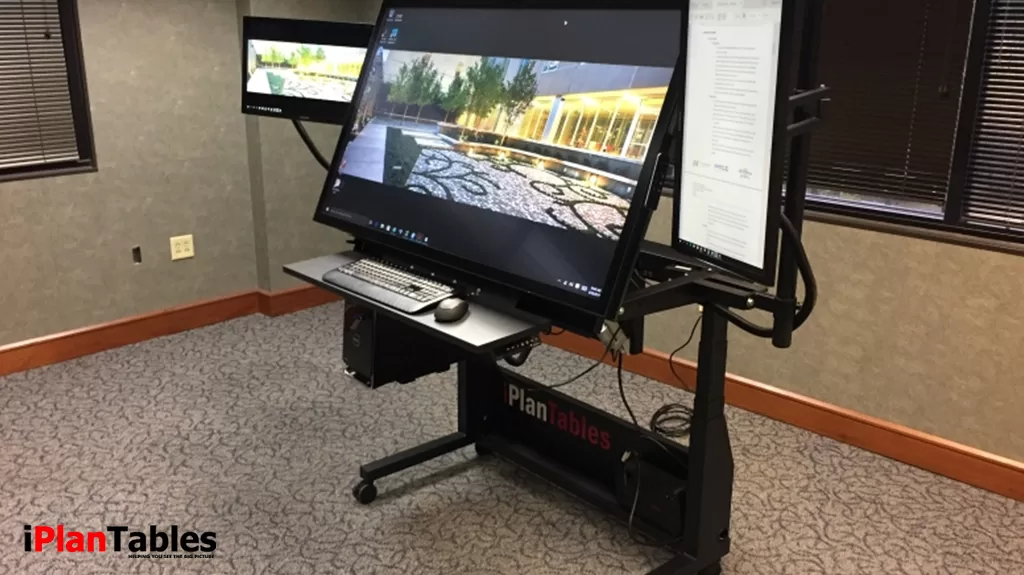 Building the Future of Construction Workstations with iPlanTables Touch Screen Table
We at iPlanTables believe that using a touchscreen table as your day-to-day workstation can help bring your construction and building projects to life. Explore our selection of interactive 4k touchscreen workstations, and you'll find the perfect solution for any project review or code enforcement need. Find out more by calling us today! So don't wait – take advantage of this leading-edge technology while it's still new and revolutionize the way you work in the construction and building industries.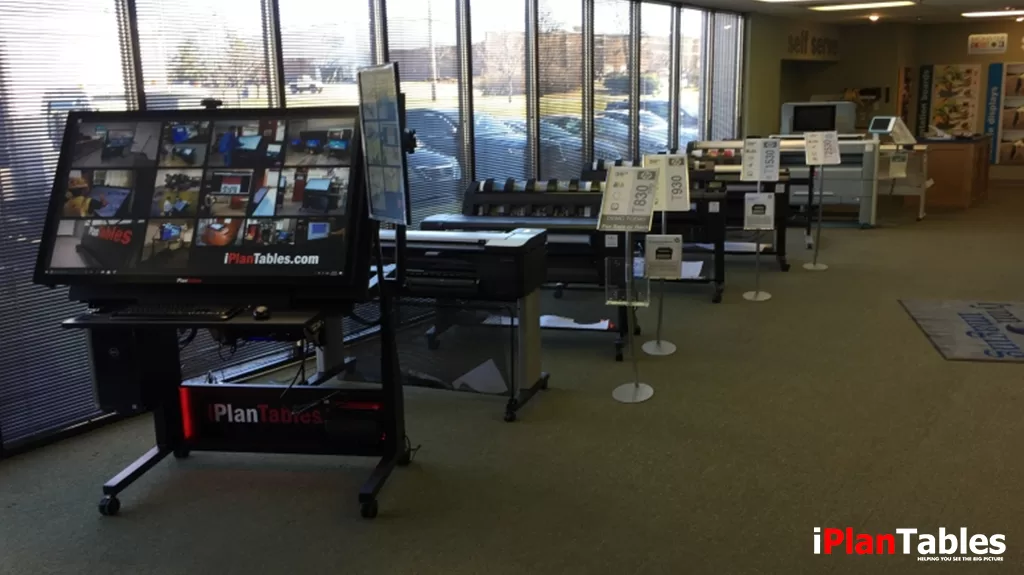 If you'd like to learn more about how touchscreen tables can streamline your workflow, be sure to check out our personalized interactive webinar.
Whether you're an architect, engineer, or building code enforcement officer, or plan reviewer, there's no question that touch screens are the way of the future. They allow everyone to work together in real-time and make sure that projects remain on schedule. Experience this revolutionary technology today and start seeing results right away!
Follow Us On Facebook