Are you ready to experience the next level of productivity? Say goodbye to clunky, outdated monitors and keyboards once and for all! Get ready to upgrade the way you work with iPlanTables large touch screen display Workstations – the ultimate solution for modern-day workers who demand high-performance and convenience.
With a large, crystal-clear display and sleek design – our workstations are a game changer for your office, department, or Jobsite. No more struggling to keep up with your tasks or squinting to see tiny text. You'll wonder how you ever managed without it!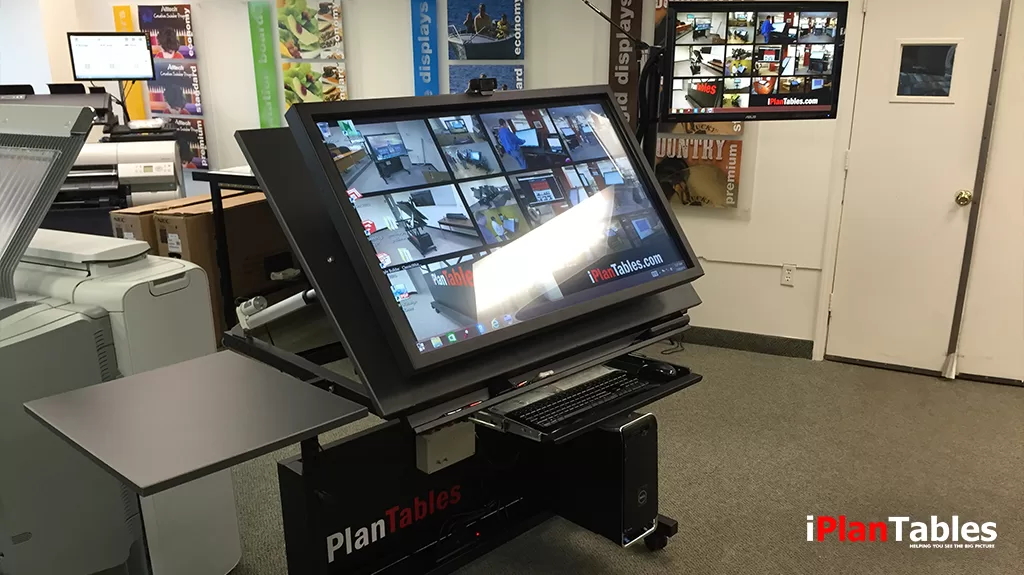 And don't worry, we don't sacrifice on style for functionality. Our workstations are built to last with high-quality materials and a streamlined look that will complement any workspace.
Get ready to work smarter, better, and faster with the iPlanTables workstation – designed specifically for today's business needs. So why wait? Upgrade to the iPlanTables workstation today and experience the difference for yourself.
Large Touch Screen Display Workstations for More Productivity
Upgrade Your Workspace with iPlanTables' High-End Workstations
Experience the ultimate visibility and efficiency with iPlanTables' advanced workstations. Equipped with a 4k large touch screen monitor and optional extra side monitors that let you view multiple documents simultaneously, iPlanTables' workstations optimize your productivity.

You can seamlessly perform multi-touch gestures like pinch and zoom, making viewing and working through projects a breeze.

Stay Organized and Focused While Working on Multiple Projects Simultaneously
Tired of feeling overwhelmed with multiple tasks and projects? iPlanTables' workstations are here to save the day! Our workstations support multiple document editing, keeping everything you need on one large display and smaller side monitors without having to switch back and forth between documents. Say goodbye to the toggling madness and hello to a clearer, more focused workday!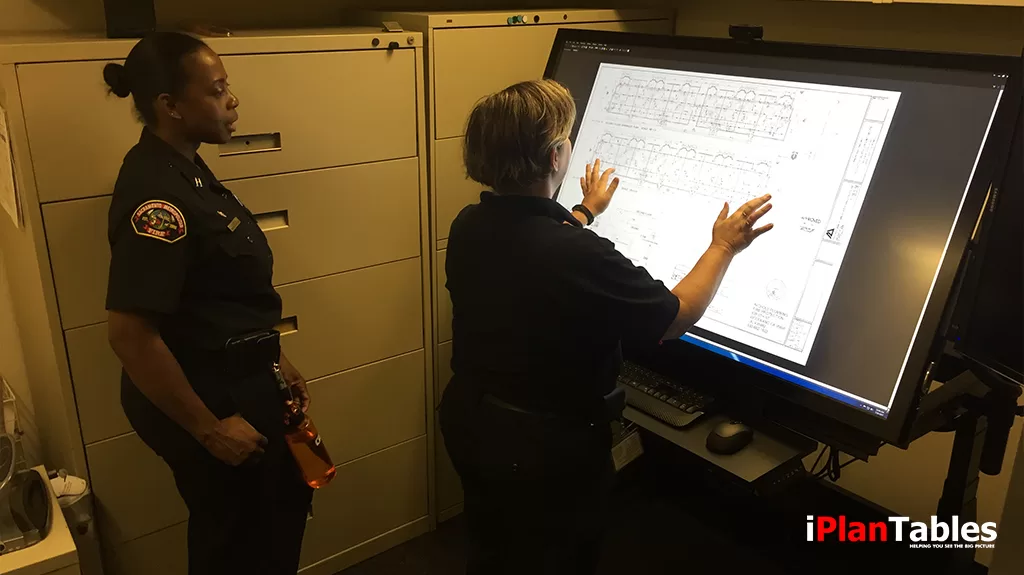 Unbeatable Visual Clarity and Color Accuracy
With iPlanTables workstations, you can experience the ultimate high-end workstation that provides exceptional visibility and efficiency. The 4K display features stunning visual clarity that enables you to see everything on your screen at once. This saves you time and makes it easier for you to work on multiple documents simultaneously. Not only can you eliminate the need for scrolling, but an iPlanTable provides you with a work surface that is four times the resolution of 1080p HD.
In need of a workstation that combines both aesthetic and functionality?
Look no further than the iPlanTables workstation! Our sleek and modern design makes it the perfect addition to any workspace – seamlessly fitting in with existing office decor and providing a stylish touch to your setup.
Our designers have thoughtfully crafted this workstation to embody a durable and professional look, perfect for offices, boardrooms, conference rooms, jobsite trailers, or any collaborative workspace. The iPlanTables large touch screen display monitor workstation comes in a range of colors and configurations, giving you the opportunity to choose what suits your style best.
Our expertly designed workstation is sure to impress project managers, project owners, general contractors, subcontractors AND colleagues alike, while providing you with the performance and features you need to tackle any task with ease.
Upgrade your workspace today with iPlanTables and experience the perfect blend of style and functionality.
With iPlanTables, effortless and efficient usage is our promise!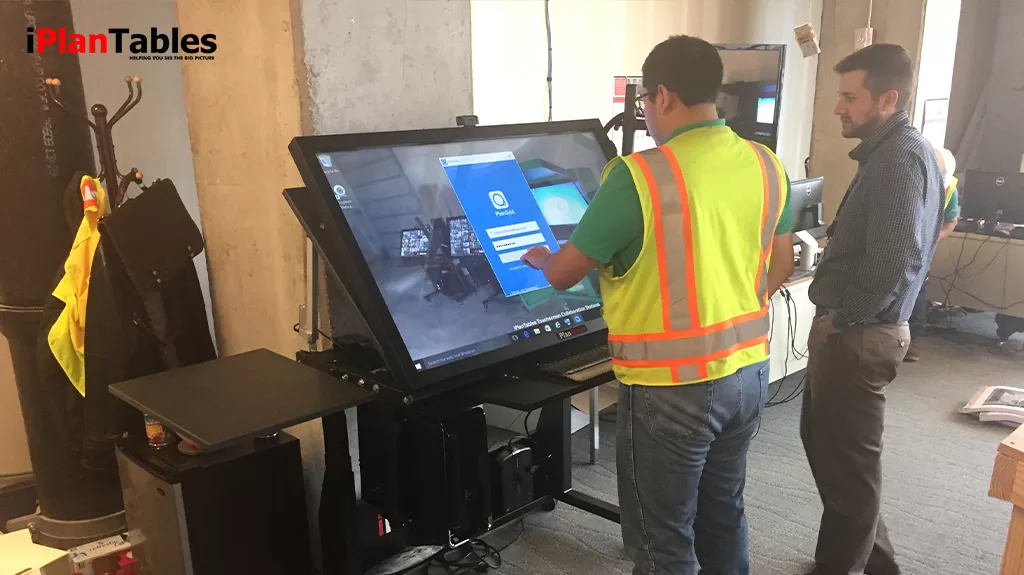 iPlanTables Workstations Bring Your Business to Life
Take your business to the next level with iPlanTables large touch screen disply Workstations – the ultimate tool for seamless collaboration and enhanced productivity. Teamwork doesn't just take place in plain boardrooms or meeting rooms, it begins and flourishes at your workstations. Experience the superiority of a widescreen iPlanTables workstation where the "bigger is better" motto is made a reality.

With a wider screen, you can access and display more documents and files simultaneously, making multitasking more efficient and cost-effective.
The iPlanTables large touch screen workstation goes beyond impressive image quality to provide a host of additional benefits that cannot be found in traditional workstations. Its higher resolution monitor means you can view more content on the screen simultaneously with no need for scrolling, zooming, or alt-tabbing. This capability increases productivity – allowing you to work smarter, not harder.
With our large touch screen workstation, your employees will experience less eye strain, enabling them to focus for longer periods of time and increasing their overall health and productivity. A wise investment in iPlanTables large touch screen display workstations is not only a smart business decision but an investment in the future success of your business. Experience the iPlanTables difference today!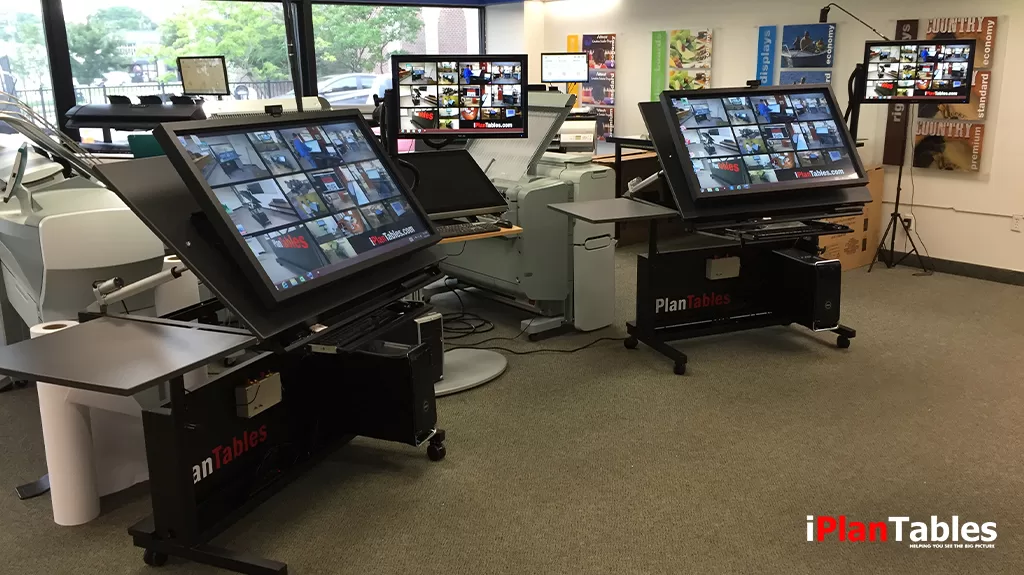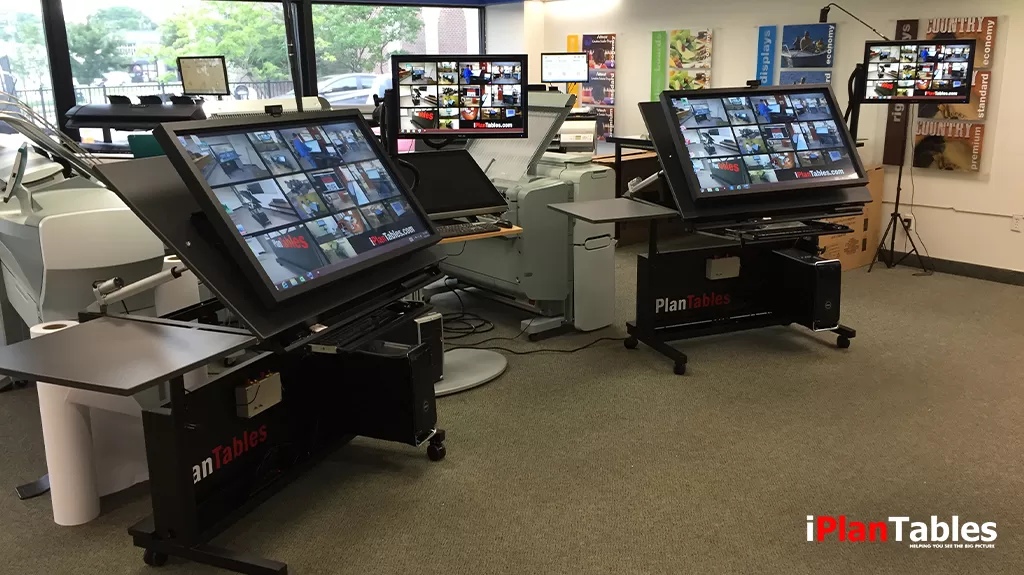 How Will a Large Touch Screen Display Workstation From iPlanTables Revolutionize Your Conference Room?
Revolutionize your conference room with an iPlanTables Large Touch Screen display Workstation the ultimate tool for seamless collaboration and productivity. With over 15% of employee time spent in conference rooms, it's essential to have a quality workstation equipped to handle it all.
Collaboration is at the heart of our workstations, making it effortless for multiple users to work together without getting in each other's way or constantly pulling out their laptops. Our touchscreen monitor wall mounts boast a range of features perfect for transforming any meeting space into an iPlanTables 45-Degree Collaboration Workstation.
Our large touch screen display workstations come in a range of sizes – 55″, 65″, 75″ 4K Wide-Format Large Touch Screen Display Wall Mounted Monitors – providing the perfect platform for your presentations. Our electric tilt-out technology enables seamless switching from traditional conference room height to our 45-degree collaboration workstation.
Our workstations come equipped with a self-contained i7 small form factor PC with 8GB RAM, 512GB Hard Drive, 4GB Video Card – included with PC Monitor Mount. Plus, our HD webcam offers clear quality for online meetings.
Transform your conference room now with iPlanTables Large Touch Screen Display Wall-Mount Monitors and reap the rewards of hassle-free and seamless collaboration. Don't forget to check out our optional side table for added convenience!

You can visit our site to learn about our wall mount monitors.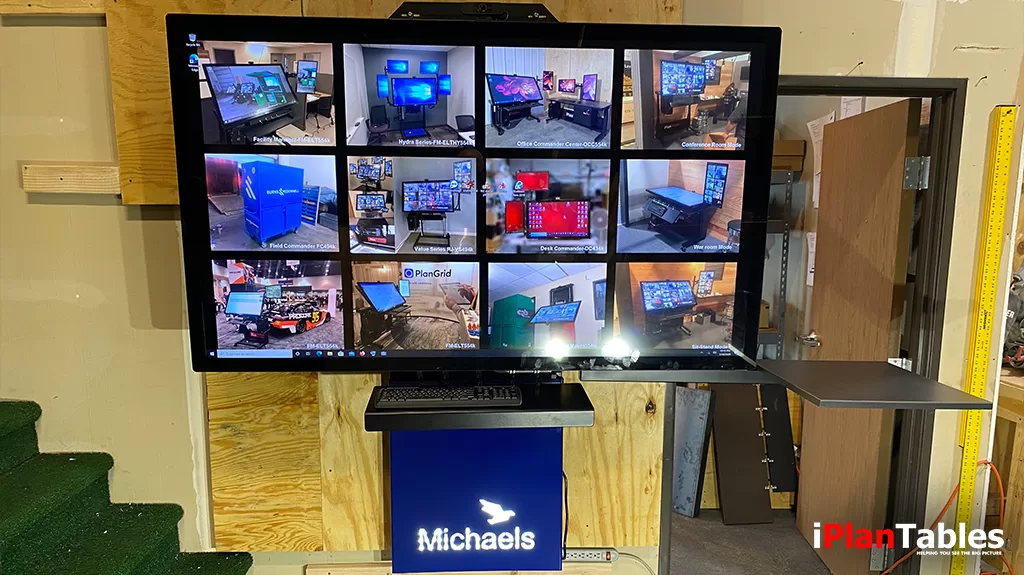 iPlanTables Provides High-Tech, Interactive, Multi-Touch Workstations That Can Be Used Anywhere on Campus to Advance Research, Learning, and Communication
Elevate your classroom with iPlanTables' High-Tech, Interactive, Multi-Touch Workstations – designed to enhance learning, communication, and research. Our workstations are built to cater to a wide range of users – students seeking an easy way to collaborate, and professors looking to boost engagement and explore new teaching methods.

Our platform offers an incredible immersive experience, complete with a large touch screen monitor that boasts an ultra-wide 4K screen, providing users with the tools they need for collaboration and communication. With iPlanTables, the possibilities are endless.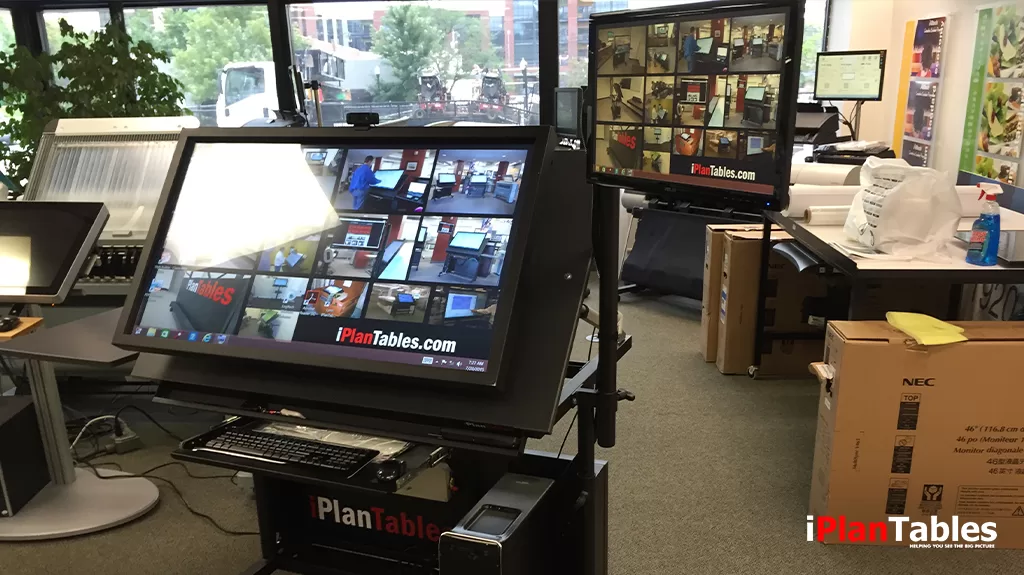 Our workstations have been crafted with the future of education in mind – designed to engage students and facilitate their learning experience. Our high-tech, interactive multi-touch displays are an excellent way to bring a new level of interactivity and engagement to your classroom.
Explore our range of products and revolutionize your classroom today. If you have any questions, feel free to contact us.

Follow Us On Facebook