Are you feeling limited by your current outdated monitors? Ditch those tired, old clunkers and focus on a world of crisp, vibrant displays that keep pace with your every move. Ready to take your work to the next level? Embrace the latest advancements in touchscreen display technology and ergonomics to elevate your work efficiency and experience to new heights.
Plan reviewers play a crucial role in the construction industry by ensuring that building plans and drawings comply with the latest building codes and regulations. They are responsible for thoroughly examining the submitted plans and specifications to ensure that they meet the necessary standards for safety, accessibility, and structural integrity.
However, reviewing construction plans can be a daunting task, especially when dealing with complex designs and detailed drawings. Many plan reviewers are still working with older methods and technology, and find themselves dealing with stacks of paper-based submissions, which can lead to errors in interpretation and increased processing time.
Moreover, the use of paper drawings adds further complications – misplaced drawings, missing pages, time to flip through pages and locate what is needed, etc. The challenges associated with plan review can ultimately lead to costly mistakes during construction, as well as project delays.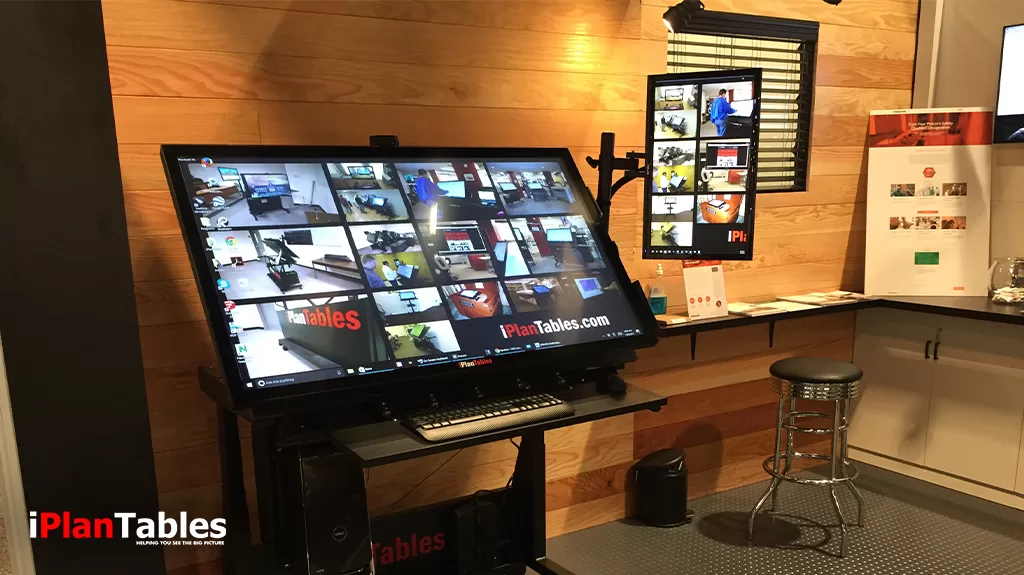 To mitigate these challenges, there is a growing need to introduce modern collaborative software and tools that enable plan reviewers to easily access and share documents, provide real-time feedback, and ensure that everyone is on the same page. By leveraging these new technologies, plan reviewers can streamline the review process, reduce the risk of errors, and ultimately improve the quality and safety of the buildings being constructed.
At iPlanTables, we've designed our workstations' touchscreen technology specifically for plan reviewers. Our workstations are designed to make reviewing plans as simple as possible. They are easy to set up and maintain so that you can concentrate on your job faster than ever.
Touchscreen Technology Benefits
By incorporating iPlanTables workstations' for plan reviews, you can keep all relevant plans, codes, and specs in one place using our multi-monitor setup design and avoid losing anything in the shuffle. This will make the review process more efficient and organized, saving you time in the long run.
More Screen Real Estate
Let's say you have an Excel spreadsheet. It's a big one, with several columns and rows, so you'll need a big window to navigate it – a 1920 X1080 pixel window. This Excel window would take up the entire screen on a Full HD 1080p monitor with a 1920X1080 resolution.
If you're a multitasker, this is inefficient. Minimizing and maximizing the Excel window every time you switch to and from another program quickly becomes inconvenient, slowing your productivity.
More pixels are available on a 4K monitor than on a 1080p one. This enhances the user experience by giving you significantly more screen real estate to work with. For example, you could fit four of these 1080p windows into each quadrant of a 4K monitor.
Alternatively, you could place the Excel spreadsheet on one large wide-format monitor, your email on a smaller side monitor rotated to portrait mode, your code book on another side monitor, and even your calendar in landscape mode on another. This allows you to load all your programs on multiple screens eliminating the need to switch between windows on one monitor.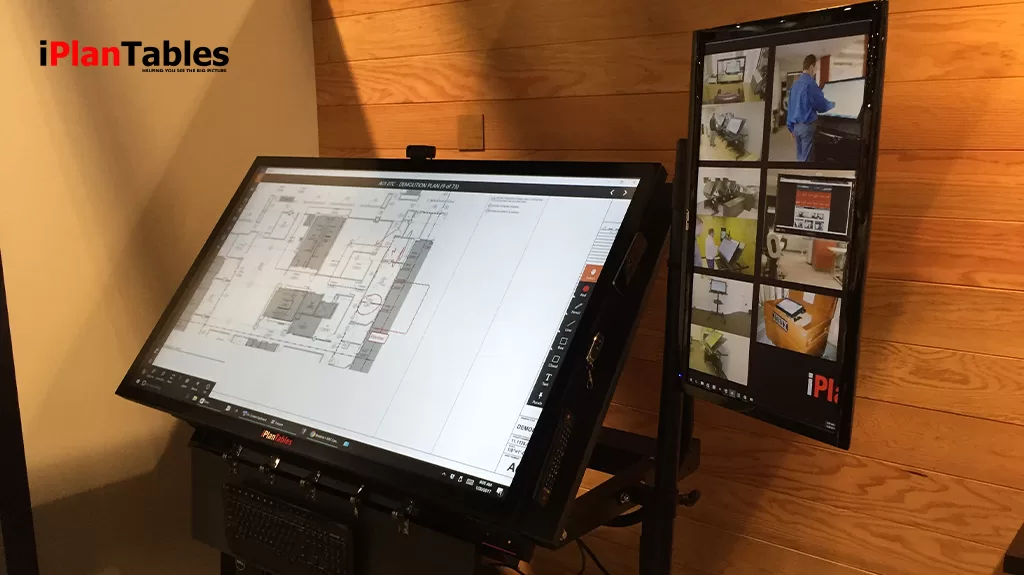 Less Scrolling, Zooming, and Alt-Tabbing
iPlanTables workstations are designed to improve your workflow. iPlanTables touchscreen technology provides interactive workstations that allow you to easily view and edit plans without all of the scrolling, zooming, panning and alt-tabbing that comes with working with separate files.
With iPlanTables, plan reviewers can drag and drop images into place, insert notes directly onto the plan and add annotations wherever they need them. Plus, you'll always know who's working on what and when it's been completed.
It Can Improve Strategic Thinking by Providing a Better View of "The Big Picture"
Our iPlanTables workstations allow you to view the big picture clearly and concisely. In addition, with our display technology, you can see your data at once, which helps in making more informed decisions and improving your strategic thinking.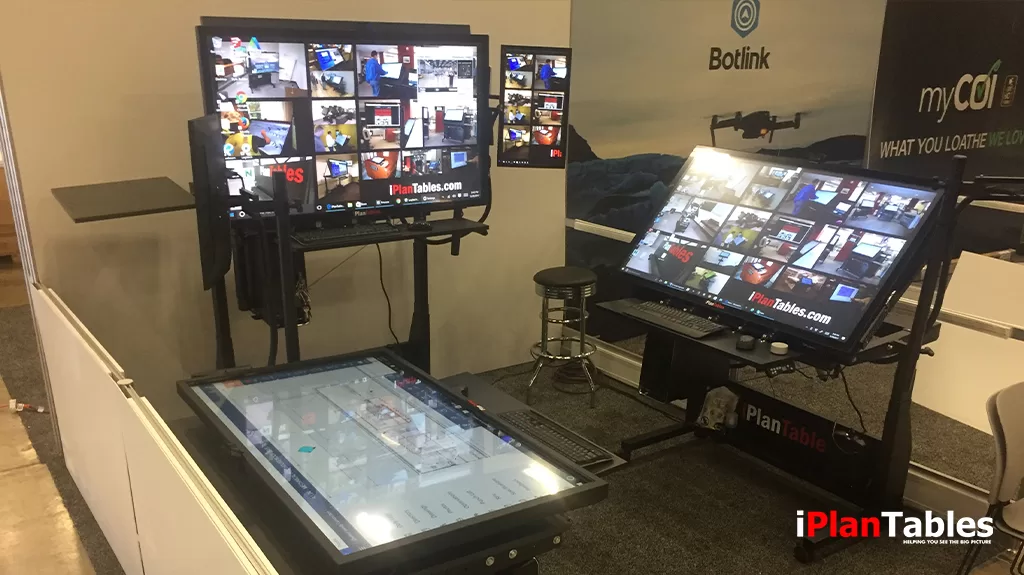 iPlanTables Touchscreen Technology Offers User-Friendly Workstations To Make Your Work More Productive
The iPlanTables workstations are designed and fabricated with a built-in touchscreen that allows the reviewer to interact with the plan on their screen in real time.
iPlanTables also offers gesture control so the reviewer can zoom, pan, and rotate the image on their screen with simple finger movements.
We know the importance of collaboration and productivity. That's why we offer easy-to-use workstations that can be adapted to fit any office environment. So, whether you want to streamline your workflow or increase collaboration among teams, iPlanTables has a solution for you.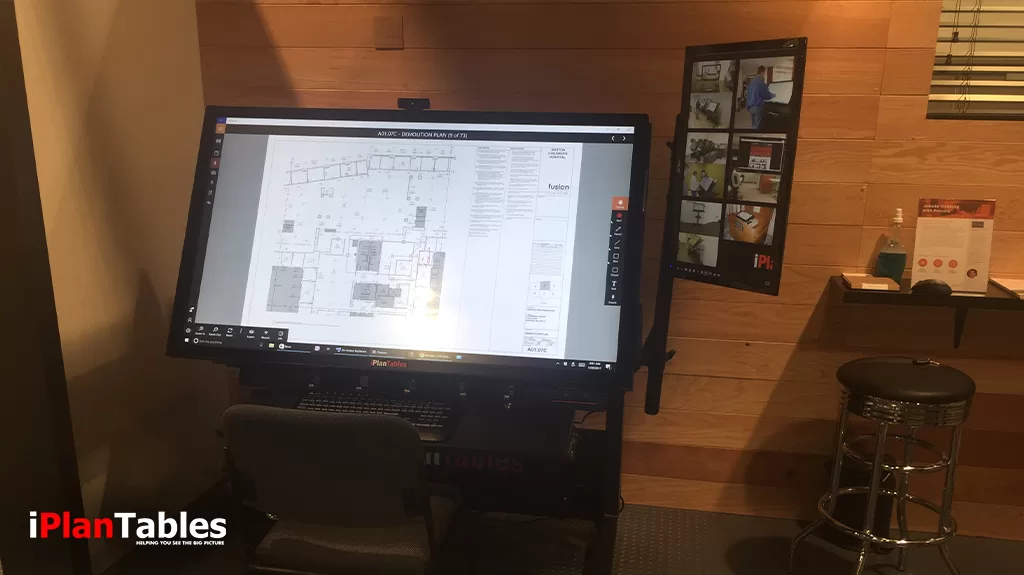 iPlanTables Workstations With Multi-User Orientation
iPlanTables workstations with multi-user orientation enhances collaboration and productivity. Touchscreen with multi-touch capabilities allows multiple users to work on the same screen simultaneously.
No More Sticky Notes!
The iPlanTables workstation is the perfect way to ensure that your team is always looking at the latest changes.
The Importance of iPlanTables Workstations for Plan Reviewers
In today's ever-evolving world of construction, plan reviewers need to stay ahead of the curve by adopting new technologies that can make their jobs easier and more efficient. That's where iPlanTables workstations come in, providing an innovative touchscreen platform that enhances the reviewing process and ensures a more accurate and effective workflow.
By leveraging the power of iPlanTables, plan reviewers can take advantage of cutting-edge visualization techniques that enable them to dive deeper into the construction plans and drawings, gaining a better understanding of potential issues or areas where improvement is necessary. This makes it easier to identify errors or discrepancies, allowing for faster resolution and reduced risk during construction.
In addition to improving accuracy, iPlanTables touch screen technology also streamlines the reviewing process, making it more consistent and less prone to errors. With the ability to view all information in a document at once, reviewers no longer need to flip between physical paper pages or multiple digital windows, increasing efficiency and reducing the risk of missing important details.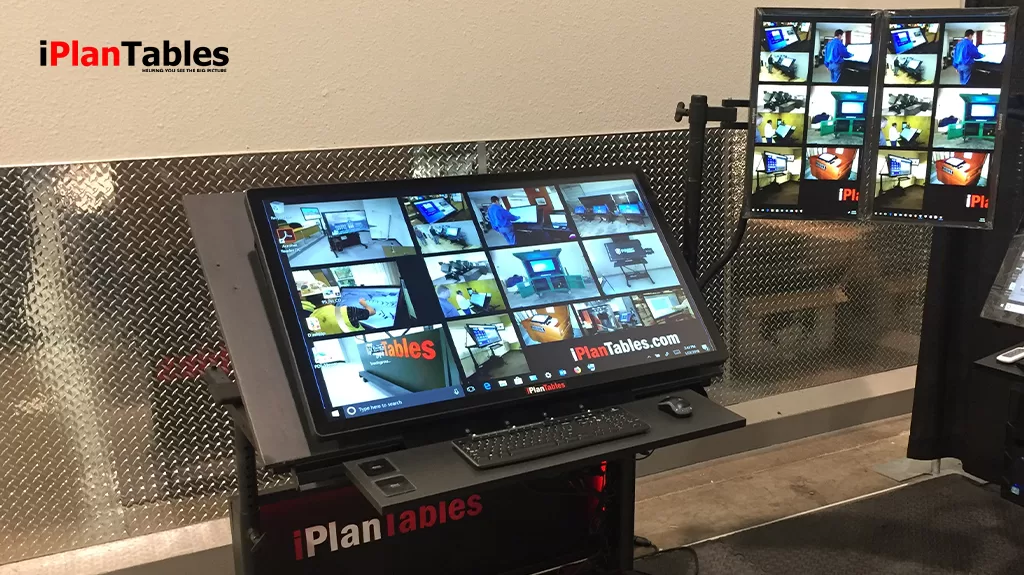 Moreover, iPlanTables workstations can display high-quality images and videos, providing a more robust and interactive reviewing experience overall. By delivering crisp, clear imagery that allows for in-depth analysis and exploration, reviewers can detect issues more effectively and collaborate more closely with other stakeholders involved in the project.
Overall, iPlanTables touchscreen technology is a game-changer in the world of plan reviewing, offering an elevated level of functionality and convenience that is becoming increasingly essential in today's fast-paced construction industry.
Follow us on Facebook