When it comes to construction industry, communication and coordination are critical. The iPlanTables Field Commander Job Box is a tool that can help improve communication and coordination on construction sites. By connecting the field and office staff in real-time, the iPlanTables Field Commander allows for better collaboration and a more efficient construction operation.
Disconnected data is one of the most common complaints from clients, especially on busy construction sites with multiple teams working near one another and other office workers.
Contractors are in an awkward position since it is difficult to reconcile data if something changes on the jobsite, even if the changes are intended as part of the construction process. Modifications made by the owner in collaboration with architects and engineers are not instantly reflected in the field.
You need the ability to get at project details whenever you need them, anywhere you are. This data must be real-time and dynamic from the start of the project until its end.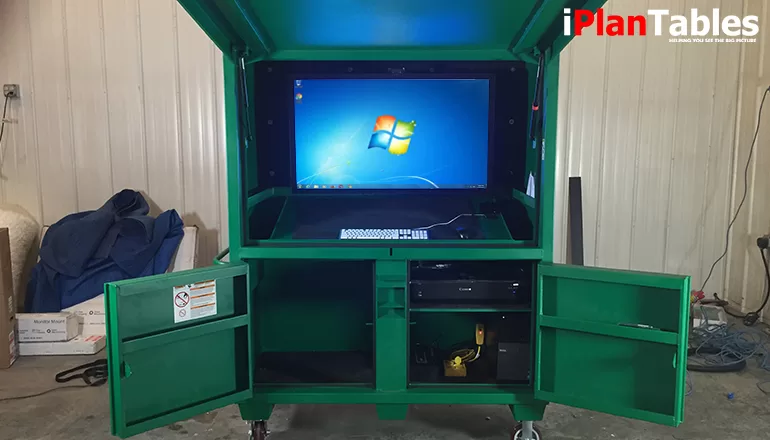 What is the iPlanTables Field Commander?
It all begins with a single tool—a vision of how that tool can be used to move a project forward. And the willingness to learn how to use it. That's how I approach every new technology, whether a software program or a piece of hardware. By learning the ins and outs of how it works and then thinking about how I can apply it to my current project, I can find new and innovative ways to get the job done better, faster, and more efficiently. In today's world, there's no room for complacency when it comes to learning new tools and technologies. Those who can adapt and change with the times will always be one step ahead of the competition.
The iPlanTables Field Commander is that tool. It is a true rugged, lockable information jobsite command center. It is ideal for BIM sharing on a floor-by-floor basis and is a professional-grade jobsite box solution.
There's no question that technology drastically changed the landscape of numerous industries, and construction is no different. With powerful new tools, construction workers can now work more efficiently and with greater precision than ever before. But to take full advantage of these new tools, workers need to have a vision of how they can be used to benefit a project. By understanding the potential of new technologies, workers can revolutionize the construction industry and build something truly remarkable.
Professionals who require data access on the jobsite will benefit significantly from the Field Commander. It is a mobile data center on wheels and lets you easily view digital plans and specs on a large industrial 4k touchscreen monitor. It is made of 16-gauge construction, enabling you to create your own complete hub with digital technologies that are frequently crucial to core jobsite procedures. It is suitable for businesses of any size needing a field solution, regardless of technological skills. The Field Commander can be rolled through any regular 36-inch-wide door frame.
What is Intelligent Construction?
It's the use of technology to increase efficiency and optimize outcomes in the construction industry. And it's not just a nice idea – it's the construction industry's future. In today's fast-paced, competitive environment, contractors who don't embrace intelligent construction will be left behind.
Fully connected digital worksites are essential to intelligent construction. They enable contractors to plan and execute projects confidently, knowing they have all the information they need at their fingertips. Additionally, digital worksites reduce the need for paper plans and specs, not to mention lost plans and specs. Intelligent construction is about using technology to increase efficiency, improve outcomes and enhance workplace safety. So what are you waiting for? It's time to embrace intelligent construction and reap the benefits with an iPlanTables Field Commander!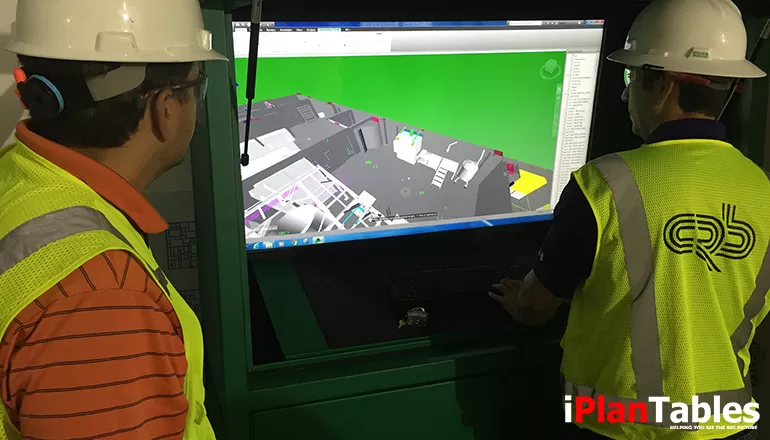 How the iPlanTables Field Commander is Transforming the Construction Industry
This iPlanTables field data hub arrives prepared for use, with a customized interior including a 49" or 43" 4K wide-format industrial touch screen monitor. The iPlanTables Field Commander is the perfect jobsite workstation for those who need a reliable, durable touchscreen and computer setup that can withstand the elements. It's an excellent solution for anyone who needs a mobile field data center on the go.
The Field Commander comes standard with a fanless i7 ruggedized external PC that includes 8GB RAM, 512GB hard drive, 4GB video card, and is vented and cooled to ensure it stays functioning in even the most extreme conditions. It is designed to withstand the rigors of jobsite conditions while providing all the features you need to stay productive.
And for added convenience, it includes an HD webcam, UPS battery back-up, washable keyboard & mouse, kickout extension cord, surge protector, and casters for easy mobility around the jobsite. Plus, you can even order it in your company's colors to match your branding. And with the included iPlanTables stylus kit, you'll have everything you need to stay productive on the job.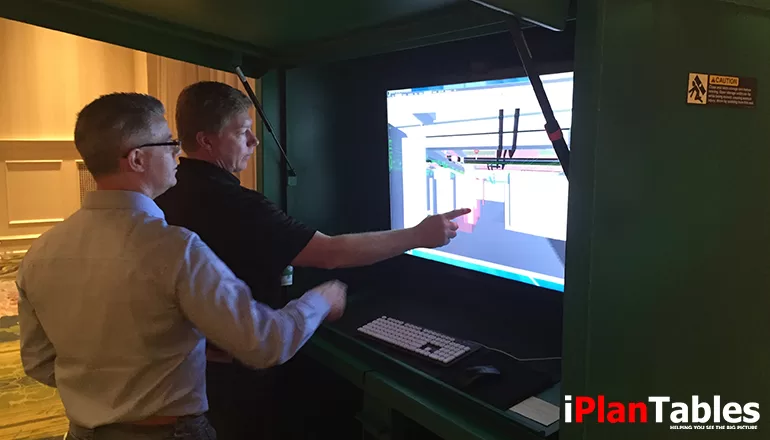 How does the iPlanTables Field Commander Job Box improve communication and coordination on construction sites?
Rugged and secure connectivity to the workplace is made possible by the Field Commander, enhancing efficiency, improving communication, and fostering online coordination and cooperation.
We know that every second counts when you're working with your team to streamline processes and increase productivity. In competitive industries where it's all about the bottom line – connecting jobsites with back-office operations helps to remove tedious rework. Whether it's a small project or a large multi-site operation, connecting these pieces will give you an edge over other companies still trying to find the right system.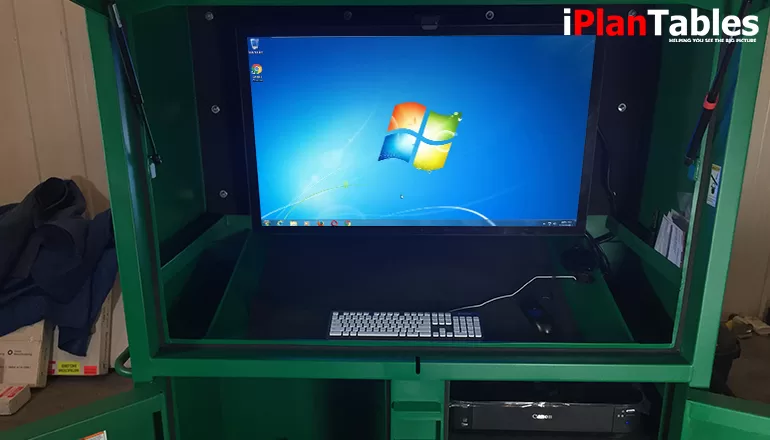 The iPlanTables Field Commander: The Future of Construction
iPlanTables, the leading provider of turn-key digital touchscreen workstations for the construction industry, is changing the game again with their Field Commander. The Field Commander uses a 49" or 43" 4K wide-format industrial touch screen monitor that gives construction professionals the clarity and ability to see the small details on digital construction drawings needed to get their job done right. iPlanTables has always been at the forefront of construction hardware technology, and the Field Commander is one such innovation. With its sleek design, powerful features, and easy-to-use interface, the Field Commander is the future of construction. If you're looking for a construction solution that will help you save time and money, iPlanTables is the way to go. Don't go another day without the iPlanTables Field Commander.
Contact us today to learn more about iPlanTables and the Field Commander. We'll be happy to answer any questions you have.
iPlanTables: changing how construction is done, one plan table at a time.
Follow us on Facebook