If you're looking for a way to manage your complex information needs, the iPlanTables FM Hydra is the perfect tool. This large portable 4K touchscreen monitor comes with multiple side monitors that can mirror or extend your main display. With its flexible configuration and easy-to-use interface, the FM Hydra is the perfect solution for construction professionals and anyone who needs to stay on top of their work.
A true iPlanTables multiple monitor setup command center for construction professionals
The iPlanTables FM Hydra is a powerful combination of an iPlanTables Facility Manager electronic lift & tilt workstation with two 24-inch rotating side monitors. It is a versatile piece of equipment that can be used in a variety of settings. You have the option to add up to two more side monitors, for a total of five. This makes it perfect for those who need a lot of screen real estate to get their work done.
We recommend the large 43-to 65-inch 4K touchscreen be used for your construction drawings. One-side monitor for spec books, code books, or other PDF documents. Another monitor for email and calendaring, and one for project management software. Another monitor for video conferencing or webinars. Or messaging apps.
The Hydra also comes with an i7 External PC, 32GB RAM, 1 TB Hard Drive, and a 6GB Video Card. Plus, this workstation has you covered with its HD webcam, UPS battery back-up for added safety, and articulating keyboard surface. This multiple monitor setup also comes with a wireless full-size keyboard and mouse, a surge protector, casters for easy maneuverability, and a stylus kit that includes a stylus to use instead of your fingertips on the large touchscreen; plus, it helps keep the monitor screens clean. So if you're looking for a multiple-monitor workstation desk that has it all, the FM Hydra is the perfect choice.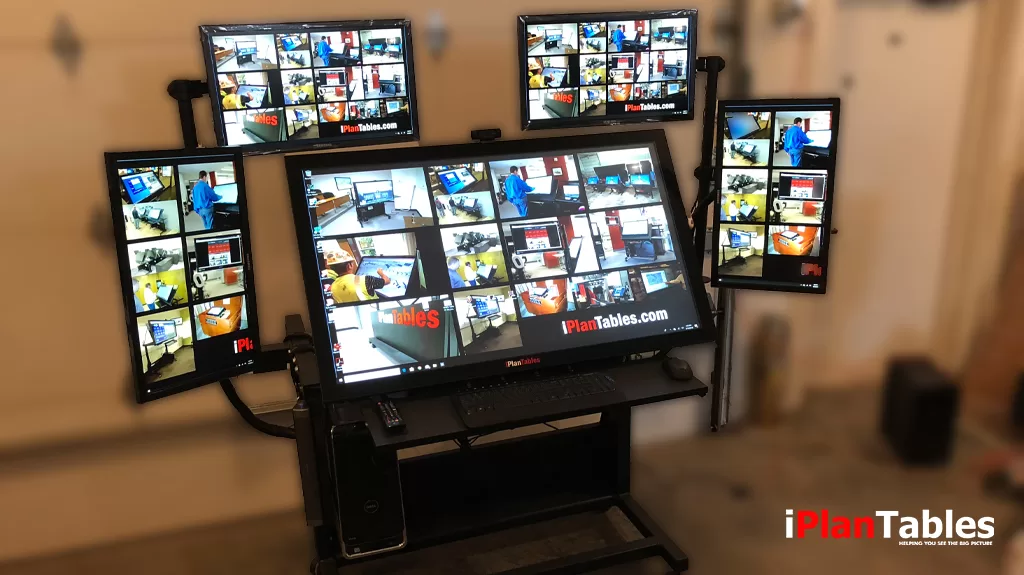 How the FM Hydra can help manage complex information needs
The Hydra workstation is a tool that can help professionals in the architecture, engineering, and construction industries manage complex information needs. By providing a large touchscreen monitor, ranging in size from 43″ to 65″, the Hydra allows users to see the big picture…and the small details…to make informed decisions. The Hydra can help to track project progress, identify potential risks and opportunities, and evaluate project options. It can also help to communicate project information to stakeholders and to collaborate with team members. In addition, the FM Hydra can help to manage project finances and monitor project performance. It is Windows-compatible and will work with any software currently used to conduct your day-to-day business.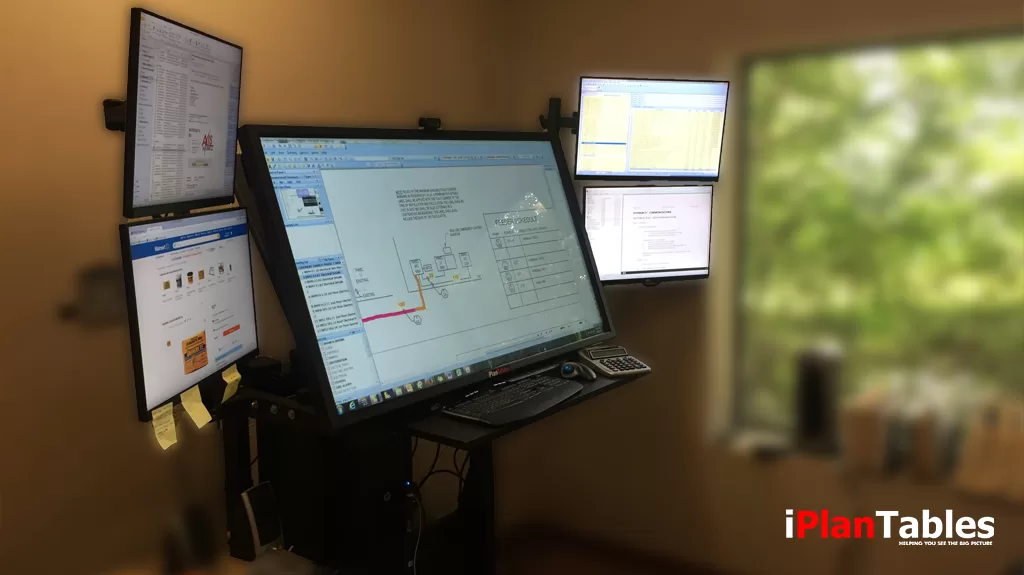 A Multi-Tasker's Savior
When you're putting together a workstation, it's easy to overlook the importance of side monitors. Many people just use their small desktop monitor or laptop, slouched over throughout the day, squinting, and zooming in and out with their mouse.
The Hydra is the solution to enjoy your devices again. Productivity enthusiasts everywhere will find that iPlanTables FM Hydra workstation checks off every box. Stand up when you want. Sit down when you want. Your workstation will follow your lead. Tilt your large monitor to the best viewing angle (45 degrees) to create better ergonomics. Rotate your side monitors for easy task management. The use cases for additional side monitors are extensive.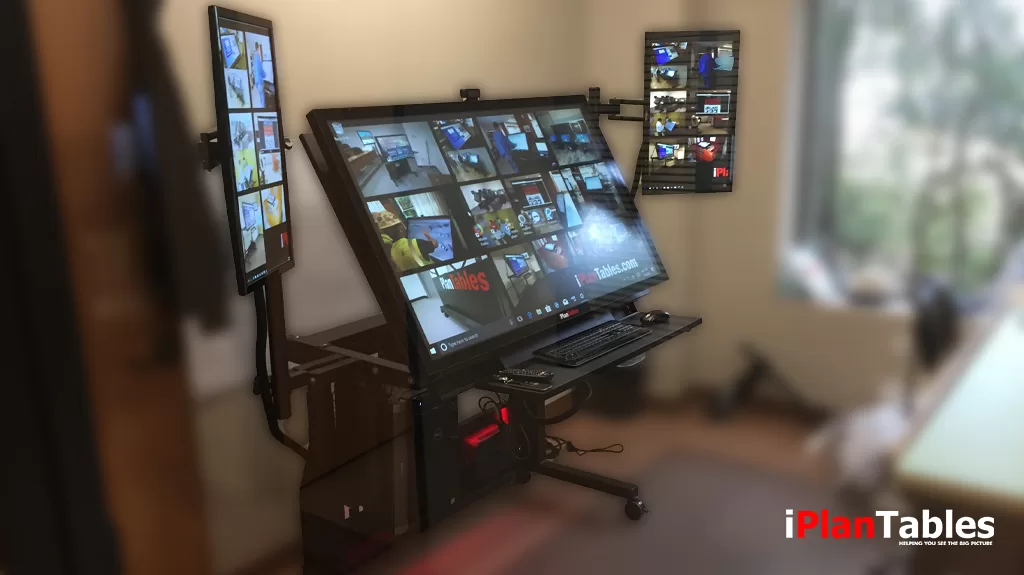 The Construction Professional's Best Friend
The iPlanTables FM Hydra is the construction professional's best friend when managing work using multiple monitors. With its ability to seamlessly connect multiple monitors, the Hydra makes it easy to keep track of different construction projects at once. Plus, the Hydra's design allows construction professionals to quickly view different monitor screens without having to pan/zoom/scroll/open and close window to window. As a result, this workstation has helped countless construction professionals stay organized and efficient while working on multiple projects simultaneously. In short, the FM Hydra is a must-have tool for any construction professional who relies (or should rely) on multiple monitors to get their job done.
One user said:
"I've been a construction professional for over 20 years, and in that time, I've seen a lot of changes. One of the biggest has been the introduction of the FM Hydra. This system has helped me to manage my work using multiple monitors, and it's been a game-changer for me. It's helped me to be more efficient and organized, and it's saved me a lot of time. I would highly recommend it to anyone who is looking for a way to improve their productivity. Thanks, FM Hydra!"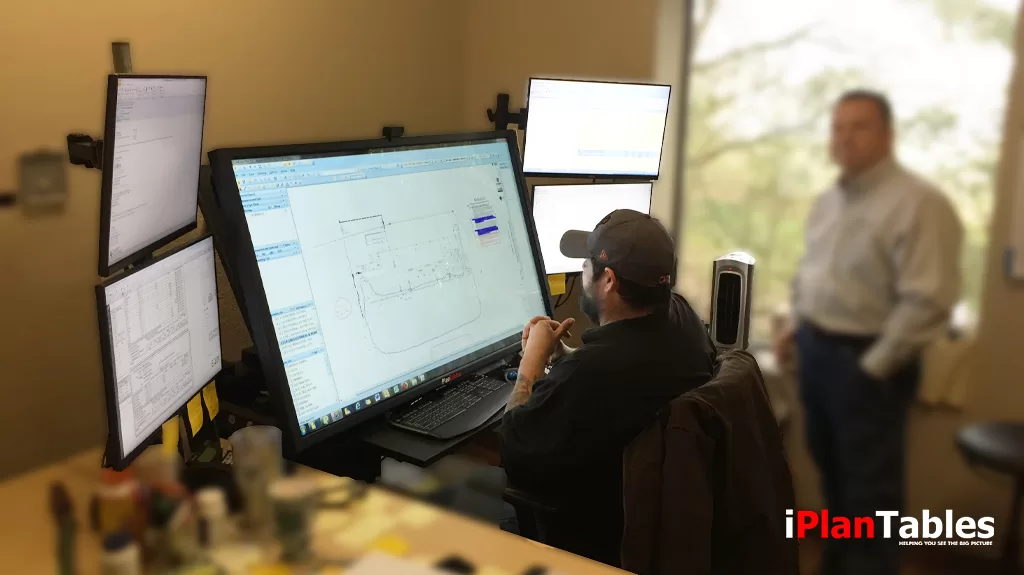 Juiced Up and Ready To Go
Every iPlanTables workstation arrives almost ready to go. Plug in a couple durable cables for both the video signal and power. Add the Industrial monitors providing the best video quality available today. Heavy duty steel mobile base stand. Power strip. UPS battery back-up. All the power needed to stay in control and view all of your information – at the exact same time – to ensure your projects run smoothly.
If you're looking for a better way to manage your information, the iPlanTables FM Hydra is a perfect choice.
Follow us on Facebook.