In today's fast-paced world of construction, project management, and engineering, staying up-to-date with the latest information is paramount. Manual processes, cluttered workspaces, and traditional tools no longer cut it. That's where iPlanTables touchscreen monitors come into play, transforming the way professionals work. Whether you're a plan reviewer, contractor, estimator, architect, engineer, or educator, iPlanTables has the solution for you. In this blog, we'll delve into the features and benefits of these innovative large-screen touch monitors that are reshaping industries.
Plan Reviewers: Streamlining Workflow with iPlanTables Large Screen Touch Monitor
Plan reviewers play a crucial role in the construction and engineering industries. They are tasked with ensuring that building codes are adhered to while managing an influx of information from various sources.
iPlanTables recognized the need for streamlining this process, and their solution comes in the form of a Plan Review Table, which essentially functions as a giant touchscreen tablet.
These Plan Review Tables are equipped with large touchscreen monitors, complemented by multiple rotating side monitors. This setup allows plan reviewers to seamlessly switch between the plans and relevant code books, all in one workspace.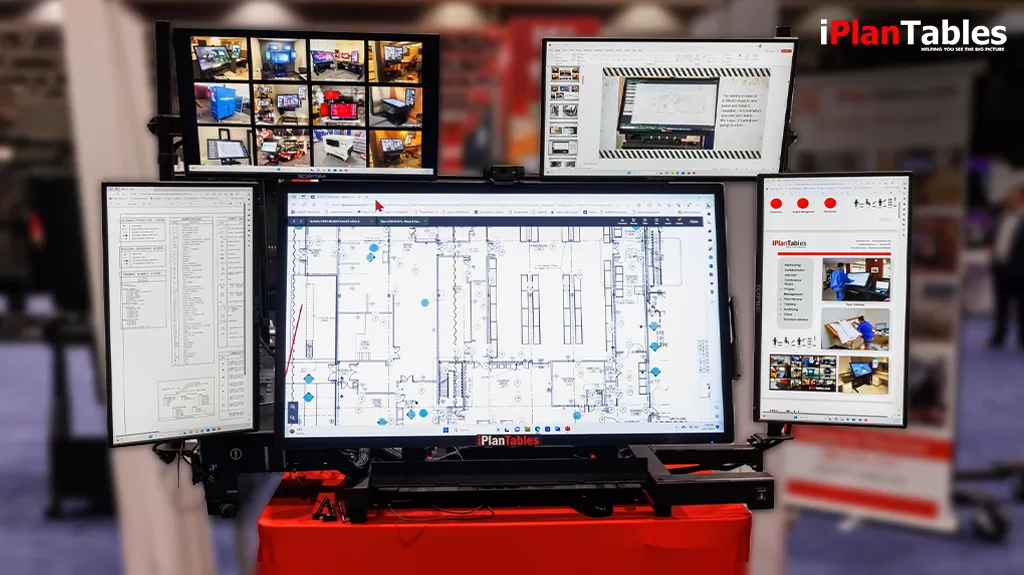 The versatility of these touchscreen workstations means they can fit into compact spaces or be adapted to existing workstations. It's all about simplifying the workflow, making it more efficient, and saving time.
Contractors and Project Managers: Real-Time Information for Better Collaboration
Contractors and project managers know the importance of staying up-to-date with the latest project information. iPlanTables offers them a solution that eliminates the need for managing piles of paperwork or scribbling endless sticky notes.
The use of multiple side monitors ensures that contractors and project managers can view both plans and specifications simultaneously without the hassle of constantly zooming in and out.
Moreover, iPlanTables aids in improving communication within project teams. Questions can be answered promptly, reducing the wait time for responses.
Plus, it's cost-effective, as you can transition from paper-based plans to iPlanTables touchscreen tables for project handovers, saving money in the process.
Estimators: Faster and More Precise Estimating
Estimators benefit greatly from iPlanTables touchscreen workstations. The traditional tools of the trade, like Sharpie markers, highlighters, and rulers, can be discarded. Instead, estimators can rely on on-screen annotations and estimating, all while viewing full-size drawings on a touchscreen workstation.
The compatibility with various Windows and browser-based software makes iPlanTables suitable for all types of estimators, and there's a model to suit individual preferences.
With the ability to share information and work from multiple locations, iPlanTables makes estimating faster, more precise, and more convenient.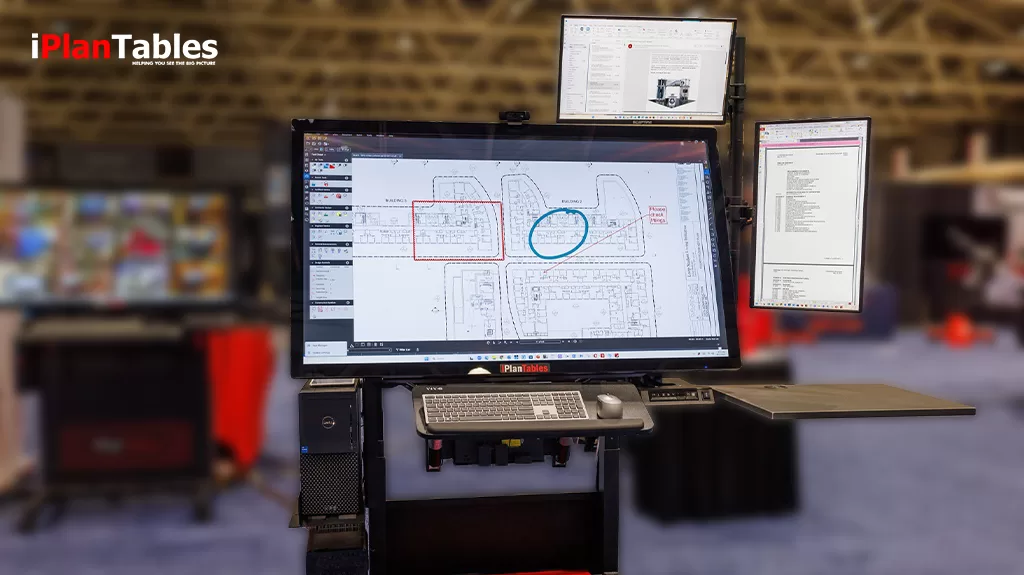 Architects and Engineers: Enhanced Productivity with Large Touchscreen Monitors
Architects and engineers often work with wide-format documents and complex 3-D or BIM (Building Information Modeling) integrations. iPlanTables touchscreen workstations address their needs by providing large touchscreen monitors. These monitors enable real-time collaboration on full-size sheets, eliminating the need to constantly pan, zoom, and scroll using small desktop or laptop screens.s
With crisp 4k wide-format touchscreens, iPlanTables sets a new standard for architectural and engineering workstations. It's about delivering precision and efficiency in design and planning.
Colleges and Universities: Preparing Students for the Future
Institutions of higher learning can also harness the power of iPlanTables' large touchscreen monitors. By incorporating these innovative workstations into construction management and engineering degree programs, colleges and universities prepare students for the future. These students become well-versed in the latest industry technology and can readily apply their knowledge once they enter the workforce.
iPlanTables offers a forward-thinking approach to education, ensuring students are well-equipped to reshape the industry using cutting-edge tools.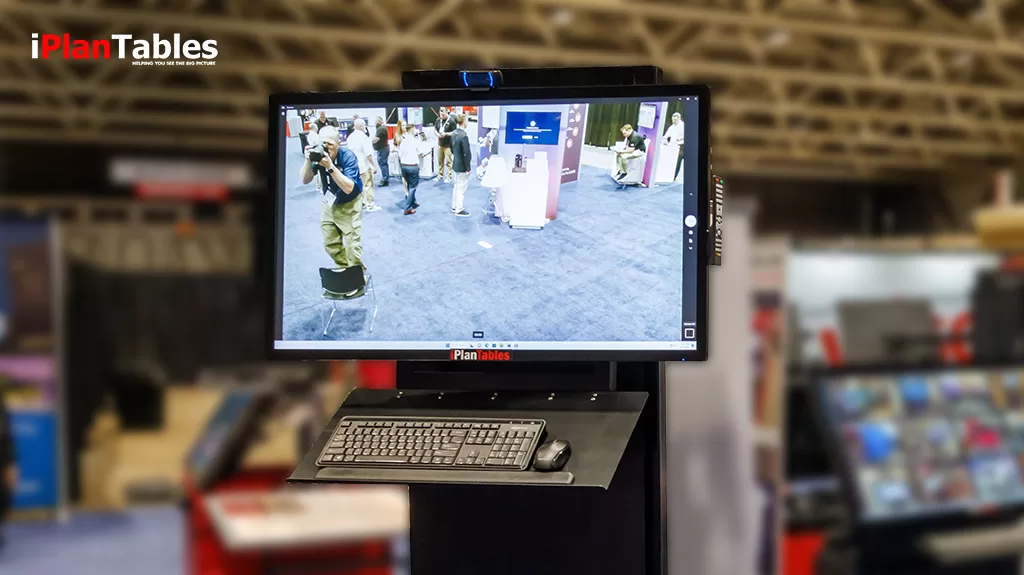 Archivists: Efficient Document Management
For organizations that need to archive and store vast amounts of documents, iPlanTables provides a space-saving solution. An iPlanTables plan review table can replace traditional plan rooms, making it an ideal fit for archivists and anyone needing access to large sets of plans. It consolidates hundreds of thousands of sheets of paper into a compact 3×5 feet footprint.
Moreover, iPlanTables ensures that everyone accessing archived project documents views the same information, fostering clarity and consistency.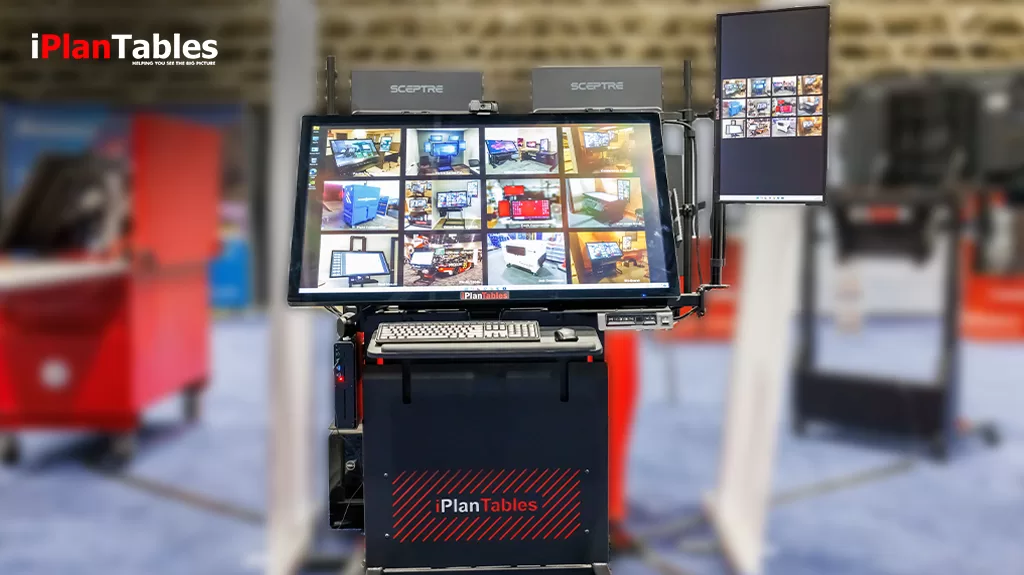 Why iPlanTables Stands Out from the Competition
iPlanTables isn't just another player in the large-screen touch monitor market. They offer a comprehensive range of professional-grade models and a myriad of customization options. Here are some key features that set them apart from simple tilt stands:
Multiple monitors: Most iPlanTables models come with dual monitors, with some accommodating up to five, providing greater flexibility in your workspace.
Battery backup: Ensures you can continue working even during power outages.
Webcam: Useful for remote meetings and collaboration.
Articulating keyboard holder: Enhances ergonomic use.
Shortcut keys on the keyboard: Speed up your workflow.
Wide-format large touchscreen monitors in different sizes: Choose the one that suits your needs.
Durability: iPlanTables' products are field-tested and designed for rugged use.
79″ height: Perfect for training sessions.
American-made mobile cart: Ensures mobility and stability.
Multiple monitor manufacturers: More options to suit your preferences.
Surge protector: Safeguards your equipment.
Extended warranty available: Peace of mind with longer coverage.
Over a decade of experience: iPlanTables has a track record of delivering quality solutions.
Discover the iPlanTables Advantage
In an era where speed and precision are paramount, iPlanTables stands at the forefront of touchscreen technology, offering various solutions to various industries. From plan reviewers to contractors, estimators to archivists, and even educational institutions, iPlanTables is changing how work is done. With a commitment to quality and a wealth of experience, they provide innovative, efficient, and versatile large-screen touch monitors that cater to the specific needs of their users. Embrace the future of work with iPlanTables and experience a better-than-paper revolution in your industry.
Folow us on Facebook