iPlanTables has done it again! The iPlanTables V Series Sit-Stand large touchscreen workstation is an excellent choice for the AEC industry. It has great performance at an economical price.
This sit-stand large 4K touchscreen workstation is a must-have for any AEC professional. This workstation is perfect for those who need a large workspace that is still highly portable. The iPlanTables V Series gives you a lightweight design that can be easily transported from one office to another or one job site to another.
The V Series is a smaller version of the iPlanTables FM-ELT model. This scaled-down version offers 43″or 49" monitors with a 0-90° tilt. It is ideal for smaller spaces, job site trailers, and viewing demands.
This lighter and smaller workstation is the perfect solution for anyone in need of a sit-stand workstation at a value price. Made in the USA, this workstation features an electronic lift and tilt mechanism that allows you to adjust the height of the work surface up to 72". It includes a powerful external PC, a wireless full-size keyboard and mouse, a surge protector, and caster wheels for a mobile solution.
This workstation features a built-in backup power supply, so you never have to worry about running out of juice for a short-term power interruption. With its large 4K touchscreen display, this iPlanTables workstation is perfect for those who need to view detailed plans and drawings. This workstation is sure to increase your productivity and efficiency.
The 4K touchscreen is compatible with any Windows-based program you are already using and gives you a wide adjustable viewing angle on either a 43-inch or 49-inch monitor. Any user can access the digital touchscreen display by walking up to it and starting to tap on it. You can switch between different programs by simply touching them. You may do this either with your finger or with the included stylus.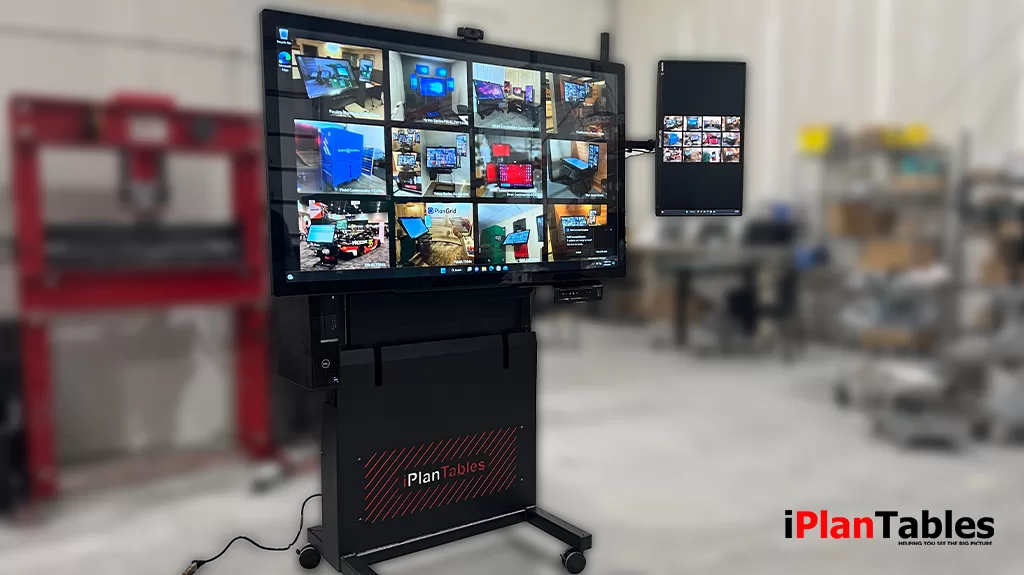 Work smarter, not harder. Sit and stand to work, collaborate, and communicate with others
The iPlanTables V Series provides the best of both worlds: a sit-stand desk that includes a large 4K touchscreen monitor. This sleek workstation has a motorized height-adjustable desk with a 43 or 49-inch monitor that is perfect for viewing plans, drawings, spreadsheets—any wide-format document or image. Add a side monitor for viewing specs, building codes, and email. The workstation's 4K touchscreen monitor supports any Windows programs you already use. It also comes with extendable warranty options.
If you're looking for the perfect sit-stand desk for your office, department, or business, look no further than the iPlanTables V Series Sit-Stand Workstation.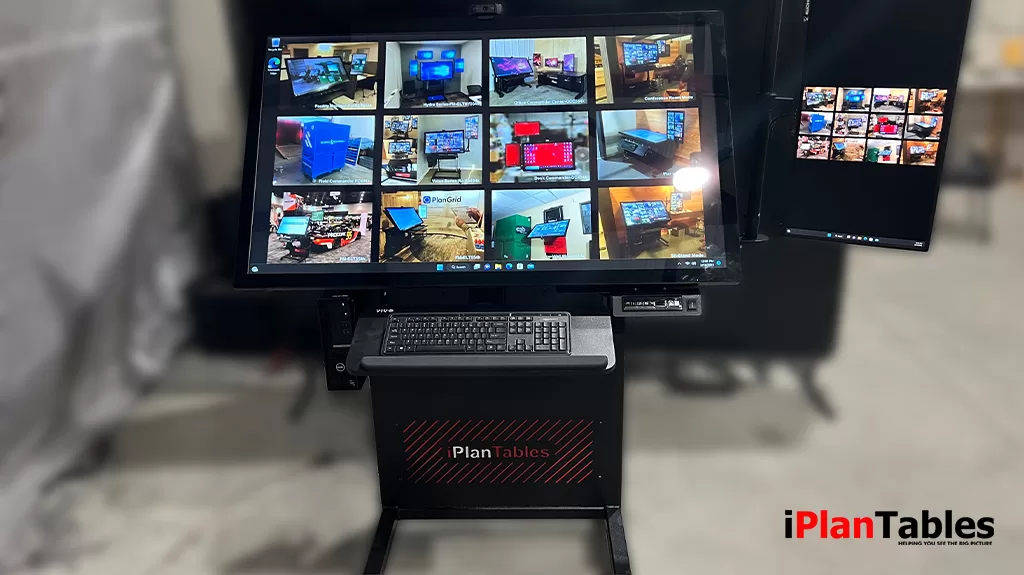 A Great Choice for the AEC Industry
Value is everything when it comes to investing in a new workstation. You want to make sure that you're getting the most bang for your buck, and that's exactly what you get with iPlanTables V Series workstations. With powerful processors and plenty of RAM, these workstations are designed to handle even the most demanding AEC applications. And because iPlanTables' world-class customer service backs them up, you can rest assured that your investment will be protected.
We combine a 43-inch or 49-inch 4K PCAP touchscreen display with a smaller stand base for viewing plans and specs, building codes, and other documents and files. It is fully functioning, just smaller and lighter than our FM-ELT model.
This model provides a powerful entry-level workstation solution for the AEC industry. These workstations are designed to provide the correct level of performance for most 2D and 3D CAD applications, with the flexibility to upgrade as needs change. It offers a cost-effective solution for users who need a powerful yet affordable workstation for their business. It delivers the performance and reliability that users expect from a quality iPlanTables workstation at an economical price. V Series workstations are available in various configurations to meet any user's needs.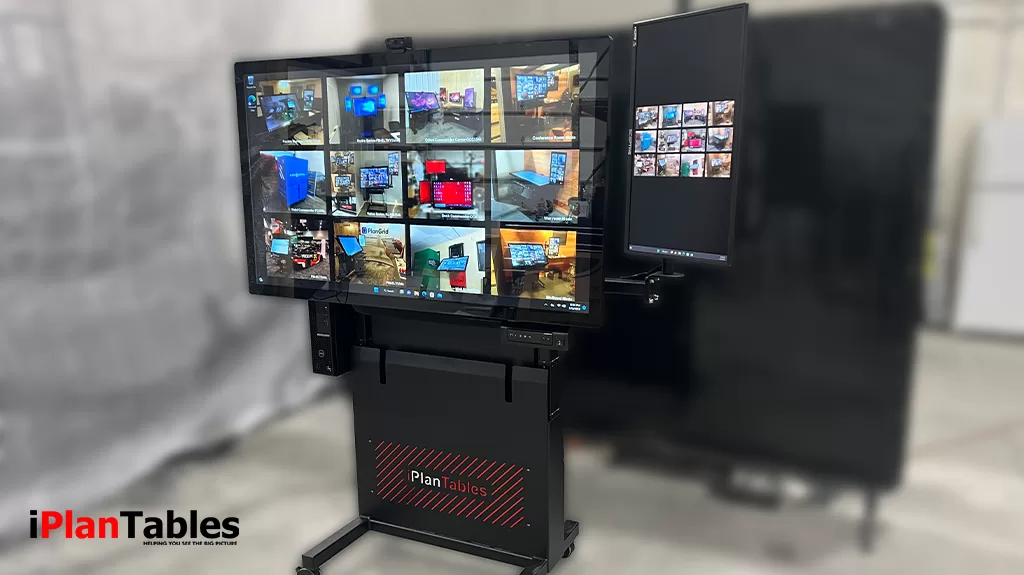 An Affordable and High-Performance Option
iPlanTables V Series touchscreens are the most popular touch displays in the AEC world because they deliver reliable performance at a reasonable price. They are designed for easy integration with your current system. With this high-performance model, you can easily access and switch between different programs. The V Series lineup includes several options with different screen sizes and features. This workstation's touch displays are perfect for architects, engineers, and construction professionals who need a dependable touch display that is economical with great performance.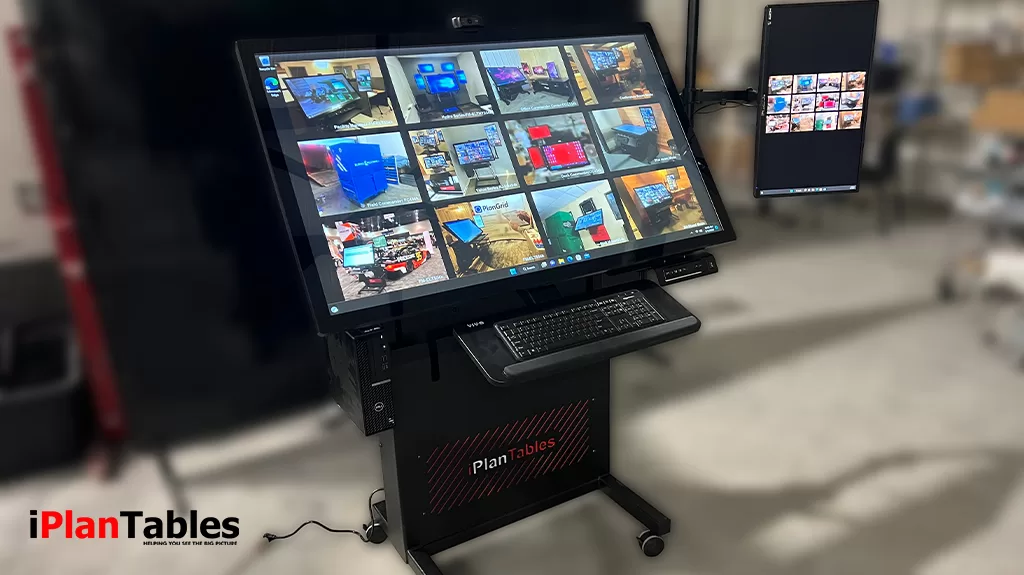 Contact iPlanTables today to learn more about how our V Series workstations can help you achieve your business goals.
Follow us on Facebook.