Are you tired of sifting through outdated, inaccurate, and bulky paper plans in construction plan rooms? It's time to say goodbye to history with the help of iPlanTables digital 4K touchscreen workstations!
In this digital age, we rely heavily on technology to simplify our lives, streamline tasks, and create efficiencies. However, the construction industry has been slow to catch up, as many construction plan rooms still operate under the weight of clunky paper plans. Not only does this slow down productivity and time-to-market, but these paper plans can also be incredibly costly and can quickly become outdated.
But fear not, my construction plan room comrades! iPlanTables has got your back with their revolutionary touchscreen workstations that are sure to transform the construction industry. With up-to-date digital plans at your fingertips, you can finally bid farewell to inaccurate and outdated information, saving both time and money.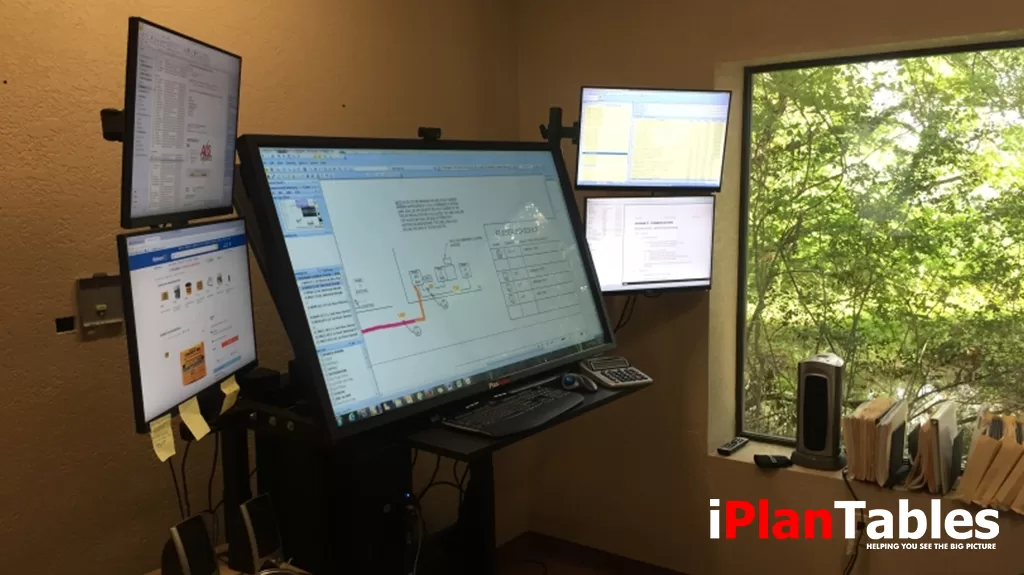 Our digital 4K touchscreen workstations offer an unparalleled level of convenience, making it easy to access and update plans on the spot. Say goodbye to flipping through multiple plan revisions and hello to a more streamlined and efficient process. So, what are you waiting for? Join us in embracing the digital era today and revolutionize the way you work with iPlanTables!
Digital Plans Are Cost-Effective:
Construction plan rooms have been around since the dawn of the construction industry. Before digital plans, construction plans were physical entities that could be costly, bulky, and difficult to maintain. In the current era of modern technology, having digital plans is essential for effective and efficient construction projects. The most significant advantage of digital plans is that they are cost-effective, allowing for huge savings on printing costs. This is where iPlanTables comes in, offering the best touchscreen workstations for construction projects.
Traditional construction plan rooms required manual efforts to locate a project and manually order physical copies. While this may have been viable in the past, it's time-consuming, inefficient, and expensive. With the iPlanTables 4K touchscreen workstations, you can easily access and share digital plans without the hassle of physical copies. The 55-inch touchscreen monitor allows the display of various sizes of plan sheets with 4K crisp clarity resulting in a clearer view of the construction plans and a smooth user experience.
When workers can access their digital plans on the go, and with high clarity, it significantly reduces paper usage; hence saving printing costs. Additionally, with digital plans, it's unnecessary to go back to the blueprint/reprographic shop every time additional construction plans are needed. Everything is easily accessible on the touchscreen monitor; all plans are available in digital format. All you must do is ask for them in that format! Moving from paper to digital files makes the iPlanTables workstation an all-in-one workstation that maximizes your construction project efficiency.
Now, the construction plan room is no longer a hassle; Our iPlanTables touchscreen workstations are tailored to enhance productivity by providing a more interactive work experience for anyone in the construction industry who uses plan sheets and spec books. It's time to take construction plans to the next level in the most cost-effective manner possible. Invest in an iPlanTables workstation today, and you'll experience first-hand the benefits associated with modernizing your construction projects.
Digital Plans Allow for Real-Time Updates:
With digital plans, construction plan rooms are outdated modes of storage since any contractor or subcontractor can now enjoy the benefits of real-time updates without the hassle of printing and distributing physical copies. Traditional construction plan rooms can be a thing of the past – say hello to iPlanTables touchscreen workstations!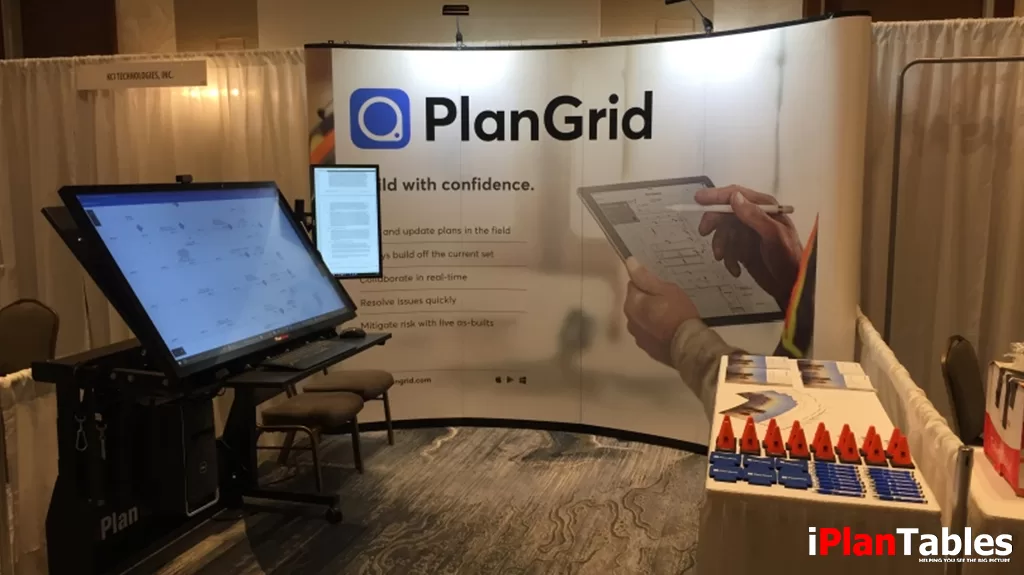 Gone are the days of waiting for printed plans to be updated and distributed. With iPlanTables workstations, real-time updates are always just a click away. Simply collaborate and mark up plans on the touchscreen using any of your favorite Windows-based software and it's updated instantly for all relevant users to access.
But there's more. The iPlanTables workstation allows you to make notes, pinpoint changes and navigate plans easily, boosting productivity and accuracy. It's the ultimate solution for anyone looking to streamline their workflow.
Say goodbye to cumbersome paper plans and hello to the convenience of iPlanTables. You can now view, collaborate, mark-up and share digital plans in real-time, making it easier for everyone involved to stay up-to-date and work with the latest information.
Maximize efficiency in your office with iPlanTables touchscreen workstations. No need to "order prints of what you need" any longer.
Digital Plans Can Be Shared Across Teams:
If you're in the construction industry, you know that keeping everyone on the same page can seem like a task just as monumental as the project you're working on. And when you're coordinating through outdated construction plans, the risk of miscommunication and costly errors is heightened.
Thankfully, there's a solution that makes collaboration a breeze: our cutting-edge iPlanTables touchscreen workstations are tailor-made to streamline team collaboration. By going digital, everyone can have access to the latest and greatest versions of their construction plan sheets, even when they're at a distant work site. And our touchscreens make it easier than ever to take notes, annotate, and communicate visually with your crew.
By adopting iPlanTables into your process, you can transform the way you work. No more lugging tattered paper plans from site to site or pouring over dimly lit prints. Instead, everyone on your team can have the same clear, high-definition view of every detail of the project. This means fewer mistakes, less confusion, and fewer delays.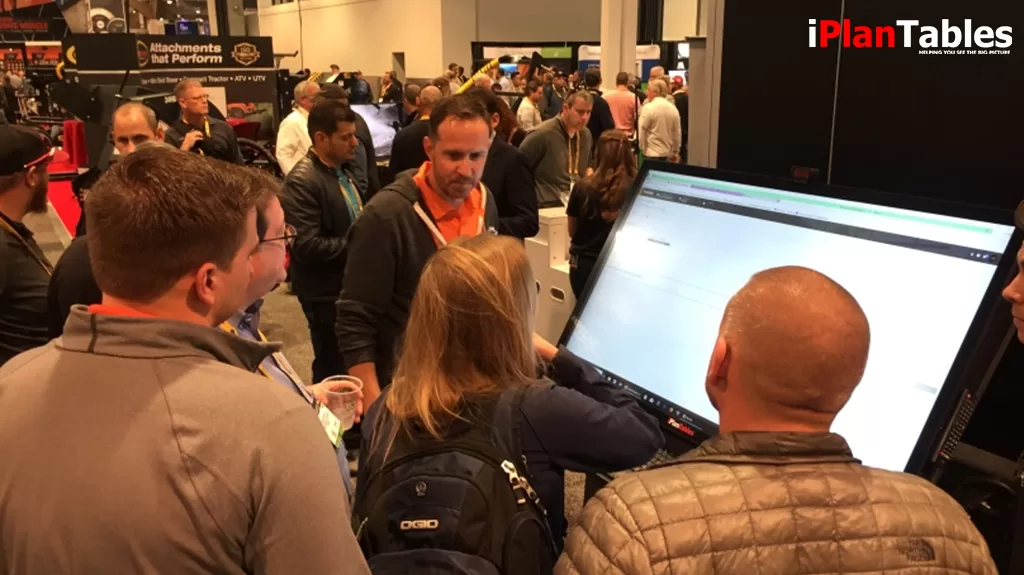 Say goodbye to the headaches of paper construction plans, from prints stored in construction plan rooms, and start enjoying the benefits of user-friendly digital collaboration. Give iPlanTables a try now – your team will thank you later!
Digital Plans Offer Better Collaboration:
Smart construction professionals know that with digital plans, collaboration becomes easy and efficient. Digital technology allows a group of individuals to instantly view and share plan sheets, make updates, and leave remarks on the most current set of documents. At iPlanTables, we recognize that coordinating projects among different teams can be challenging. iPlanTables touchscreen workstations are the perfect solution to all your construction project collaboration needs. Our workstation allows immediate collaboration which means you can work more efficiently and maximize productivity, all while minimizing the possibility of errors. Upgrade today to streamline your workflow and see the difference with iPlanTables.
Digital Plans Are Eco-Friendly:
Construction plan rooms that print paper plans are not eco-friendly. Gone are the days of printed plans that leave a considerable carbon footprint and lead to paper waste. iPlanTables touchscreen workstations enable the easy storing and displaying of digital plans that are accessible to your team at any time.
You might be wondering, how exactly are digital plans better for the environment, and how can iPlanTables workstations help you?
Well, let's take a closer look: First, with digital plans, you save on printing costs, which can add up quickly and become quite expensive. Just ask your finance department. What do we spend each year on paper. Ink. Toner. Plotter costs. Copier costs. Square footage costs to store this equipment. And to store all the paper in filing cabinets. Not to mention, it can be a hassle to manage and distribute an extensive collection of physical plans. On the other hand, with digital plans, you can easily organize, filter and search for specific plans, significantly easing your workload.
But that's not all – did you know that switching over to digital plans can contribute to a considerable reduction in carbon footprint? By eliminating paper waste and saving on transportation, there's a considerable impact on the environment. And iPlanTables touchscreen display workstations make it easy for you to start taking steps towards an eco-friendlier solution that you can feel good about.
So, if you're ready to make the switch to digital plans that are eco-friendlier and more efficient, make sure to check out iPlanTables today!
How iPlanTables Are Disrupting the Construction Industry with Their Digital 4K Touchscreen Workstations
Get ready to upgrade your construction project game with iPlanTables digital 4K touchscreen workstations. If you're looking to inject cutting-edge technology into your workflow processes (and stop ordering printed plan sheets from construction plan rooms), you've come to the right place.
With iPlanTables, it's time to say goodbye to bulky, physical construction plans and switch to a streamlined, efficient process that elevates your projects to new heights. These workstations are the ultimate solution for every stage of your construction process, from digital plan review and markup to providing seamless collaboration with your team, all in real-time.
And let's not forget, their high-resolution 4K touchscreens provide stunning visuals that help you catch every detail. Experience faster workflows and more productive meetings with iPlanTables.
Say goodbye to old-school ways of architectural drawing on paper and embrace the future of construction with iPlanTables. Try them out now and see for yourself how these innovative workstations can revolutionize your company and approach to construction projects.
Goodbye Paper and Outdated Plans, Hello iPlanTables!
Are you bidding on the future of construction? If you use construction plan rooms that still rely on outdated paper plans, you're stuck in the past. Outdated paper plans are bulky, costly, slow to update and can often be inaccurate. That's right – one revision and they're already out of date! In a lightning-speed industry like construction, why rely on something that's basically "history"? Say goodbye to history and move from paper-based construction plan rooms to digital iPlanTable touchscreen solutions. Streamline processes, save time and money while making sure everyone has access to up-to-date information. Modernize now so you don't miss out on the future of construction.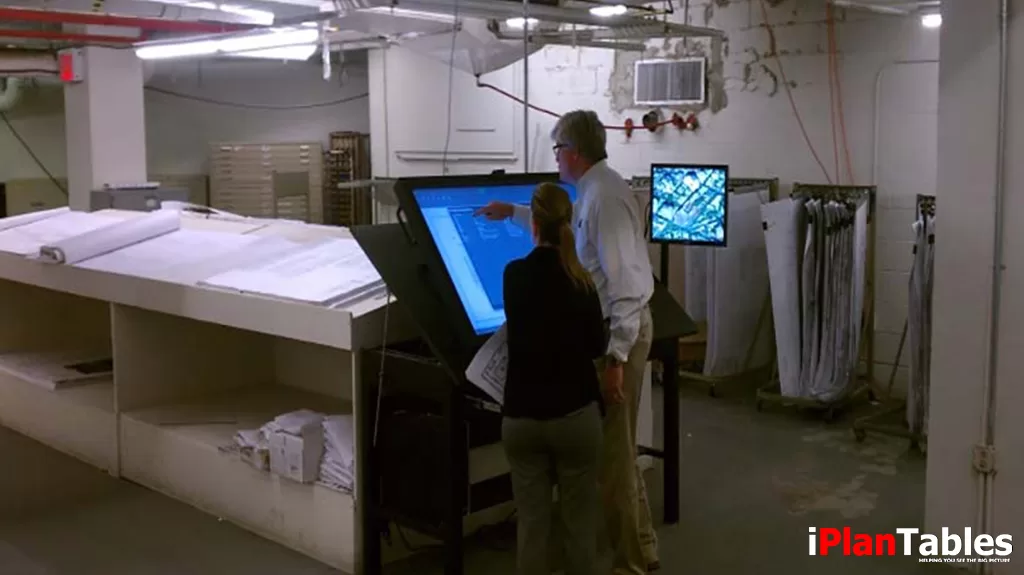 By relying on cloud-based technology for sharing and storing construction documents, you can rest assured that everyone involved is working with the most up-to-date plans. Going digital with iPlanTables workstations also allows for remote collaboration between teams – a key component of any successful project, especially during these uncertain times. It's time to bid farewell to your paper construction plan room prints and upgrade to a digital iPlanTables solution today! With a modern digital plan approach, using 4k touchscreen iPlanTables large 55-inch monitors, you can ensure accuracy and streamline processes, so you don't miss out on any future opportunities in the construction industry. Start saying goodbye to history now!
The construction industry has always been about innovation and embracing new technology. Yet, in this digital era, paper plans are still the norm in many construction plan rooms. It's time to say goodbye to history and embrace the future. Digital plans are more cost-effective, can be updated in real-time, can be shared across teams, offer better collaboration, and are eco-friendly. Switching to digital plans is not only the smart move, but it's also essential to staying competitive in the construction industry.
Follow Us on Facebook