The Construction Industry's #1 tool for Digital Collaboration: iPlanTables 55 Inch Touch Screen 4k Workstation
The construction industry has witnessed remarkable transformation in recent years with the rapid growth and development in technology. At the forefront of this revolution, iPlanTables has proven itself to be a game-changer when it comes to digital collaboration. The brand's 55 inch touch screen 4k workstation is a one-of-a-kind tool that has taken collaboration to a whole new level.
Gone are the days when construction professionals and teams had to rely on traditional paper-based methods for plan review collaboration, and real-time editing. With iPlanTables, the game has changed, and the 55 inch touch screen is a true testament to the brand's commitment to innovation.
This 55 inch touch screen 4k workstation is an all-in-one tool that revolutionizes the way teams collaborate on projects. Its cutting-edge technology allows for real-time edits on plans and makes the reviewing process efficient and seamless. Not to mention, its speed and fluidity are unparalleled.
The advantages of iPlanTables' 55 inch touch screen don't just end there. With its interactive interface, all construction professionals can participate comfortably in team collaboration via video conferencing, providing them with mobility and convenience.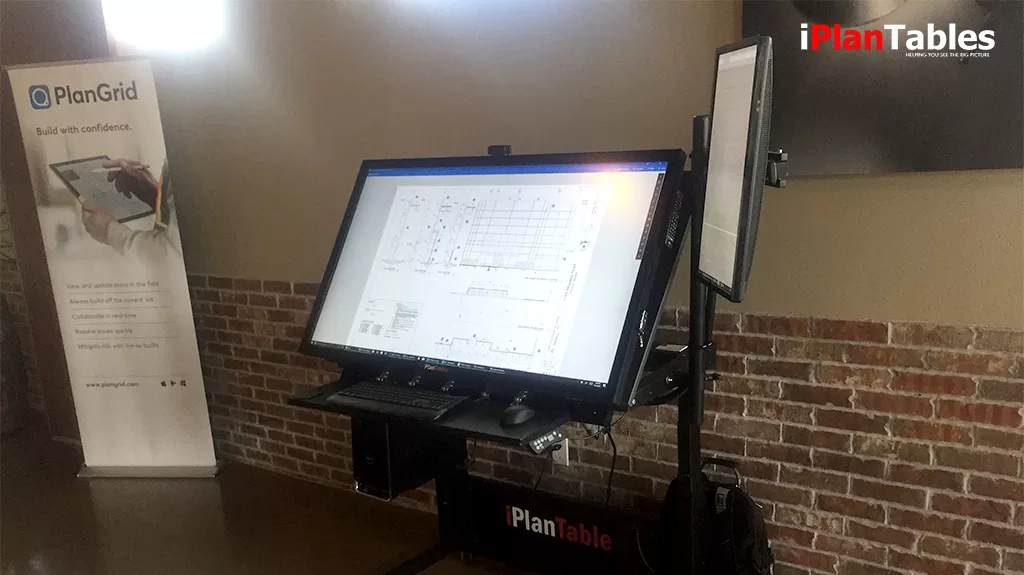 The significance of iPlanTables technology to the construction industry cannot be overstated. It has revolutionized the way construction companies approach digital collaboration, increased efficiency, and speed of projects.
Leveraging the power of this technology is no longer just an option; it is a necessity for every professional in the industry. Invest in iPlanTables and elevate your collaboration and projects to the next level.
How Construction Companies Can Leverage iPlanTables for Superior Plan Review Collaboration and Real-Time Editing
Superior Plan Review Collaboration
Discover how iPlanTables can transform your construction business or plan review department with superior plan review collaboration and real-time editing. Working together is the cornerstone of any successful construction project; a streamlined and intuitive collaboration process is crucial. That's where iPlanTables comes in. With its easy-to-use interface and advanced 55 inch touch screen 4k workstation technology, iPlanTables takes plan review to a whole new level, enabling you and your team to work together like never before.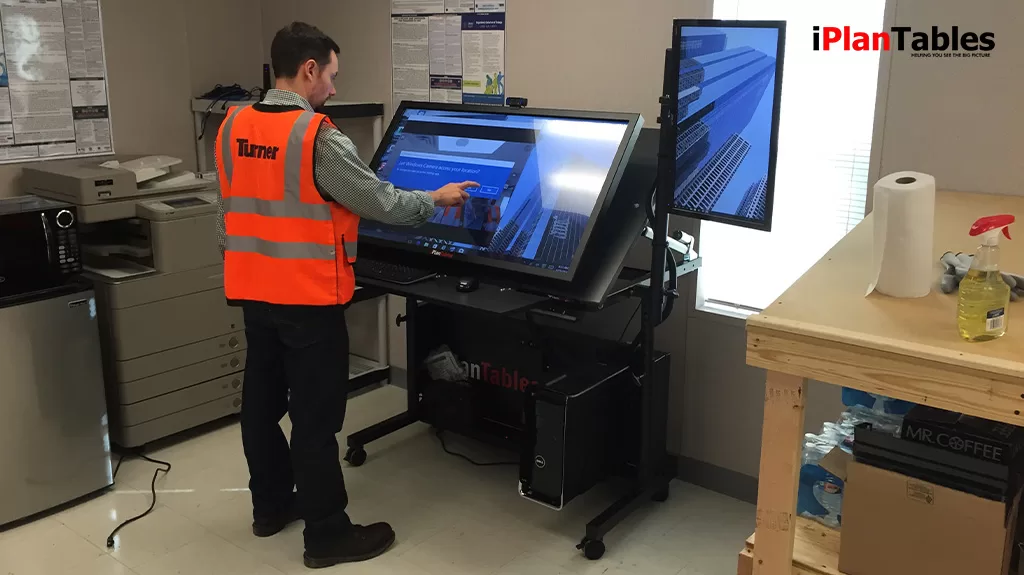 Say goodbye to clunky, outdated plan review methods and say hello to the sophisticated, efficient iPlanTables workstation. Built with the latest touchscreen technology, you can easily collaborate with team members in real-time and mark up plans effortlessly. With iPlanTables, no stone is left unturned in the plan review process as it allows you to keep track of changes and stay on top of every detail.
Don't wait any longer to take your construction workflow processes to the next level. Try iPlanTables today and see for yourself how premium technology can transform your workflow for the better.
Real-Time Editing
The iPlanTables 55 Inch Touch Screen 4k Workstation is an innovative solution for real-time editing of plan sheets and specs. With this cutting-edge technology, collaborating among team members and making changes to design has never been easier.
This workstation offers a large high-resolution display, providing a clear view of every detail in the plan. With its intuitive touch screen, you can make changes without any inconvenience, saving precious time and energy. Now, making onsite updates, revisions, and even client presentations can be done efficiently on one device. No longer will you need to squint through a set of printed construction plan sheets or work with multiple devices to get the job done.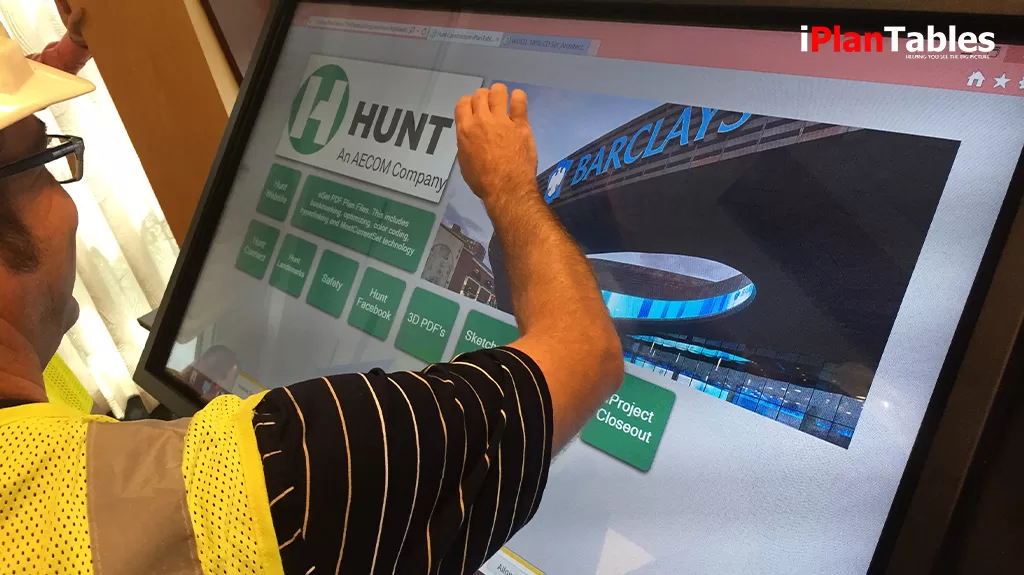 What sets the iPlanTables touch screen workstation apart is real-time editing. Its advanced capabilities give you the power to work together with your team simultaneously, regardless of your location. And with its touch technology, designing and brainstorming new ideas is an experience to behold.
This technology feature will save you time and money by minimizing the need to print out plans repeatedly, make changes manually, and then scan them back in. It's a complete game-changer for construction companies and plan review departments that demand the highest quality of productivity and performance.With the 55 inch touch screen workstations from iPlanTables, we offer the perfect solution for making your plan editing process simple, engaging, and hassle-free. Explore the endless possibilities of real-time editing today!
Unlock Maximum Clarity and Convenience with iPlanTables 55″ Touch Screen
Increased Efficiency
Welcome to iPlanTables – the ultimate solution to unlock maximum clarity and convenience in construction projects. Thanks to the 55 inch touch screen functionality, iPlanTable's workstation is an intuitive and efficient tool that helps construction workers and plan reviewers accomplish their projects with ease.
Are you frustrated with the countless paper plans, documents, and flipping pages, trying to keep them all in order only to discover missing plan sheets are sitting on someone else's desk? We understand your pain, and we want to help. Our touchscreen workstations featuring a 55 inch display, coupled with 4k resolution, empower construction workers and plan reviewers to access and manage all necessary project information with just a few taps. The interface is designed to be user-friendly and simple to use, even for non-technical employees.
Not all touchscreens are created equally – iPlanTables touchscreens are powered by a high-performing processor that keeps everything running smoothly without any lags or delays. Imagine how a tool like this would increase efficiency and productivity in your construction site. In your office. For your city or county plan reviewers and plans examiners. For your building code officials. Our workstations save time, eliminate errors, and help workers focus on the most important aspects of their jobs.
We are proud to be the solution that is leading the industry in efficient, effective, and engaging technology. The construction industry is all about efficiency, and iPlanTables has taken this into account. Let iPlanTables help you unlock the potential of your construction projects.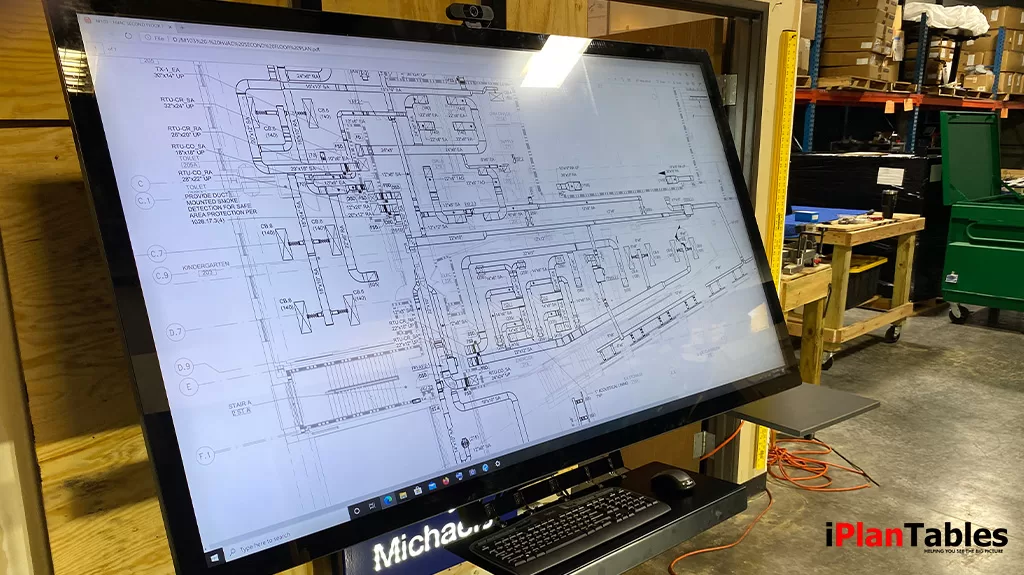 Remote Collaboration
Remote collaboration is now fundamental, and a 55 inch touch screen workstation to facilitate remote collaboration is one of the most critical tools needed for the construction and plan review industries. In a business that often finds itself spread across multiple locations; the iPlanTables 55 inch touch screen workstation provides everything required for flawless remote collaboration.
iPlanTables feature touchscreen workstations that enable stakeholders to communicate and collaborate efficiently, even if they are located in different parts of the globe. This is an ideal solution for the construction industry, and especially effective during the COVID-19 pandemic. Thanks to the iPlanTables 55 inch touch screen workstation, construction workers and plan reviewers could continue working on projects, reviewing and editing plans, all while maintaining social distancing and ensuring everyone's safety.
iPlanTables touch screen workstations provide a complete interactive experience that leads to collaboration that goes beyond the limitations of traditional paper-based methods. And thanks to your being able to use your existing Windows-based software on every iPlanTables model, collaboration between individuals is faster and more efficient than ever before.If you're looking for a reliable way to achieve impeccable remote collaboration and take your workflow to the next level, the iPlanTables 55 inch touch screen workstation is the right choice.
Cost-Effective
Are you spending an exorbitant amount of money printing construction plan sheets and revisions for your construction projects? Upgrading to iPlanTables will save you both time and money, while improving your team's workflow. Our large, 55 inch touch screen workstations have replaced the tedious process of printing, hand editing and scanning construction documents, all in one centralized location.
Say goodbye to the inconvenience of outdated printing methods and hello to cutting-edge technology that will streamline your daily operations. At iPlanTables , we offer a one-time investment that can potentially save your construction company thousands of dollars per year in printing costs alone!
Our 55 inch touch screen workstations are more than just a digital desk. With advanced features that come standard with our workstation builds, our touch screen capabilities allow for effortless collaboration between team members. From seamlessly marking up plans, to sharing your vision with colleagues on a larger screen, iPlanTables has reimagined the way we work.
Retire the old ways and embrace smart technology with iPlanTables. Upgrade today to start your journey to a more cost-effective and streamlined plan review process.
How the iPlanTables 55 Inch Touch Screen Facility Manager Workstation Is Revolutionizing Electronic Plan Review
Introducing the iPlanTables 55 Inch Touch Screen Facility Manager Workstation – the ultimate electronic plan review solution that's taking the market by storm.
With its high-resolution 55-inch touch screen display, our Facility Manager workstation offers unmatched user experience. It is incredibly efficient, responsive, and makes each plan review process extremely smooth and intuitive. This perfect blend of form and function is revolutionizing electronic plan review across the board.
We take pride in our product, which is designed with a focus on efficiency and performance, while providing a seamless experience for our users. Incorporating our touch screen Facility Manager workstation into your workflow not only saves you time, but also ensures your plans are reviewed and processed with the utmost efficiency with greater productivity.
Don't settle for anything less. Partner with iPlanTables today and discover how our 55-inch touch screen facility manager workstation can take your professional life to the next level.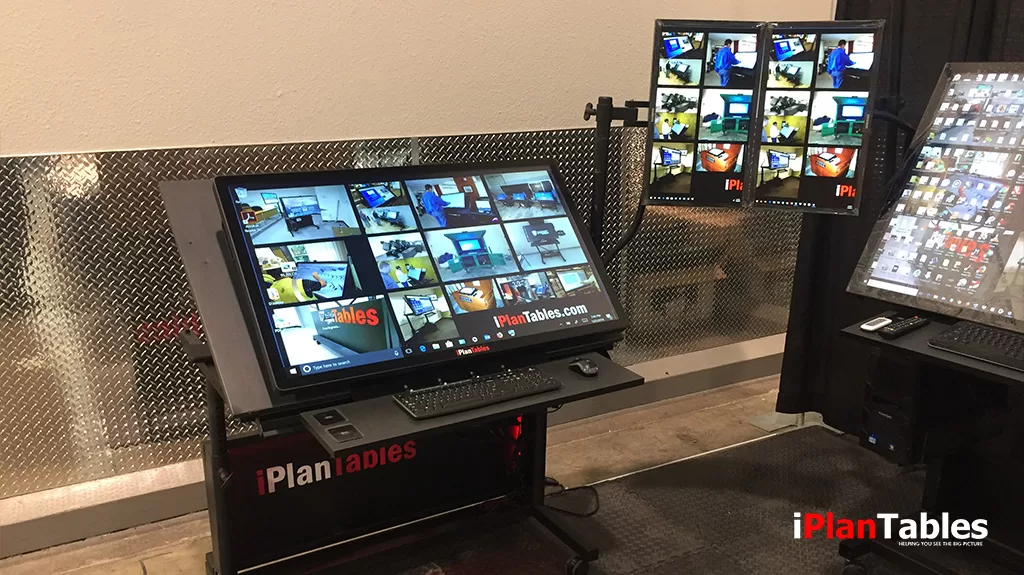 A Revolution in Digital Construction Plan Reviewing with iPlanTables' 55 Inch Touch Screen 4K Monitor Workstation
Welcome to the Future of Construction Plan Reviewing with iPlanTables' 55 Inch Touch Screen 4K Monitor Workstation!
Say goodbye to the hassle of outdated paper drawings and cumbersome plan review processes. Say hello to the revolution in digital construction plan reviewing with iPlanTables' 55 Inch Touch Screen 4K Monitor Workstation.
iPlanTables 55 Inch Touch Screen 4k Workstation is the construction industry's must-have tool for digital collaboration. Its superior plan review collaboration, real-time editing, increased efficiency, remote collaboration, and cost-effective features make it the perfect addition to any construction company or plan review or building code official's toolkit. Investing in this technology may just be the competitive edge that your company or department needs to take your projects to the next level.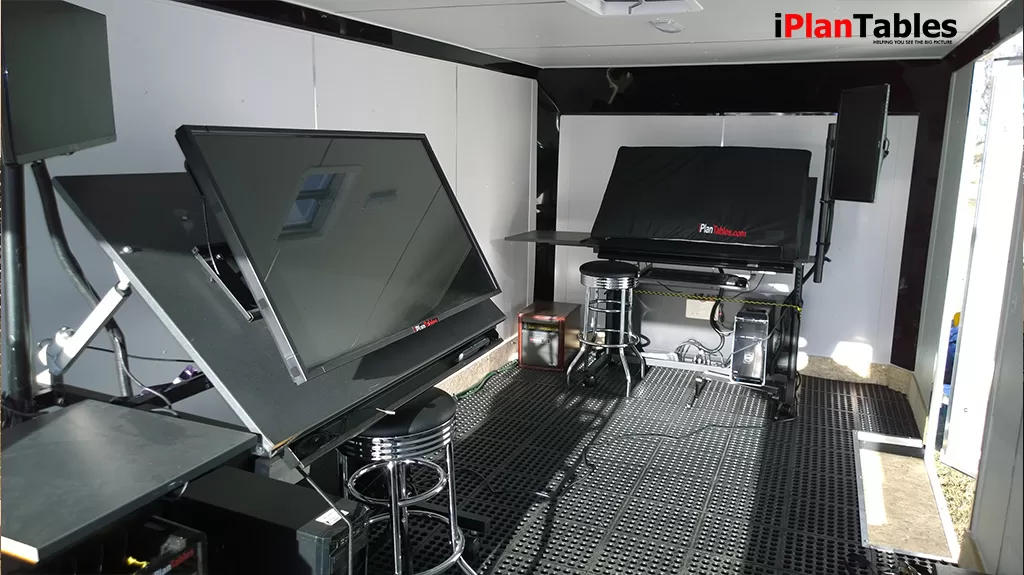 Imagine being able to collaborate on plans remotely, in real-time, with multiple people simultaneously. With iPlanTables, you can do just that! Its intuitive interface with 55 inch touch screen technology makes it easy to view and annotate plans, saving you time and hassle. No more flipping back and forth between drawings, no more printing out multiple copies. With iPlanTables' touchscreen workstations, plan collaboration is faster, smarter, and more efficient than ever before.
The iPlanTables 55 Inch Touch Screen 4k Monitor Workstation is a game-changer in the construction industry. Its cutting-edge technology delivers crystal clear quality, high resolution and precision, making it the perfect tool to use for design reviews, code compliance, and project meetings. It's portable, lightweight, and versatile design, and its high-resolution display makes it perfect for use indoors and outdoors.
So, what are you waiting for? Experience the future of construction plan reviewing with iPlanTables' 55 Inch Touch Screen 4K Monitor Workstation. Upgrade your technology and streamline your processes with iPlanTables today!
Like us on Facebook