Revolutionizing Construction Plan Review
As construction projects continue to grow in complexity and scope, the need for advanced technological tools has become paramount. Gone are the days where piles of plan sheets and manual paperwork are used in construction plan reviews. Today, efficient and advanced technologies are rapidly changing how plans are reviewed. One such technological tool that has been a significant change in plan review is the iPlanTables' Large Touchscreen Display workstation. This innovative display is designed to improve productivity and streamline the construction plan review process. Let's look at the benefits of utilizing iPlanTables' Large Touchscreen Display for high-end workstations.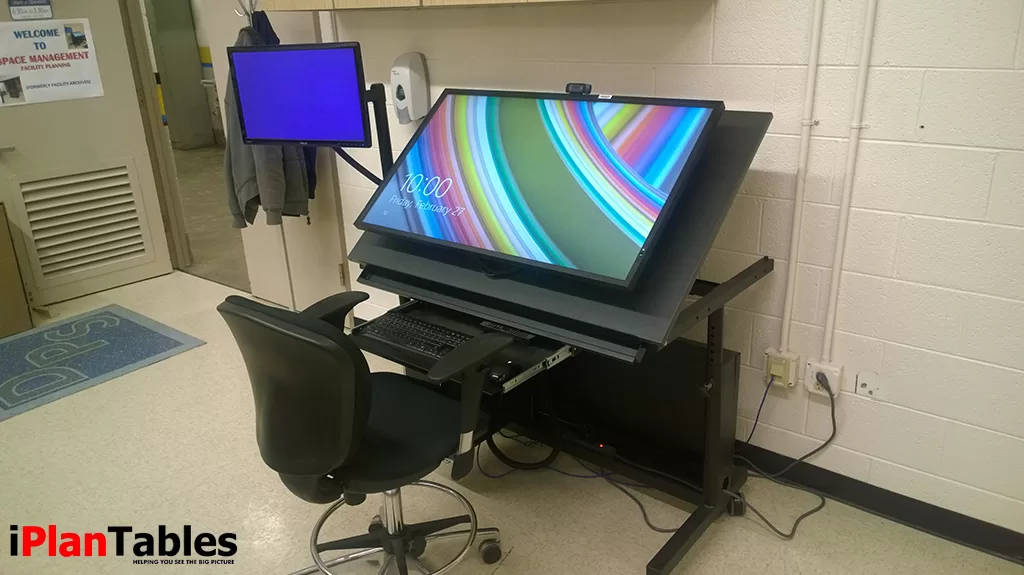 Enhanced Collaboration and Cooperation with iPlanTables' Large Touchscreen Display workstation
Many construction plan reviewers struggle with collaborating and coordinating with other stakeholders. This can be attributed to the bulky nature of plan sheets and inability to zoom and manipulate the images. With iPlanTables' Large Touchscreen Display workstations, multiple users can zoom and manipulate the display, leading to efficient collaboration and cooperation among project stakeholders. This innovative technology allows reviewers to work together in real-time without the need for paper printouts or multiple devices. The users can discuss the plans and make decisions as they go along.
Real-time Review and Feedback
The days when construction plan reviewers had to annotate and then photocopy the same plan sheets multiple times are long gone. With iPlanTables' Large Touchscreen Display workstations, reviewers can make edits and annotations on the plans in real-time. Any comments or suggestions can be noted on the display and shared with other users, leading to a collaborative and efficient review process. This technology speeds up the time it takes for stakeholders to get feedback, which, in turn, enhances the speed of the entire project.
Multitasking Capability
The iPlanTables' Large Touchscreen Display workstation, with its large screen and multitasking capability, makes it possible for plan reviewers to display multiple plans on one screen with the touch of a finger or stylus. This feature allows reviewers to view different versions of plans quickly, on one large wide-format touchscreen, and easily switch and flip between them. The multitasking capability has increased the efficiency with which reviewers work, alongside the accuracy and collaboration capabilities. This technically advanced display also eliminates the likelihood of human error, which may occur with manual markups.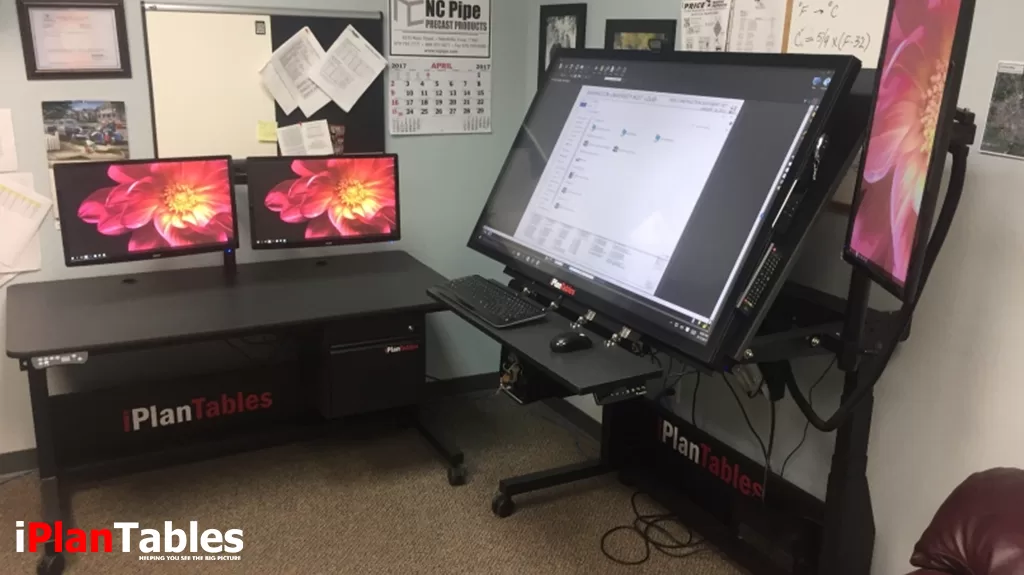 Improved Legibility and Visualization
iPlanTables' Large Touchscreen Display workstations employ advanced technology that is designed to display high-quality images and designs. The superior visual quality of the display on the 4k large touchscreen display makes it easier to identify details that may be difficult to see on small monitors. The high-quality display ensures that all the stakeholders involved can gather a clear and accurate understanding of the plan. Additionally, the touch screen functionality makes it easy for reviewers to zoom in and out and visualize all the plan details correctly.
Enhances Efficiency and Speed
The advanced technological tools utilized by iPlanTables' Large Touchscreen Display Monitor workstation guarantees users increased efficiency and speed. The display provides real-time editing, multitasking capabilities, along with superior quality that ensures efficient plan review. This technology cuts down project turnaround time and ensures that all stakeholders are on the same page, at the same time, ensuring that the project is completed on time and within a reliable budget.
iPlanTables' Large Touchscreen Display workstations have made significant advancements in construction plan review. With its advanced capabilities, the technology has made it easier for stakeholders to collaborate, visualize and annotate designs, creating an efficient and collaborative review process. By utilizing this technology, construction plan reviewers can increase efficiency in the review process, reduce costly human errors, and achieve better project outcomes. It's time to embrace the future of technological innovation and transform the way construction plans are reviewed.
Large Touchscreen Display Workstations Can Boost Your Productivity
Are you tired of squinting at small monitors that hinder your productivity? It's time to upgrade to a large touchscreen display workstation like iPlanTables. Large touchscreen displays are powerful tools that can help you work more efficiently and effectively.
A monitor is the most important component of any workstation, and when it comes to productivity, size matters. With a large touchscreen display like the ones used in iPlanTables' workstations, you can take advantage of the numerous benefits that come with a broader visual field.
One significant advantage of a wide-format monitor is excellent visual clarity and color accuracy. You'll be able to see every detail in your documents, images, and videos, making it easier to review, edit, and collaborate on projects. Multi-touch gestures such as pinching and zooming simplify navigating and interacting with applications, streamlining workflow and increasing productivity.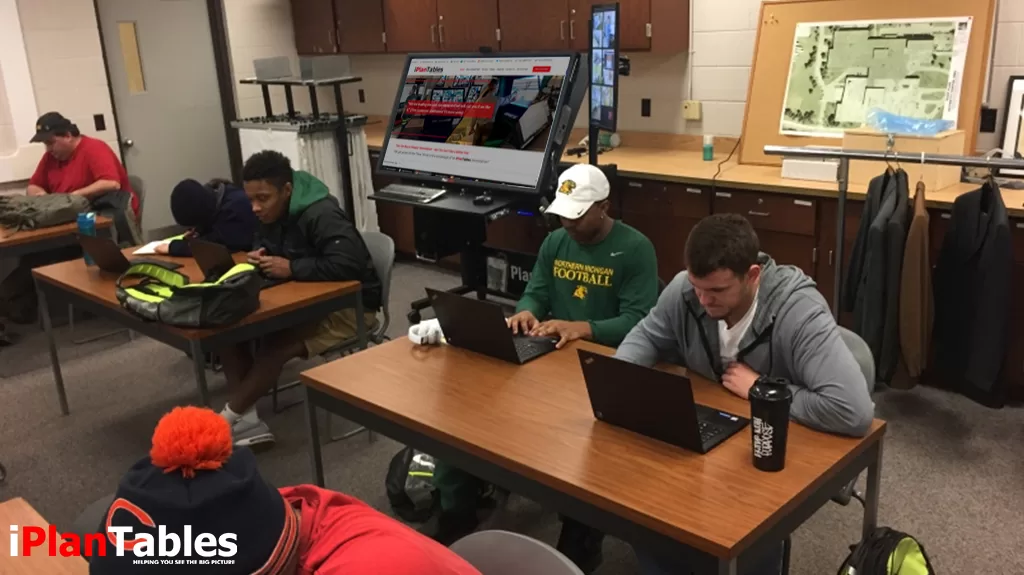 iPlanTables large workstations are also designed to make you more productive and organized. The ability to work on multiple documents simultaneously can help you stay organized while working on projects, and this feature is especially useful for collaborative work. With these workstations, you can keep all the documents you need open without losing track of them, helping you to stay focused and efficient.
The modern and sleek design of iPlanTables' workstations makes them well-suited for any workspace. Whether you're in a traditional office or a collaborative workspace, these workstations will fit right in and enhance your productivity.
If you want to improve your productivity, a large touchscreen display workstation like iPlanTables is the way to go. They offer excellent visual clarity, multi-touch gestures, and the ability to work on multiple documents simultaneously. Plus, they boast a modern and sleek design that will fit in any workspace. Invest in an iPlanTables workstation today and experience the benefits of enhanced productivity, efficiency, and organization.
iPlanTables Large Touchscreen Display Workstations: The Ultimate Blend of Visibility and Efficiency
Our workstations are equipped with 4K displays to provide you with maximum visibility. What's more, you can easily set up extra side monitors in either landscape or portrait mode – whichever works best for you – to help you view multiple documents at the same time.
With our wide-format touchscreen monitor, you don't have to waste time scrolling through thousands of documents. You can view everything on the screen and additional side monitors and increase efficiency at work. Our large screen workstation is designed to provide you with exceptional visual clarity and accuracy, making it easier for you to read and comprehend your work.
No more struggling to read those tiny fonts and unclear pictures. With a resolution of 3840×2160, four times that of 1080p HD and HDR support, our digital display can display a wider and brighter range of colors, ensuring that every detail in your work stands out.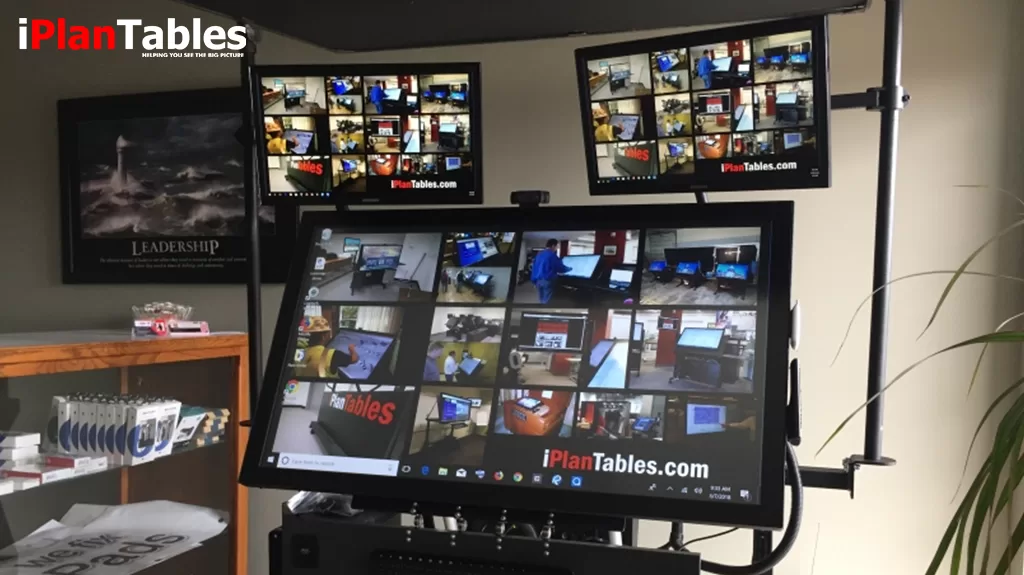 But that's not all – our workstations also come with multi-touch gestures, allowing you to zoom in and out, and swipe between documents easily. You can navigate through your work more quickly and efficiently, reducing time spent on scrolling and clicking.
Our workstations are not only designed to provide you with maximum visibility and efficiency but are also sleek and stylish, adding a touch of sophistication to your workspace. The workstation's minimalist design ensures that it'll fit right in with any office décor, while its adjustable height and angle make it comfortable to use for extended periods.
Investing in an iPlanTables workstation means investing in your productivity and efficiency. You'll be able to work faster, smarter, and more comfortably, making you more efficient and effective at your job. With our large touchscreen display workstations, you'll have the ultimate blend of visibility and efficiency at your fingertips. So why settle for less when you can have it all? Upgrade to an iPlanTables workstation today and experience the difference!
Why iPlanTables Workstations are the Perfect Fit for Your Business – Unlocking New Levels of Productivity and Teamwork
Real teamwork and collaboration occur at workstations, not meeting rooms. The right workstation can unlock new levels of productivity and efficiency for your business, leading to increased growth and success. That's where iPlanTables workstations come in, offering a range of benefits that make them the perfect fit for your business.
One of the most significant benefits of iPlanTables workstations is their high-resolution monitors. With more content displayed on the screen, employees can work more efficiently and productively. Plus, the ease of use that comes with a high-resolution monitor means that employees can focus on their work instead of struggling to read or navigate applications.
iPlanTables workstations go beyond just sharper images. They're designed to reduce eye strain and improve overall employee health. Studies have shown that better workstations can lead to fewer workplace injuries and illnesses, reducing medical expenses and boosting productivity.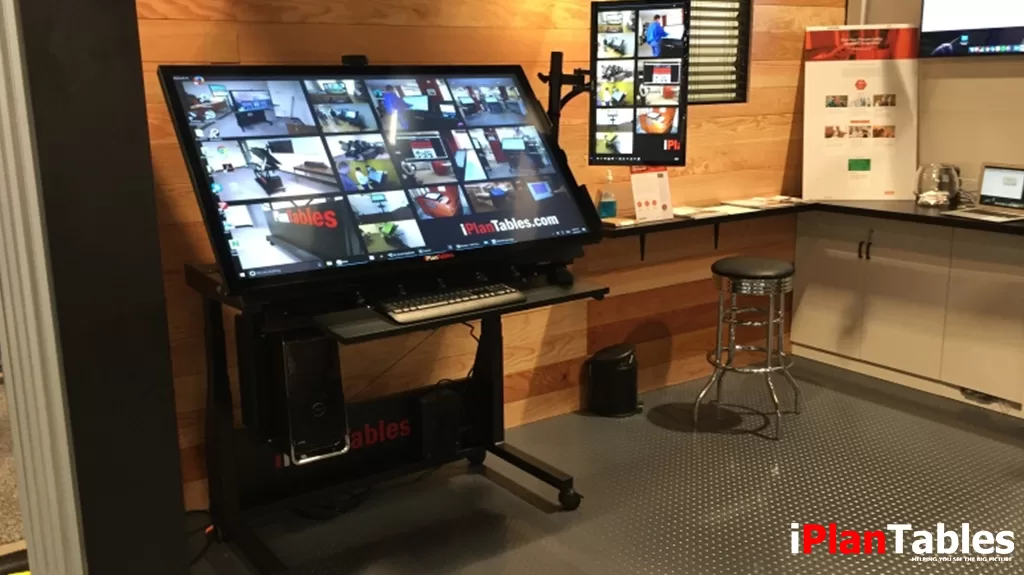 In fact, research has shown that investing in high-quality workstations can lead to increased business growth. A study by Dell found that businesses that invested in better technology experienced 2.5 times more revenue growth than those that didn't. By providing your employees with the best tools, you're setting them up for success and positioning your business for growth.
With iPlanTables workstations, you're not just investing in better technology, but also in improved teamwork and collaboration. The large touchscreen display and multi-touch gestures make it easy for employees to work together on projects. Plus, the sleek and modern design of the workstations adds a touch of sophistication to any workspace.
iPlanTables workstations are the perfect fit for your business, unlocking new levels of productivity, teamwork, and growth. With high-resolution monitors, reduced eye strain, and improved health, you're investing in your employees' success and positioning your business for growth. So, what are you waiting for? Take action and invest in iPlanTables workstations today.
Like us on Facebook