iPlanTables workstations are revolutionary large interactive touch monitor workstations that allow you to create, share, and mark up documents and files. It is a collaborative workstation that combines all your planning and performance management data by incorporating a wide range of digital content and your existing applications.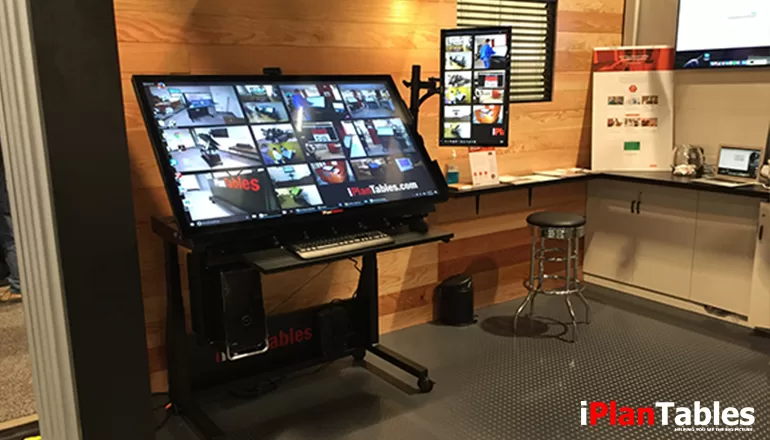 Interactive Touch Monitor – Increase the Effectiveness of Your Meetings
When you collaborate with an iPlanTables workstation, everyone's eyes are front and center, and the focus is where it should be: on the topic at hand.
Our intelligent and intuitive screen is powered by PCAP (Projected Capacitive Touch Screen) technology, allowing you to draw and mark up your documents for all to see, ensuring greater comprehension and discussion.
Thanks to built-in screen sharing and mirroring, you can easily share any of your devices with the group.
Improve Your Productivity by Brainstorming More Effectively
An iPlanTables workstation enables meaningful collaboration by displaying your content where everyone can see, interact with, and discuss it, whether in a conference room or a construction trailer.
By leveraging your team's combined talents and providing them with the best tool for the job, you can solve problems faster and find the best solutions.
With the iPlanTables, your team can collaborate to develop a strategy and determine the next steps.
No More Mouse and Keywords
The most appealing aspect of touchscreen technology is its natural and direct interaction. It is far more user-friendly and intuitive than a traditional computer, which requires multiple add-on devices to function.
More add-on devices equal a higher chance of something going wrong! For example, if your computer's mouse or keyboard does not work, you cannot use it, and consider that keyboards are natural dirt, dust, food, and water traps! On the other hand, touch screens have a longer product life than standard computer monitors.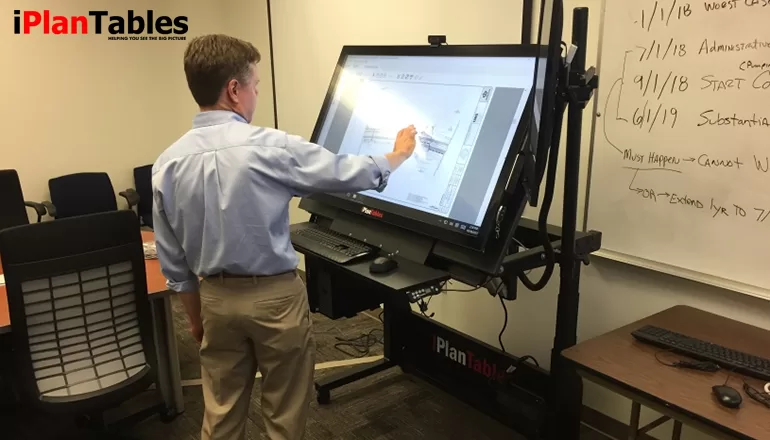 Specifications of iPlanTables Workstations
Base Mobile Cart built in the USA by iPlanTables.
Turnkey.
Nine models.
Created for Plan Reviewers, Project Managers, Superintendents, Archivists, and Plan Sheet users from Day One.
External PC-not impacted by heat from Micro to Xeon standard, Or you can provide Your Own.
Surge protector-standard.
UPS Battery back-up-standard.
Webcam.
Articulating keyboard work surface -standard.
Conference Room Height-79″.
Job site casters.
Custom Corporate Colors.
The printer Plate is optional.
Apple TV is available.
Wireless keyboard & Mouse standard.
Logitech Conference Cam Available.
Upgrade Your Office with iPlanTables Capacitive Touch Screen Monitor Workstations
Are you looking for a workstation that enhances your productivity and complements your workspace's aesthetics? iPlanTables Capacitive Large Touch Screen Monitor Workstation is the perfect solution for modern offices, construction job site trailers, or city plan reviewer offices.
This workstation boasts a capacitive touch screen display monitor that provides an effortless and smooth user experience. Whether you need to review construction plans, collaborate on projects or workflows, or complete tasks, this workstation enables you to work with ease, speed, and accuracy. Its sleek profile design adds a professional and elegant touch to your workspace.
 More than just being user-friendly, iPlanTables Capacitive Touch Screen display Monitor Workstation is designed to withstand demanding work environments. It features a rugged construction that ensures durability, stability, and resistance against harsh job site conditions. This product also offers plug-and-play functionality, making it easy to set up and start using immediately.
Say goodbye to outdated or bulky workstations; embrace the future of modern office technology with iPlanTables Capacitive Touch Screen Monitor Workstation. Achieve more efficiency, productivity, and professionalism without sacrificing style and elegance.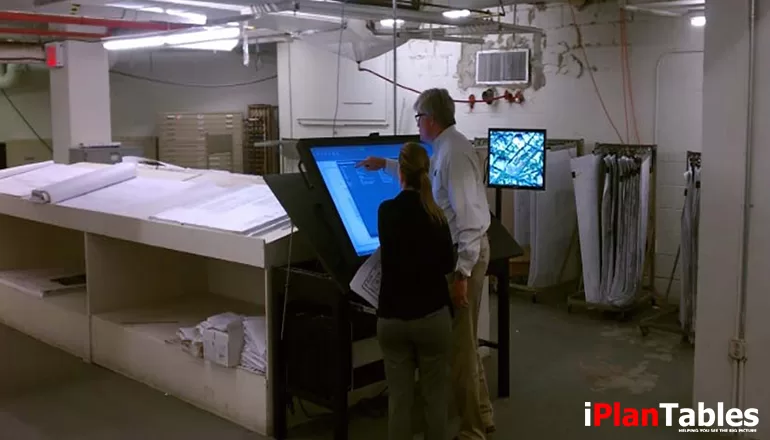 Why Choose iPlanTables Workstations?
The most recent in touch screen technology, iPlanTables workstations, are intended to streamline and automate daily operations, thereby increasing operational efficiency.
In addition, the monitors provide a smooth user interface, an unrivaled visual experience, and the durability required for industrial applications.
Contact iPlanTables today to learn more about this product and how it can help you increase your productivity!
Follow us on Facebook