Are you tired of looking at paper or small monitors for building plan review? Squinting at the small details? Panning-Zooming-Scrolling in and out of drawings to see what you need to see?

That's where iPlanTables comes in!

iPlanTables monitors are designed specifically for the building plan review process. They make it easier for reviewers to find what they need without turning pages or flipping through binders, or hunting through back storage rooms for the current set of documents.

In addition, our large touchscreen monitor allows users to zoom in on areas of interest and make changes in real-time.
What Is the Best Way to Review Building Plans?
Are you looking for the best way to review building plans?

Building plan review can be done on an iPlanTables large touchscreen monitor designed to give contractors, architects, engineers, and other professionals a more interactive way to view and edit floor plans.

iPlanTables workstations with a large touchscreen monitor and rotating side monitors allow you to view your plans, specs, and code book simultaneously.

Our many model configurations eliminate unnecessary printing on paper or plotter prints and improves your project team's communication process.

Project questions can be answered in minutes, not days. Look at full-size drawings on a touchscreen workstation to perform on-screen annotations, estimating, and communication.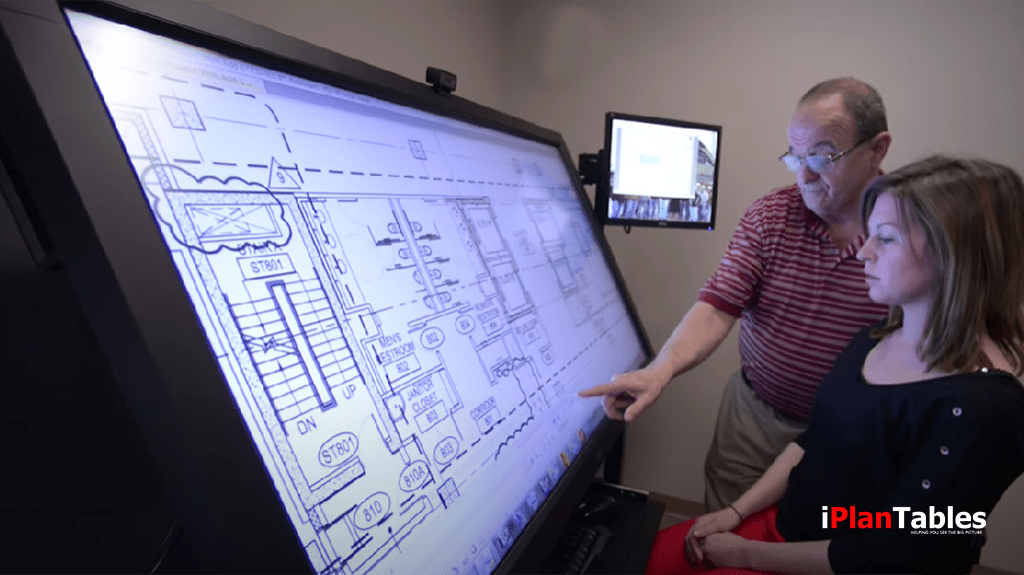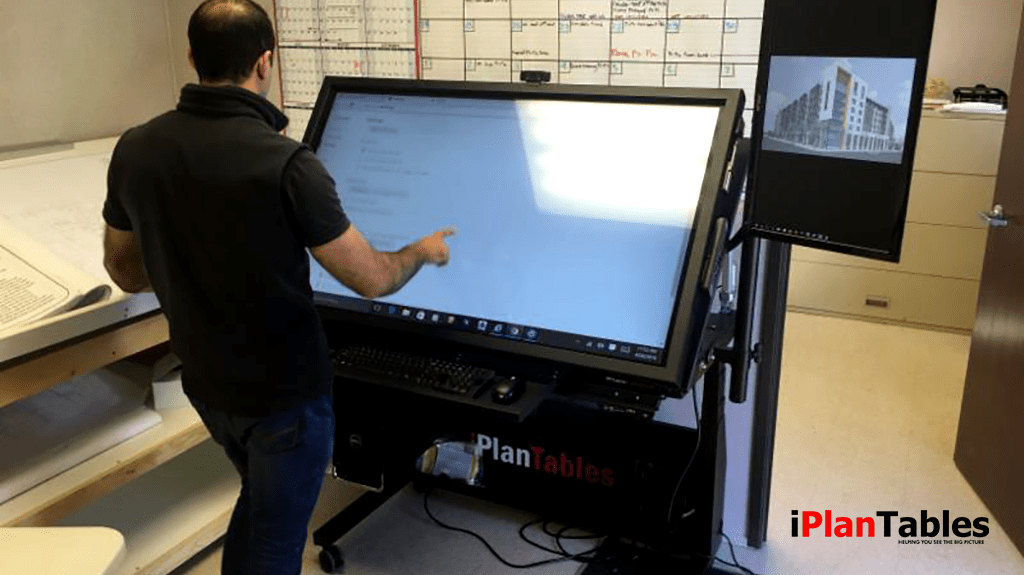 Why Is a Touchscreen Better Than a Mouse and Keyboard When Reviewing a Building Plan?
Touchscreen monitors provide more accurate data input than a mouse and keyboard in many cases.
The first benefit of using a touchscreen is that it helps you review your plan much faster. This is because there's no need to move back and forth between the keyboard and the mouse.
The most obvious benefit of a touchscreen display is that it allows you to zoom in and out of your designs easily.
Using these gestures, you can quickly navigate through your design files without having to click through multiple windows or mess around with keyboard shortcuts.
Touchscreen monitors provide more accurate data input than a mouse and keyboard.
You can enter data faster with your fingers than with a mouse or keyboard.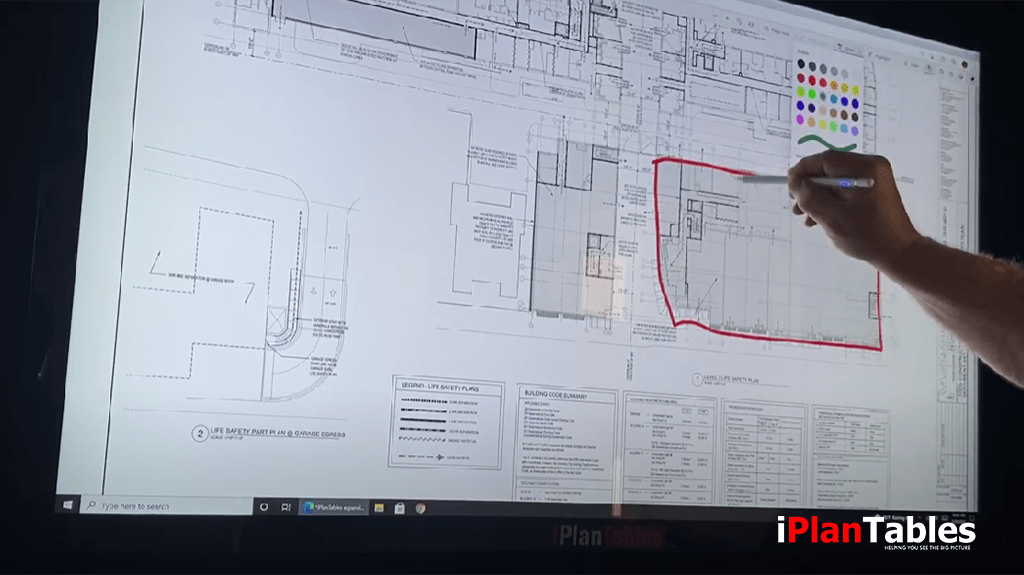 Digital Plan Review Is the New Trend in the Industry
Improved Communication – Digital Plan Review allows everyone involved in a project to work together from remote locations. As a result, it improves team communication and collaboration, leading to better results.
Reduced Costs – Digital Plan Review reduces the costs of paper-based plans by using technology to create and store documents digitally. It makes them more convenient to use and share, saving time and money.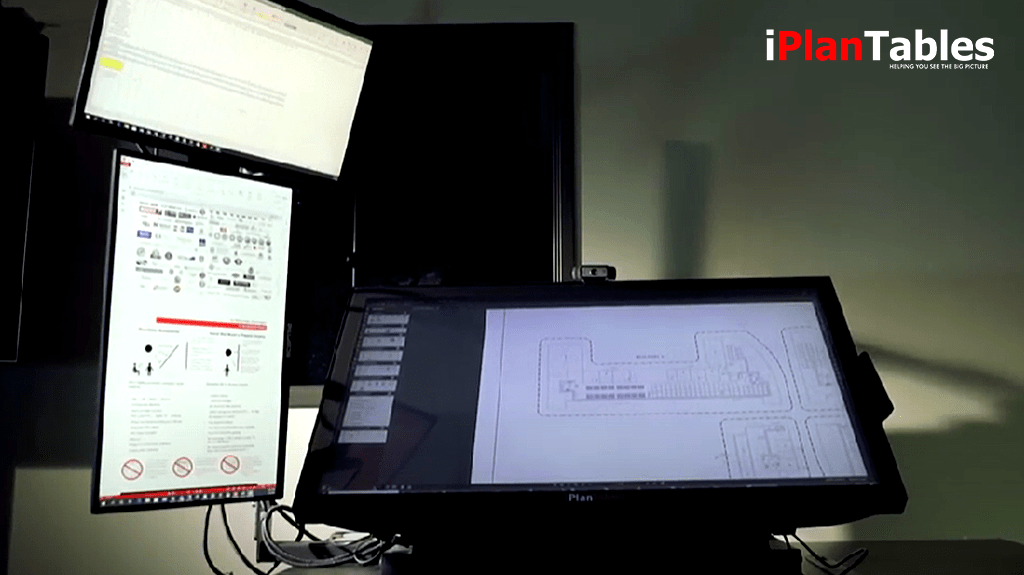 Lower Environmental Impact – Besides its economic benefits, digital plan review also helps protect our environment by reducing paper waste caused by traditional methods of storing construction documents manually in offices or filing cabinets.
Building Plan Review Workstations by i

Plan

Tables
The large touch screen monitor workstation is a great way to review building plans. The system comes with a wide-format touchscreen monitor and multiple side monitor options and configurations. It's easy to install and can be moved around the office as needed!
We use crisp 4k wide-format touch screens that provide pixel-perfect resolution at any angle while ensuring optimal environmental visibility.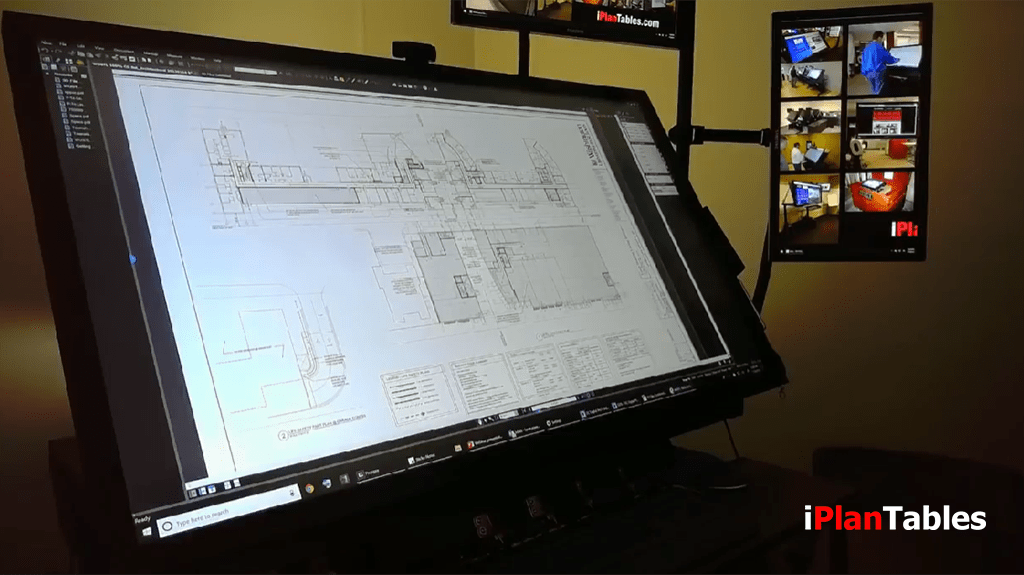 Plan review, markup, and takeoff using your current Windows-based software mean that you can take full advantage of the touchscreen capabilities.
Our models are available in several sizes, with the option to configure your workstation to meet your needs. In addition, our products are built for the unique challenges of building plan review.
Our top models include: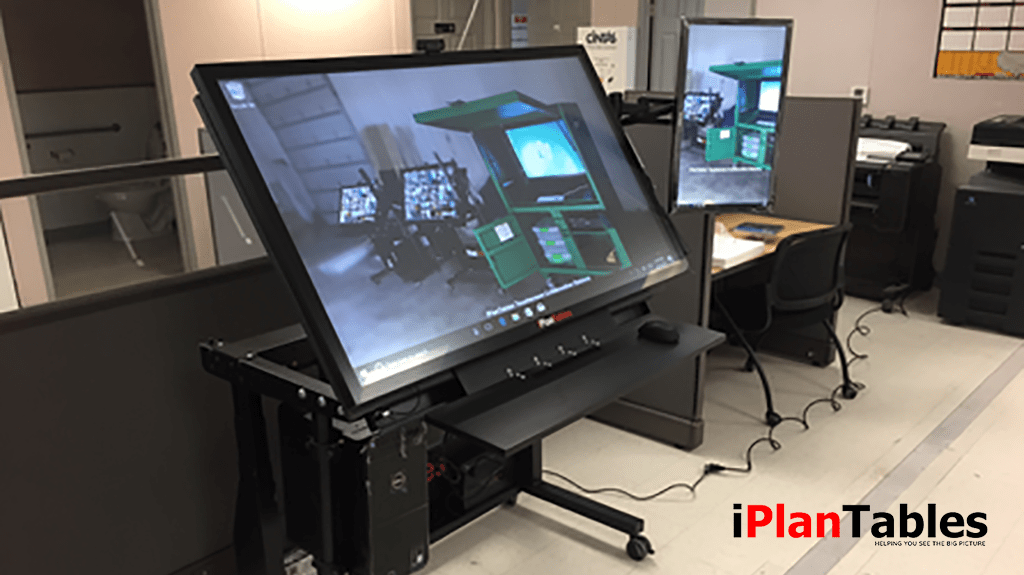 Facility Manager Series – The only USA-Built Mobile Cart made by iPlanTables – Articulating and Adjustable Height Desk from 0 to 90 Degrees for maximum flexibility.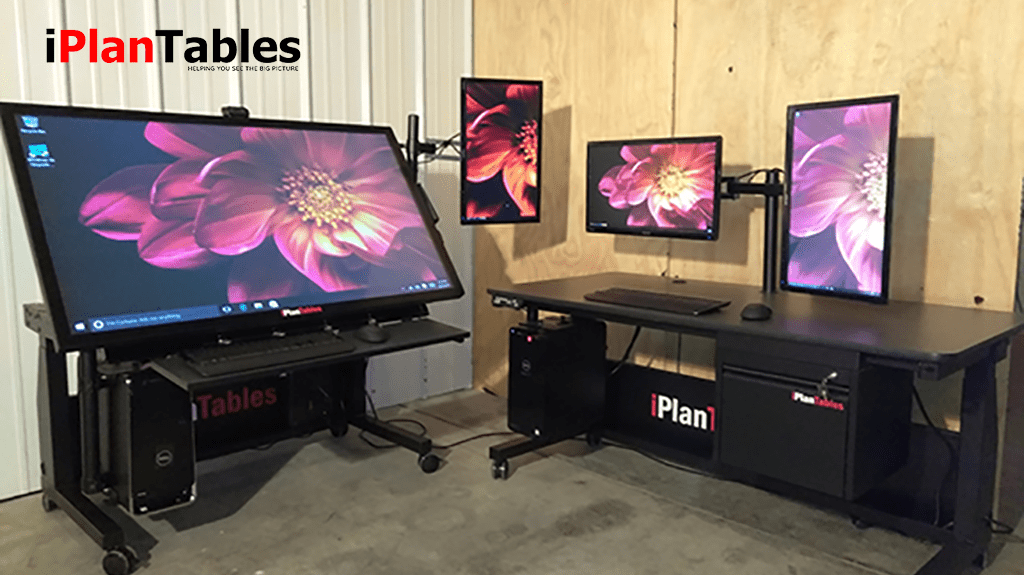 Office Command Center – The combination of a 4-Monitor Touchscreen Display Desk and iPlanTables Workstation Command Center Provides Easy Access to Key Information. This 4 Monitor Workstation Commands Your Daily Information.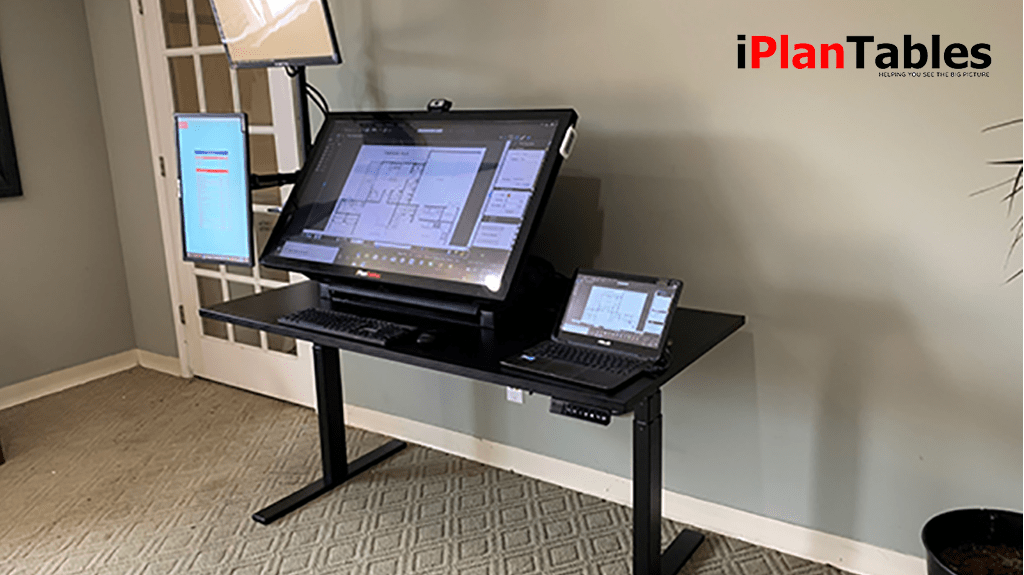 Desktop Commander– Convert Your Existing Desk to an iPlanTables Smart Table Touch Screen Workstation.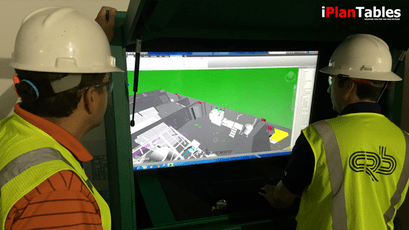 Field Commander – Professional Grade Mobile, Lockable Jobsite Workstation. This Mobile Construction Workstation is Ideal for BIM Sharing on a Floor-by-Floor Basis.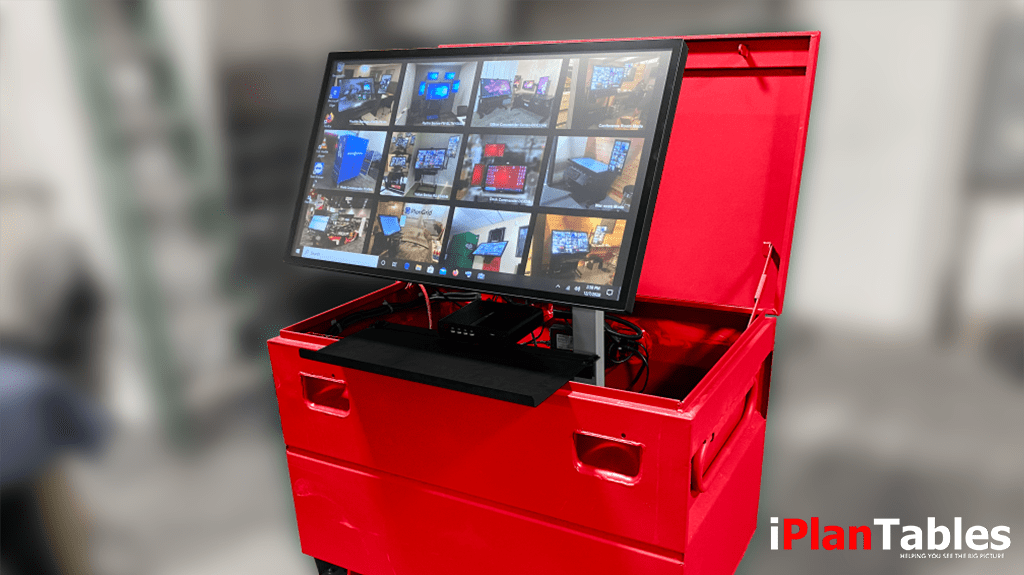 Job Commander – Smaller, Lighter, and More Compact Jobsite Box than its Big Brother iPlanTables Field Commander – Powerful All-in-One Mobile Solution for Job Sites, Factory, and Industrial Floors.