If you're in the architectural or engineering industry, then you know drafting tables are a staple. But did you know that electronic drafting tables are becoming increasingly popular? In this blog post, we'll explore some of the advantages they offer over traditional drafting tables. So, if you're considering making the switch, be sure to read on!
Traditional Drafting Tables vs Electronic Drafting Tables
As someone who loves both traditional drafting tables and electronic drafting tables, I have to say that each has its unique benefits. Starting with a traditional drafting table, I used to love the fact that they are extremely sturdy and stable. This was important when working on precision drawings or paintings, as even the slightest movement could ruin your work. Additionally, traditional drafting tables tended to be very large, giving you plenty of space to spread out your materials.
But now, in 2022, many architects, engineers, and general contractors are moving away from paper. Moving to digital files and electronic drafting tables has some major advantages as well. Having been in the blueprinting industry for quite a few years, I saw firsthand how the construction industry made the switch from printing paper to moving to digital files. That is why I invented the iPlanTables workstations. They help design, view, and manage your digital drawing files on large 4k resolution touchscreen monitors.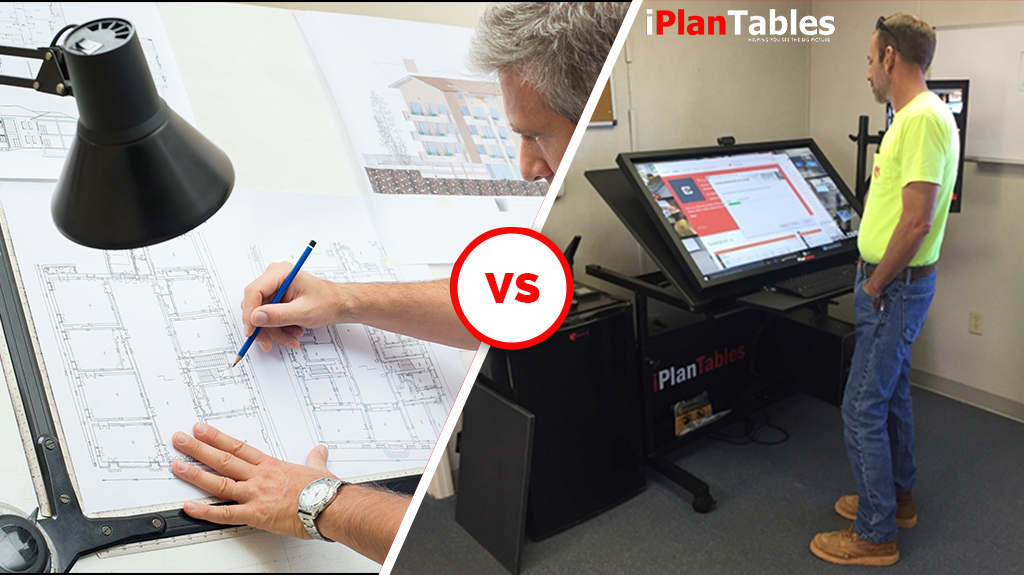 Our most popular model, the FMELT is portable — it is on mobile casters. It can be locked into place or moved to a neighboring office, conference room, or job site trailer. Electronic drafting tables allow you to use your existing Windows-based software to do your large designs on a 55-inch high-resolution touchscreen monitor. And our industrial workstation can be customized to add ancillary side monitors to view additional documents, designs, and specs, to help with your daily work.
Ultimately, the decision of which type of electronic drafting table to purchase depends on your specific needs and preferences. We offer a mobile FMELT model, we offer a Desktop Commander that converts your existing desktop spaces into electronic drafting tables, and we offer a Value Series which is just as powerful, with a little bit fewer features.
The Advantages of Electronic Drafting Tables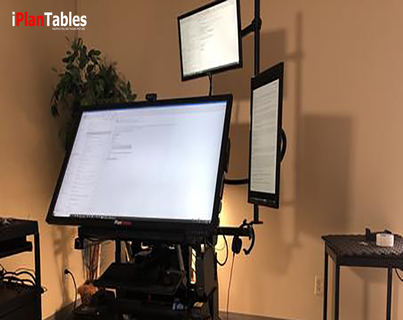 An electronic drafting table is a great investment for anyone who wants to be able to sit or stand while they work. The iPlanTables brand drafting table is our top seller and is a complete turnkey workstation. It is part of our FM series and is built with an electric lift and tilt that allows it to be adjusted from 0 to 90 degrees, making it the perfect drafting table for any workspace. It also includes a side monitor that rotates into both portrait and landscape modes, making it perfect for multiple monitors sit and stand desk workstations. The best part about this electronic drafting table is that it is mobile and can be moved anywhere in your office or home. So, if you are looking for the perfect electronic drafting table for your workspace, look no further than the iPlanTables brand series of touchscreen workstations.
Why More and More People Are Making the Switch to Electronic Drafting Tables
Engineers and architects, and anyone who draws and designs, are always looking for ways to work more efficiently. The construction industry is starting to see (after a hundred years) the transition from paper-based drafting table designs to staff and colleagues using electronic drafting tables. A drafting table has long been a staple in engineering and architect offices, but the new generation of electronic drafting tables (like an iPlanTables FM Series or Desktop Commander) offers several advantages over traditional wood models.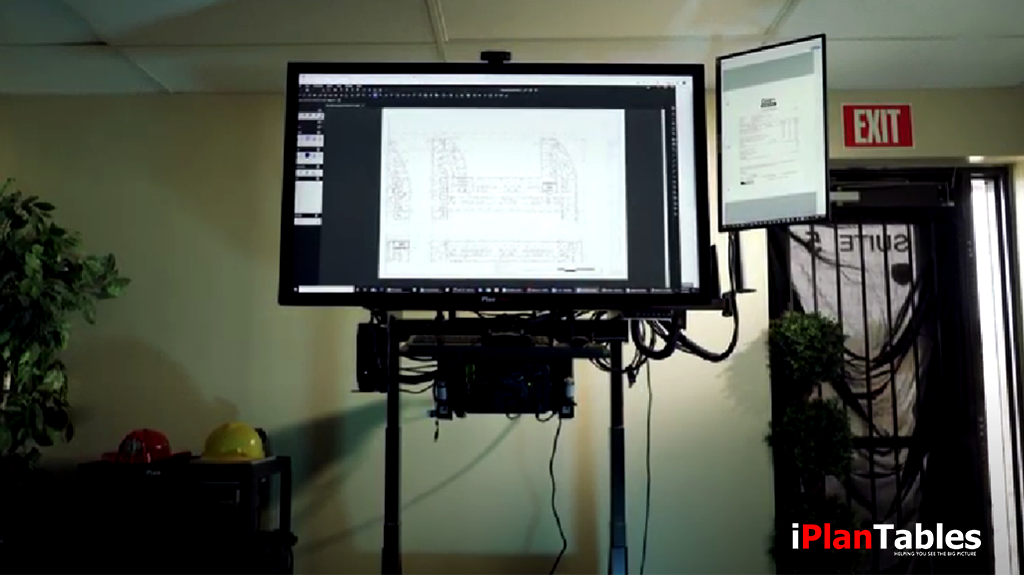 First, they're much more ergonomic, which means that you can work for longer periods without experiencing discomfort. Second, the touchscreen comes with 4K resolution which is clear and easy to see the smallest of details using your design programs. iPlanTables FM Series comes with an articulating keyboard so you can use it and the wireless mouse if your software requires it, or you can easily switch to using the touchscreen mode using your finger or iPlanTables stylus. Either way, the level of detail you see is essential when you're working on complex projects. Third, they're very user-friendly, so even if you're not experienced in using large monitors, you'll be able to use them with ease since it's like using a large tablet or large cell phone screen. And finally, they're very affordable compared to printing and printing that paper, so even if you're on a tight budget, you'll be able to find a table that meets your needs. If you're looking for a way to streamline your engineering and architecture workflow, an electronic drafting table is worth considering.
If You're Considering Making the Switch, What to Keep In Mind
If you're an architect, engineer, or use drawings or designs in your daily work, you are probably considering making the switch from paper to digital drafting. There are a few things you should keep in mind.
Increased Efficiency – With an electronic drafting table, you can easily make changes to your drawings without having to start from scratch. This can save you a lot of time and frustration, especially when working on complex projects.
Improved Accuracy – Because you can make changes quickly and easily with an electronic drafting table, you're less likely to make mistakes. This can save you time and money in the long run, as you won't have to go back and fix errors.
More Environmentally Friendly – Electronic drafting tables don't require the use of paper, which means they're more environmentally friendly. Not only will you be doing your part to help the planet, but you'll also save on costs associated with buying paper.
Enhanced Collaboration – With an electronic drafting table, it's easy to share your drawings with others and collaborate on projects. This can be a great way to get ideas from other designers and engineers and make sure everyone is on the same page.
If you're looking for a drafting table that is more efficient, accurate, and environmentally friendly, then an electronic drafting table is worth considering. These tables offer many advantages over traditional wood models, such as being more ergonomic and user-friendly. Accuracy is improved with less room for error due to the touchscreen interface and digital files. The ability to zoom in and out on details makes collaboration easier between team members who may be based in different parts of the world. And finally, a decrease in environmental waste is always a good thing.
Click below to set up a free webinar consultation at your convenience so that we can discuss how an iPlanTables brand electronic touchscreen drafting table workstation can benefit your construction company and help improve your bottom line.
For more details follow us on Facebook