If you work in the architectural or engineering fields, you know how essential drafting tables are.An electric adjustable drafting table can significantly enhance your productivity and comfort by allowing you to easily adjust the height and angle of the table to suit your needs.
The electric adjustable drafting table is the latest in
ergonomic creative workstation innovation. It offers
effortless, all-electric adjustments for desktop height and the first-ever articulating desktop tilt angle, ideal for technical and artistic work.
Because of its innovative design and dependable heavy-duty construction, many training institutions and school systems rely on fully automatic workstations.
Why Should You Switch From an Old-School Drafting Table to an Electric Adjustable Drafting Table?
The iPlanTables electric drafting table is ideal for architects, designers, engineers, artists, and other professionals looking to improve their planning skills.
This touch-screen of iPlanTables can help you get the job done quickly and efficiently, whether you're looking to annotate existing plans, create new plans, review documents, spreadsheets, and more.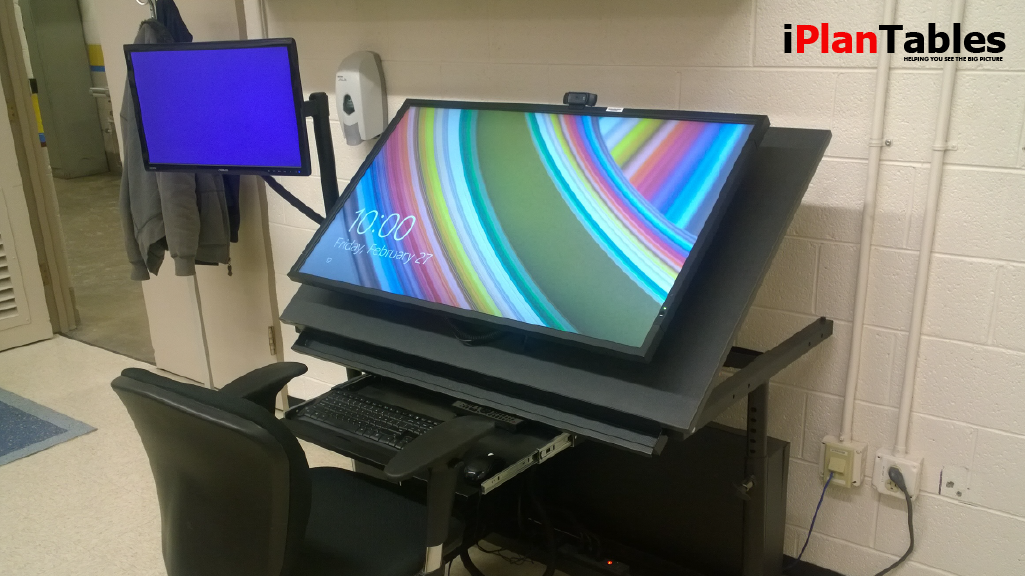 This multi-purpose tool enables you to:
Work with AutoCAD and other industry-standard software.
Email plans and documents directly from the workstation.
Get a 3D, interactive view of your plans.
Move your plans and data from room to room with ease.
Working alone or in groups, adjust the height or add tilt with the touch of a button.
These can be viable alternatives to sitting desks for those who are concerned about the long-term effects of sitting at a desk for hours every day.
iPlanTables attach side monitor arm brackets to either side (or both) sides of our units – you achieve the drafting table view by adjusting the angle of the workstation to a 45 degree angle for optimum viewing and optimum drawing and designing and marking up.
Designed With Your Requirements in Mind
Here are some of the features included with iPlanTables workstations:
Powerful, Separate PC – never embedded
Dual Monitors Standard on Most Models, up to Five Available
Battery Back-up
Surge Protector
Webcam
Articulating Keyboard Holder
Full-Size Keyboard & Mouse Work Surface
Shortcut Keys on Keyboard
Wide-Format Large Touchscreen Monitors in Different Sizes
Rugged and Durable Field-Tested
Our Mobile Cart is American Made and on Casters
Multiple Monitor Manufacturers
Extended Warranty Available
11 Years of Experience
Replace Your Wooden Drafting Table With i

Plan

Tables
An electronically flexible workstation is an excellent
investment for anyone who needs to sit or stand while
working. Our best-selling drafting table is the iPlanTables brand, a complete turnkey workstation.
It is from our FM series and has an electric lift and tilt that can be adjusted down from 0 to 90 degrees, making it the ideal drafting table for any workspace.
If you work as an architect or engineer or use drawings or designs daily, you probably need to switch from paper to a digital system.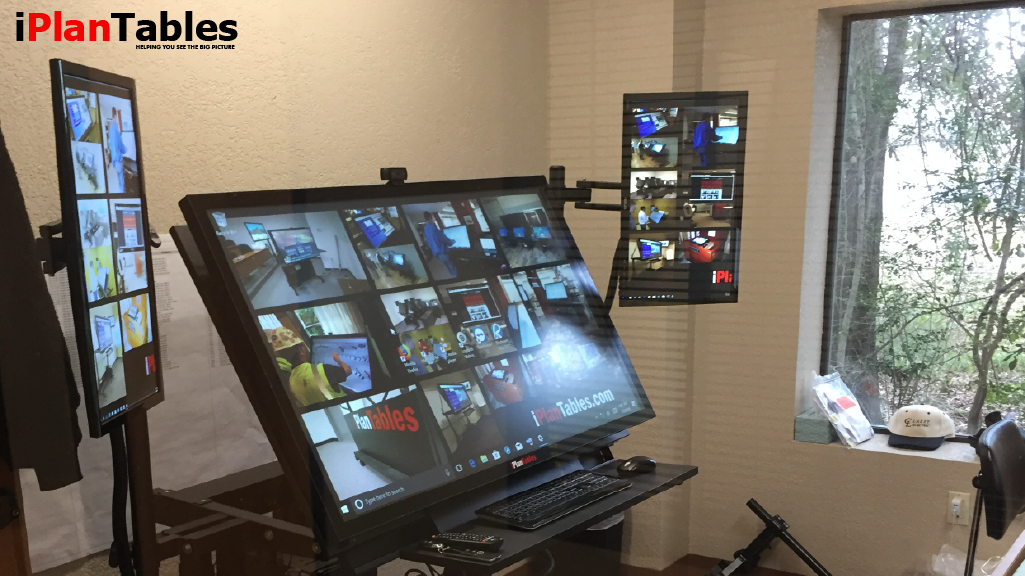 What are Benefits?
Increased Productivity – With an iPlanTables, you can easily change your drawings without starting over. This can save you considerable effort and frustration, mainly when working on complex projects.
Improved Collaboration – An iPlanTables makes it simple to share drawings with others and collaborate on projects. This is a great way to get ideas from other designers and engineers while ensuring everyone is on the same page.
Improved Accuracy – Because an electric drafting table allows you to make changes quickly and easily, you're less likely to make mistakes. You will save time and money in the long run because you will not have to return and fix errors.
Environmentally Friendly – Because electronically flexible workstations do not use paper, they are more environmentally friendly. Not only will you be helping the environment, but you will also save money on paper purchases.
Work smarter rather than harder. An electric drafting table, coupled with a large touchscreen 4K monitor and multiple side monitors, will take your business and staff productivity to a new level.
Electric adjustable drafting tables are the future and here to stay! They offer a variety of benefits that make them worth investing in. It's time to say goodbye to the old way of doing things and embrace a new era where we can work comfortably and be more productive without sacrificing our health or convenience.
Follow us on Facebook