Visually appealing and highly functional, the iPlanTables table top touch screen plan review workstations have a 55″, 49″, 43″ Ultra-HD (4k) display. In addition, the ability to adjust the display angle creates an ergonomic work environment.
Solid Quality Enclosure and Tabletop Stand
The tabletop stand is sturdy, made up of steel with 4K ultra-wide HD display and PCAP multi-touch technology.
It is also very stylish, ergonomic, and functional. The base is custom designed for the workstation to provide excellent stability for this interactive plan review workstation.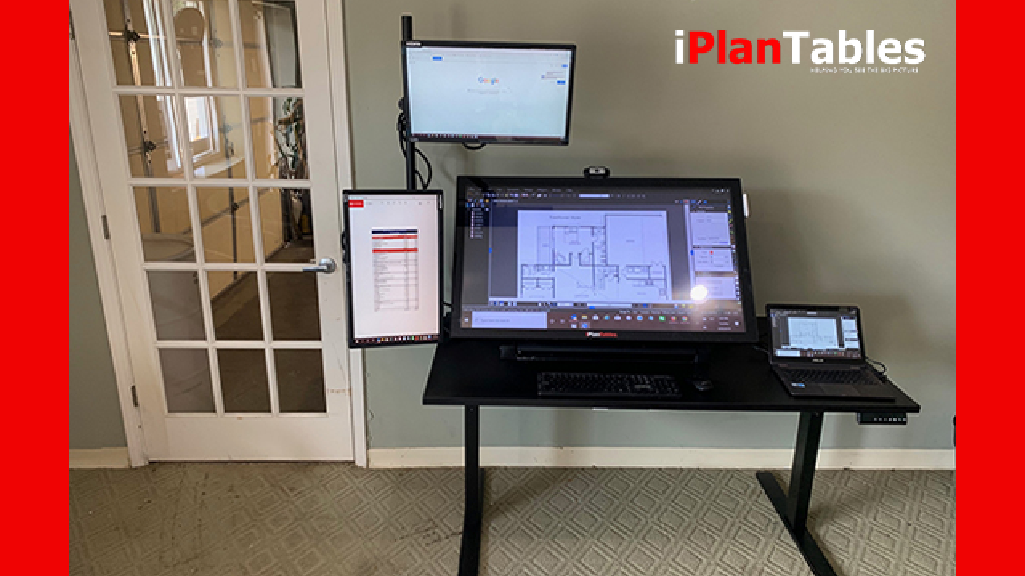 Using a Touch Screen Table Top With Multiple Monitors, You Can Increase Productivity By 42%
Studies by jon peddie research states using touch screen table top workstations with multiple monitors can increase productivity by 42%, which is a considerable percentage.
Multiple monitors and a touch screen table top workstation allow you to look at both plans and specs simultaneously without constantly panning, zooming, and scrolling across your current small desktop or laptop screen.
You are improving productivity and saving time, thus bringing efficiency and making the operation more economical.
In addition to increased productivity, multiple monitors help reduce errors and improve communication between team members.
Another advantage is that you can hand over the entire project to the project owner on the iPlanTables touch screen desk workstation rather than navigating through paper plans, three-ring binders, or DVDs.
The Best Multi Monitor Tabletop Workstation For Your Workplace
Desktop Commander
iPlanTables can transform your current desk into a touchscreen workstation. Any flat work surface can be transformed into a powerful iPlanTables sit-stand desktop workstation, which is why it is our #2 Best Seller. Your current desk can be converted into a touch screen monitor table.
43" or 49" 4K Wide-Format Touchscreen Monitor Available
45-90 Degree Electric Tilt
Can Add Up to Four 24-inch Rotating Side Monitors to Change your Existing Desk to a Customized Table with Touch Screen Monitors
i5 External PC Included with 8GB RAM, 500 GB Hard Drive, 2GB Video Card
HD Webcam
UPS Battery Back-Up
Wireless Full-Size Keyboard & Mouse for your Converted Digital Touch Screen Table Desktop Commander
By utilizing a multi monitor touch screen table, you can create a more welcoming environment for new ideas, encouraging your workforce to band together in one location and eliminate individual work to create a single collective effort that can be shared amongst the team.
Multiple Monitors By i

Plan

Tables to Make Your Entire Work Area More Productive
Multiple monitors are a great way to keep your workspace organized and efficient—and they can make you more productive, too. When you use multiple monitors and a large touchscreen tabletop, you can manage your workspace so that everything is in one place, making it easier to find what you need at any given moment.
You can view more information at once, allowing you to multitask better and get things done faster.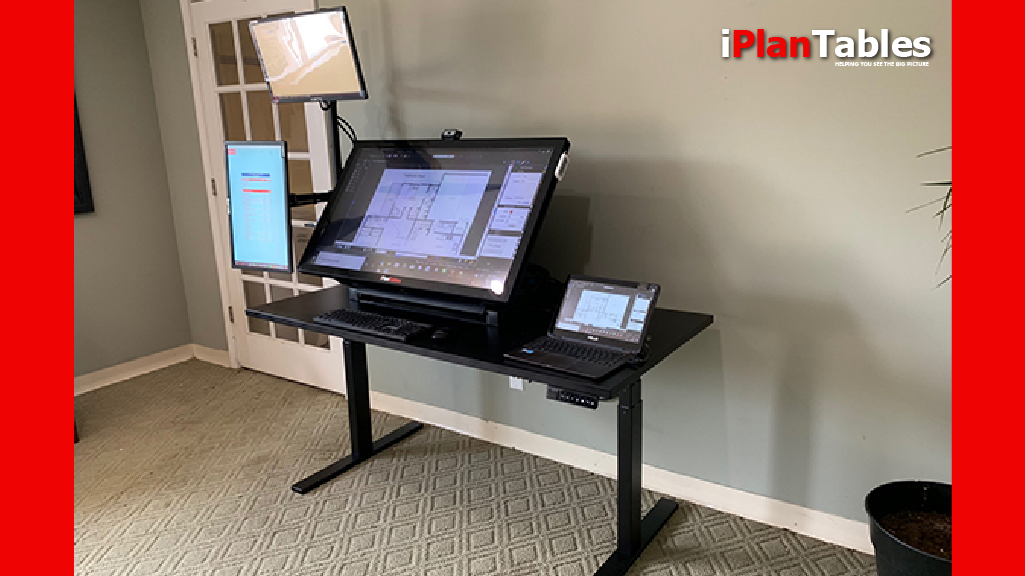 This way, if something on one monitor needs immediate attention while another task is ongoing, there won't be wasted time switching from one open window to another, waiting for each to load.
Multiple Monitor Workstation Enhances Collaboration
What does it mean to be "collaborative" in the age of interactive display?
Multiple monitors and a large touch screen table top workstation enhance collaboration by allowing more than one person to see the same thing simultaneously. It means you can all work together on an idea or project and see how it works collaboratively as a group instead of individually.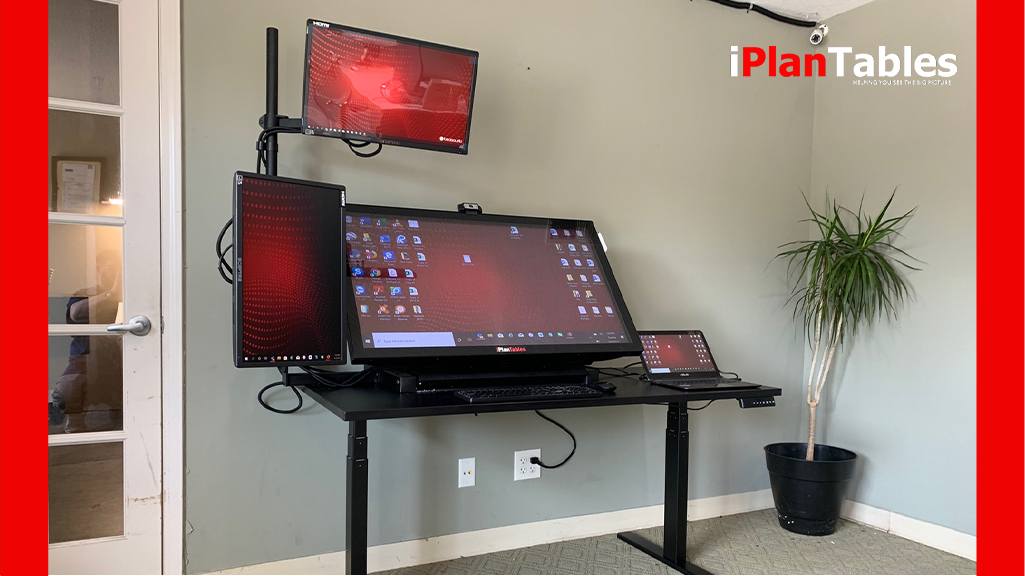 You can also communicate much more effectively because you don't have to rely on text messages or email—you can use your screens together!
This concept is beneficial in business settings where multiple people must collaborate on projects or ideas before they get approved by management.
By using multiple monitors and touch screen table top workstations, everyone has access to all data at once.
Multiple Monitors Create a Modern Working Environment
The world is getting smaller.
Previously, we were all tied to our desks, staring at a computer screen and working on a single device.
But now, with iPlanTables, it's possible to be connected to several devices in one place—and that's a good thing!
iPlanTables provides multiple monitors with large touch screen table top workstations with one to four monitors to spread out your tasks and keep them all in one place. It also has a large keyboard tray and mouse platform.
The multiple monitors are a revolutionary technology that has revolutionized our work. It allows us to monitor, manage and control complex information in real-time.
For many employees, working from multiple monitors and a large touch screen table top workstation can increase their productivity and efficiency. At iPlanTables, you can choose from an outstanding array of innovative workstations!
Give us a call to discuss how to incorporate iPlanTables into your current processes.