Workstations vs desktops – What are the differences between them? A lot, actually. We often use the terms 'workstation' and 'desktop' when talking about our computers. This happens especially in a workplace where both are considered the same.
Technically though, a desktop is a computer that can sit on a desk, table, or any other flat work surface. On the other hand, a workstation is a high-end computer we use for industrial or scientific usage.
With the entrance of personal computers, the term desktop became very common because they could fit on a desk. But since these computers didn't have enough capacity for usage in some work environments, companies used computers that had better specifications.
As a result, these computers were called workstations. It was quite easy to distinguish between a desktop and a workstation simply by the installed components.
Desktops filled the roles that the owner needed – usually for gaming, word processing, as a media center, and more. However, workstations have a more significant role in architectural/engineering/construction applications. Therefore, they are expected to have enough power to view BIM files, mark-up drawings, complete estimates, etc.
It is common for workstations to have more than one display monitor screen and even other input methods, such as using finger touch on touch screen monitors, aside from the usual mouse and keyboard. The accessories attached to workstations are specific to the job they perform.
At the same time, desktop computers tend to have a lot of accessories that are fully dependent on the owner's discretion. These can vary from high-quality speakers and mixers to programmable keyboards and controllers.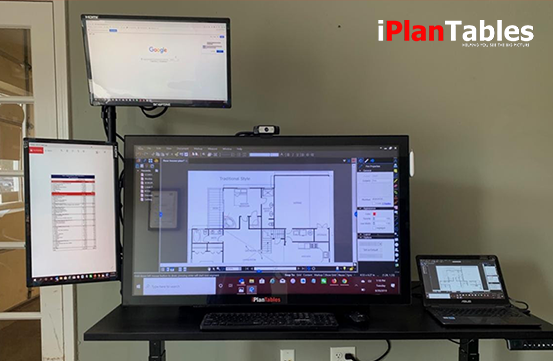 Although their specifications initially separated them, this gap is almost negligible now as personal computers are powering up to rival the specifications of workstations.
In addition, the price between high and low-end components is not a significant factor now because most people who demand maximum performance for video processing or gaming are willing to spend more.
And computer manufacturers are ready to provide high-end components to those who can afford them regardless of their actual needs.
iPlanTables has affordable sit-stand workstations with a touchscreen display and multiple monitor setups. Also, there are options for mobile job site workstations for coordination between various floors.
Summary:
Just about any computer qualifies as a desktop, while a workstation is being used in a work environment. Desktops are used for gaming or word processing, while workstations are used for BIM files. Traditionally, workstations have much higher specifications than desktops and a higher price tag.
What is the advantage of an i

Plan

Tables workstation?
iPlanTables is the nation's leading supplier of wide-format touch screen workstations for plan reviewers, plan examiners, and managers.
We design different models to help view and mark construction plans, specs, spreadsheets, and images for clients who want to move from a paper-based workflow to a digital one. They are ideal for desktops, sit-stand complete workstations, conference rooms, and job trailers.
Here are our major advantages for industrial use and purposes:
Touchscreen usage is intuitive to humans; it can be twice as fast as a mouse.
The Sit-Stand health benefits are well-documented, and it is much more comfortable for professionals who must work at their desks all day.
iPlanTables workstation adds a multiple monitor advantage to help discern the information – separating the wide-format document and using smaller monitors for other daily tasks.
Eliminating the constant pan-zoom-scroll that is required when using small monitors and a mouse
Plotting costs eliminated
Printing costs were reduced significantly.
Document retrieval in minutes, not hours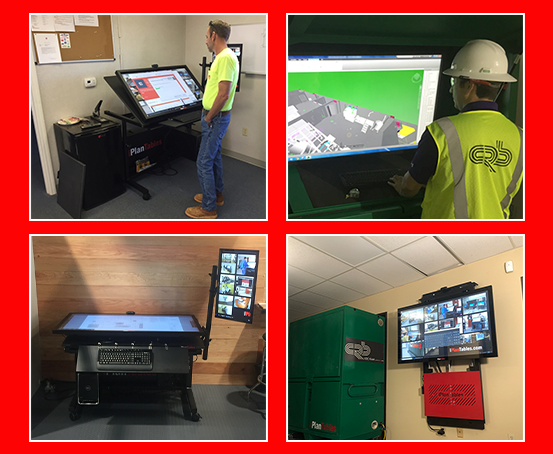 Collaboration with others is professional, not having to look over a co-worker's shoulders or try to share a tablet.
An iPlanTables workstation is a perfect tool for offices, project trailers, and project information kiosks.
Workstation vs desktop – Is an i

Plan

Tablesworkstation ideal?
iPlanTables are a powerful tool for anyone who works with wide-format plan sheets. Our client base consists of the following people: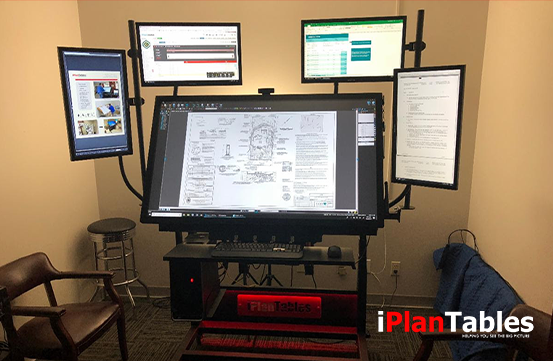 Plan Reviewers
Contractors
Project Managers
Estimators
Architects and Engineers
Colleges and Universities
Plan Rooms
Archivists
Designers
Community Development
Workstations in over 45 states, Canada, Africa, Brazil, and Spain
How are iPlanTables Plan Review Tables better than others?
Our competitors have no provision for critical, standard iPlanTables features, with the following drawbacks:
One Monitor
One Model
Too Short for Conference Room Height 59″
No Keyboard or Mouse — Touch Only
No Shortcut Keys
It starts to Sway on Large Monitors after a few months; we know we used to sell the stand!
Imported
Single Monitor Manufacturer
No Experience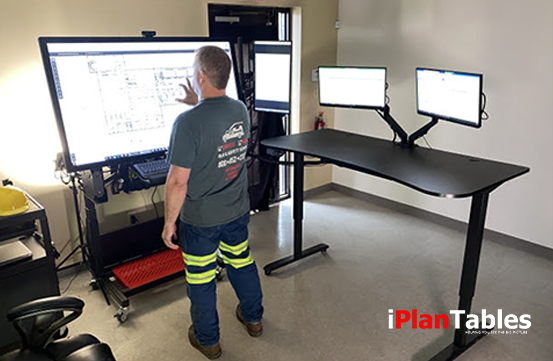 iPlanTables has 10+ Professional Grade Models & 100s of Combinations Available.
iPlanTables sold the first version of this stand over eight years ago. We have developed our current mobile cart to be sturdy and facilitate quicker plan management with multiple monitor setup and super-fast document sharing. Here are the features that make iPlanTables workstations unique: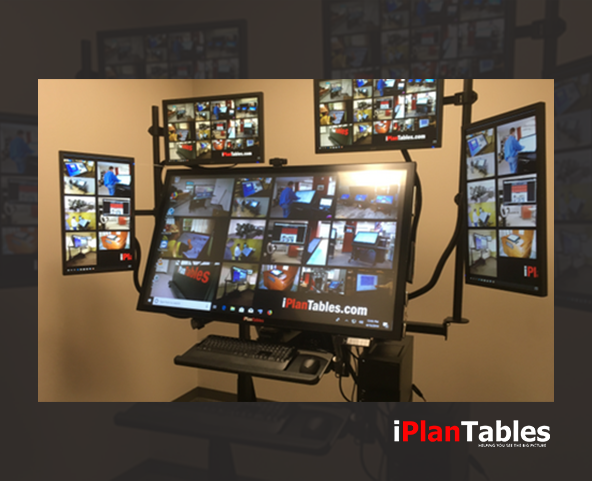 Powerful, Separate PCs – never embedded.
Dual Monitors Standard on Most Models, up to five available
Battery Back-up
Surge Protector
Webcam
Articulating Keyboard Holder
Full-Size Keyboard & Mouse Work Surface
Shortcut Keys on Keyboard
Wide-Format Touchscreen in Different Sizes
Rugged and Durable Field-Tested
79″ Height to allow for Training Mode
Our Mobile Cart is American Made and on Casters
Multiple Monitor Manufacturers
Extended Warranty Available
11 Years of Experience
The iPlanTables team aims to replace paper drawings and save time searching for the documents in back storage rooms. We also save countless hours viewing project plans and specs. In short, it's all about solutions and service. And many clients become repeat customers providing multiple iPlanTables workstations to their department and company staff.
Follow us on Facebook