A Multi monitor workstation desk is the best technology we have for digital plan review. For reduced paper environments.
And therein lies the problem …
The Truth between a Professional Grade Plan
Review-Management Workstation and a Limited Monitor on a Consumer-Grade Audio Visual Stand.
Even though we have this technology to marry TV screens with software tools and put them on a stick to move around the office or mount a sale-priced screen on a wall…it doesn't mean the resulting product will work like you think it will, It can't beat the efficiency of a multi monitor workstation desk.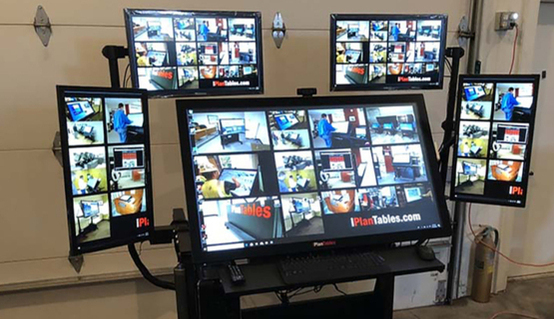 … Can you get results with a makeshift unit to view your documents? One that is meant for, at best, an audio-visual experience?
Yes. But it is WOBBLY. It is UNSTABLE. It is NOT made for daily use by Plan Reviewers. Project Managers. Archivists. Any Plan Sheet User.
A monitor on a stick was never designed for a construction plan-review-oriented environment.
Looking for the perfect multi monitor workstation desk?
Stop looking. You've found it. iPlanTables has been designing and manufacturing multi monitor workstation desks for over 12 years, and we know what works and what doesn't. Our desks are sturdy and stable, so you can focus on your tasks without worrying about your equipment.
Plus, our design is sleek and modern, so you can feel productive even in a small space.
Our multi monitor workstation desk is perfect for anyone who wants to be able to use their technology comfortably. With a large surface area, you'll have plenty of room to work on your projects. And the best part? Our desk is made to last. We've tried and tested other AV stands in this space and found that they just don't hold up over time. They became wobbly after six months, depending on use.
So we built our own. We've had many customers who purchased the other stands and replaced them with iPlanTables workstations.
It bears repeating. We design, fabricate, and build our own affordable sit-stand workstation stands in the USA.
After an exhaustive research program, the US State Department chose iPlanTables to supply their building and plan review workstations worldwide.
YOU CHOOSE……..
Powerful iPlanTables………
…VS Simple ..Competition?

Base Mobile Cart Built in the USA
Built for Plan Reviewers, Project Managers, Superintendents, Archivists, and Plan Sheet Users from Day One
Multi-Monitors — up to 5
External PC — Not Impacted by Heat; From Micro to Xeon Standard, or You Can Provide Your PC
UPS Battery Back-up Included
Surge Protector Included
Webcam Included
Wireless Keyboard and Mouse Included
Articulating Keyboard Work Surface Included
Conference Room Height – 79 Inches
Job Site Casters
Custom Corporate Colors Available
Printer Plate Available
Apple TV Available
Logitech Conference Cam Available

Base Stick Stand Imported
NA
1 Model
Built for Audio Visual Use/Experience
Single Monitor
Optional – Embedded PC, Slows with Heat of Monitor — No Options
NA
NA
Fixed and Optional
NA
NA
Conference room height 59 Inches
NA
NA
NA
NA
NA
A Multi monitor workstation desk is no doubt way better than a single monitor on an AV stand
Is it time to upgrade to a multi-monitor workstation desk?
A multi monitor workstation desk is a great way to improve your productivity and comfort. With more screen real estate, you can have multiple applications open at the same time and be more organized. Plus, our desks are designed for ergonomics, so you can stay productive for hours on end.
Do you feel like you're stuck in a rut at work?
Is your desk cluttered and crammed with too much paper and not enough room? A multi monitor workstation desk is no doubt way better than a single monitor on an AV stand. You'll be able to have more screen space for all of your applications, and it will help improve your productivity.
One of the significant differences between an iPlanTables unit and the "competition" is that you can have up to 5 monitors on an iPlanTables workstation because side monitors are crucial in keeping plan sheets open full time while reading tech manuals or reviewing spec or code books at the same time. You can even see your email on an open screen.
With one monitor only, your option is to "split the screen" — go ahead and try it on your current screen. However, you will see this is cumbersome and not a popular choice or solution — at least according to our clients.
We never use embedded computers due to heat and performance issues experienced.
We offer side table options. We offer extended warranty options. We offer 24/7 support.
iPlanTables is a fully integrated company; we don't and won't just put a monitor on an AV stand and sell it to you. It's easy to do, but long-term reliability is more important. We might even try and talk you out of a specific unit if we don't think it will work best for you and your business needs.
To find out how to move from a paper-based system to a "better than paper" experience for your company – for your staff to view plans, for your plan reviewers and examiners to do their jobs – can we invite you to a short 25-minute webinar to show you how a monitor on a stick isn't the best solution?