Cities, municipalities, general contractors, plan reviewers – all should use construction plan review monitors workstations manufactured by iPlanTables to help digitally monitor the construction process.
The iPlanTables 4K touchscreen construction plan review monitor workstation with electric lift and tilt makes it easy to see if any changes have been made to the plans and track when each step in the process is completed. This helps ensure that the project stays on schedule and on budget.
Additionally, subcontractors can use their iPlanTables construction plan review monitors to check the plans for accuracy before starting work. Plan reviewers can also use them to check that all codes are being followed. iPlanTables monitors are an excellent tool for everyone involved in a construction project!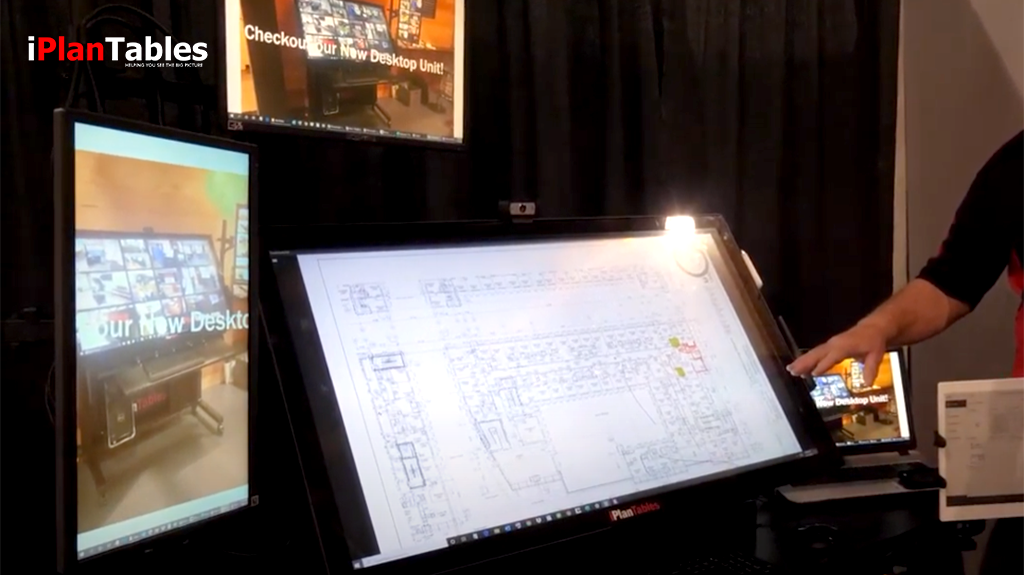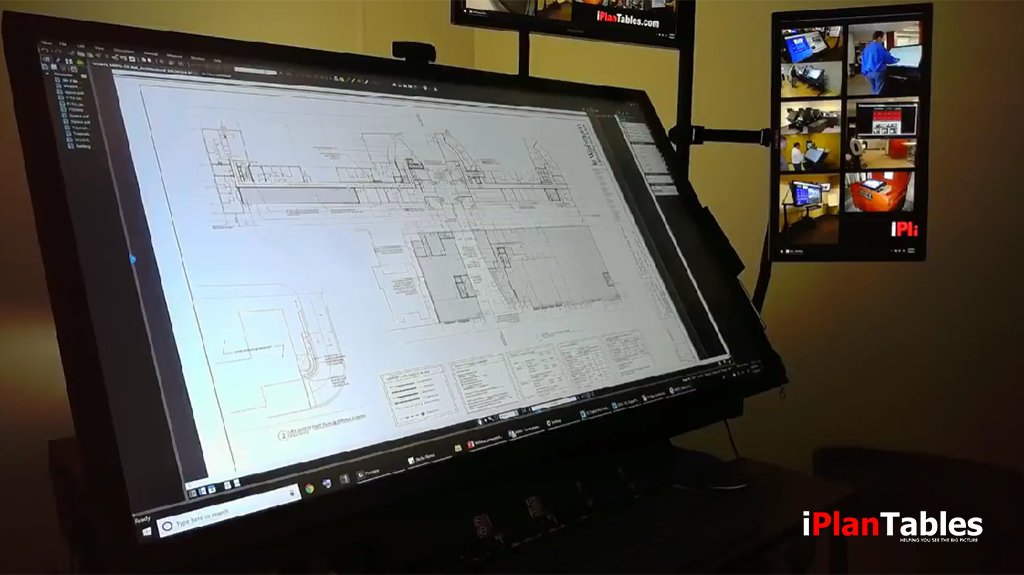 iPlanTables: A Better Way for construction plan review
iPlanTables is the premier provider of construction plan review monitors for contractors. This system will help you organize your information and make it accessible to all parties.
Construction is a process that seldom goes according to plan. There are always changes that need to be made, unforeseen issues that arise, and details that fall through the cracks. But with iPlanTables touchscreen display monitor workstations, everything is streamlined and organized so you can stay on top of every detail.
Our 4K touch screen monitors make it easy to review construction plans and make changes on the fly. And our large monitors help you see the BIG picture…and the small details…so no detail is overlooked.
With iPlanTables , construction projects can be viewed, collaborated on, and completed more easily, more productively, faster, and at less cost. If you're looking for a construction plan review workstation that will help you stay organized and on track, look no further than iPlanTables.
iPlanTables industrial touchscreen monitors eliminate the constant pan-zoom scroll required when using small monitors and a mouse in reviewing construction plans.
Touchscreen monitors eliminate plotting costs. With iPlanTables industrial touch screen monitors, you can have your plans and documents at your fingertips on a large, high-resolution display.
Touchscreen displays allow for easy navigation through multiple layers of information with simple finger taps or gestures. No more trying to find buttons or scroll bars on a small screen!
Our Construction Plan review monitors workstations allow you to easily and quickly review your plans from developers and residents, clients, or contractors. You can also view your plans or any wide-format document at the job site or in your job site trailer.
Construction Plan Review Workstation by iPlanTables
Our large touchscreen monitors allow you to easily and quickly show your plans to clients or subcontractors on the job site. You can be sure that our products are of great quality since we spent years designing them.
iPlanTables – Field Commander Model
Professional Grade Mobile and Lockable Jobsite Workstation.
Features
A 49″ or 43″ 4K Wide-Format Industrial Touch Screen Monitor Available
HD webcam
UPS Battery Back-Up
Washable Keyboard & Mouse
Kickout Extension Cord
Stylus Kit with iPlanTables Stylus, Microfiber Cloth, and Cleaning Solution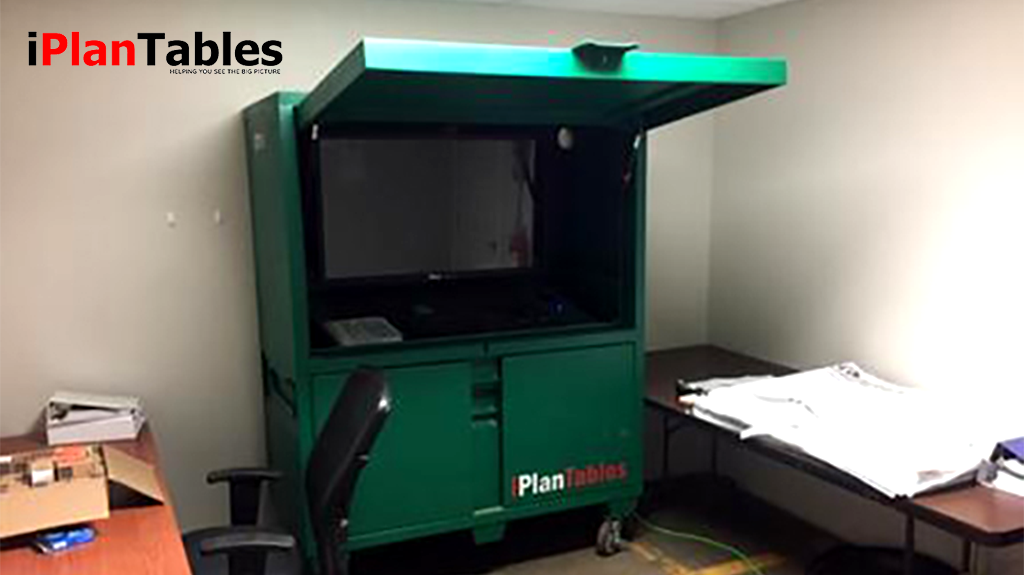 iPlanTables – Value Series/Adjustable Workstation
With high-quality construction plan review monitors, your employees can make timely decisions during the design phase of a project.
Features
65″, 55″, 49″ or 43″ 4K Wide-Format Touchscreen Monitor Available
HD webcam
UPS Battery Back-Up
Adjustable Sit-Stand Workstation up to 72-Inch Height, with Electric Lift
45 – 90 Degree Electric Tilt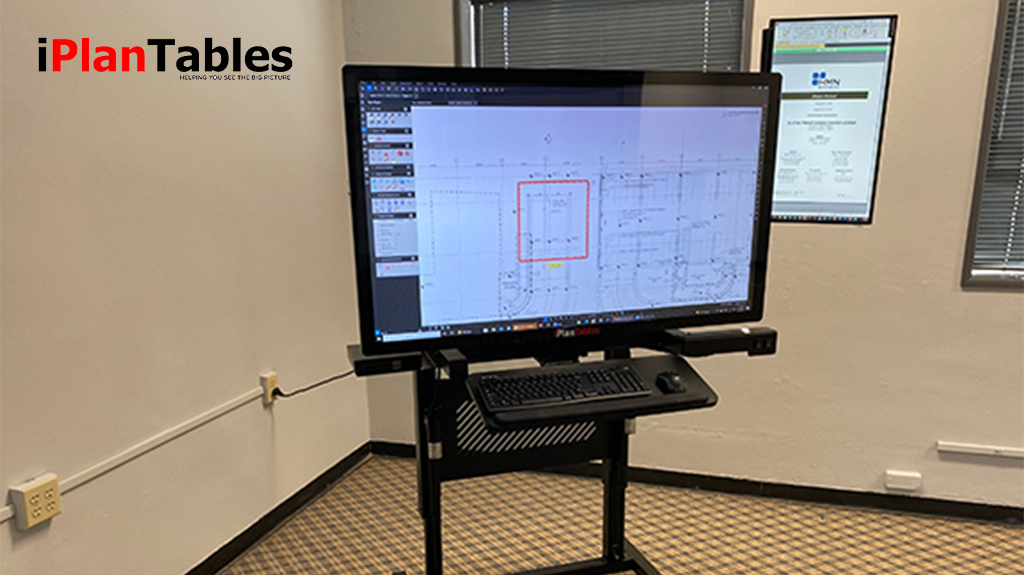 Go Paperless With iPlanTables Workstations
Paperwork can be a nightmare, especially when keeping track of all the documents and information you have in your office. You need to organize all this paperwork and ensure that it's easily accessible whenever a client or colleague asks for something from it.

iPlanTables workstations make it possible to streamline all your tasks and in the end, get more done in less time. In addition, they allow you to go paperless without compromising efficiency or accessibility.
iPlanTables workstations are more efficient than paper.
With iPlanTables,you can ensure you are not digging through piles of paper to manage your information.
With iPlanTables,you can ensure everyone has access to the same information.
With iPlanTables,you can ensure that your project runs smoothly from start to finish.
Construction plan review monitor workstations are an essential part of any construction project. They allow you to keep track of all the information that comes in and out during the construction planning process. That way, everyone can be on the same page without searching through piles of papers or emails. This helps keep things running smoothly.
Construction plan review monitor workstations also help ensure that construction projects are completed on time and within budget by providing a clear picture of the project's progress. In addition, they can identify potential problems early on, which can save time and money in the long run. As you can see, construction plan review monitor workstations are a valuable tool for any construction project.
Reach out to us today to learn more about how we can help your business use these construction plan review monitor workstations to streamline communication and improve efficiency!
For more details follow us on Facebook