With the world becoming increasingly digital, physical interactions are becoming less common. More and more companies are turning to video conferences to organize meetings, saving time and money by limiting the need for business travel. However, outdated display technology in your conference room can hinder your progress in this fast-paced environment.
Don't let traditional display technologies, such as projectors or LED TVs, prevent you from reaping the full benefits of video conferences. It's time to upgrade your conference room's technology and enhance your virtual experience with our innovative wall mountable monitors.
With its sleek and modern design, our wall mount monitor is the perfect solution for all your conference needs. Its user-friendly touchscreen interface and wall-mountable design make it easy to use and saves precious desk space.
Renovate your conference room and see the magic with our Touch Screen Monitor Wall Mount. Experience an unparalleled level of productivity and collaboration and impress your clients with this state-of-the-art display technology. Upgrade today to bring your meetings to the next level.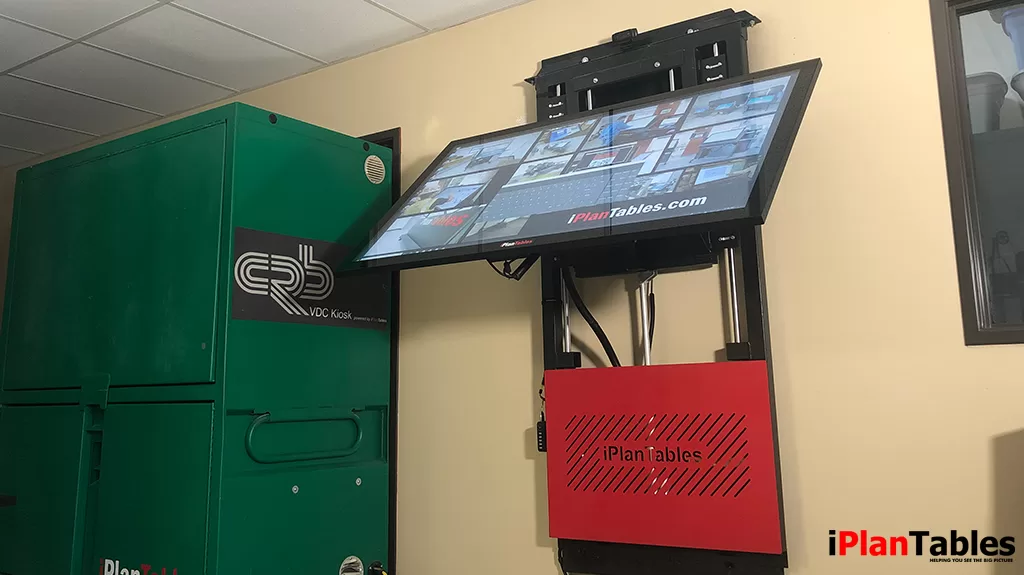 Revolutionize Your Business Meetings with Our Wall Mount Touch Screen Monitor – Unlock the Power of Collaborative Technology
Are you tired of the hassle of setting up your conference room technology before every meeting? Do you want to wow your clients and colleagues with interactive, engaging presentations? Now you can with an iPlanTables' innovative Wall Mount Touch Screen Monitor workstation!
Unleash the Power of Video Conferencing for Increased Productivity and Collaboration
Our cutting-edge touch technology allows you to start meetings instantly by using video conferencing capabilities. Whether you're hosting a local meeting or collaborating with team members around the world, the iPlanTables' Wall Mount Touch Screen Monitor workstation streamlines the process and ensures a smooth experience.
In today's fast-paced business environment, it's more important than ever to stay connected with team members and clients, no matter where they're located. But traditional in-person meetings can be a major hassle and expense for companies of all sizes. That's where video conferencing comes in – allowing you to connect with anyone, anywhere in the world, instantly!
With platforms like Zoom, businesses can benefit from a wide range of advantages, including increased productivity, cost savings, and enhanced collaboration. No longer do team members have to travel to the same location for a meeting. Instead, they can simply log in from their own device and join the meeting remotely, from anywhere!
Video Conferencing platforms offer a user-friendly interface that allows for an effortless meeting experience, with crystal-clear audio and video quality. And with integrated screen sharing and collaboration tools, teams can work together on projects in real-time, sharing ideas and brainstorming in a way that was previously impossible.
Embracing video conferencing technology is not only more convenient, it's also more cost-effective. No more booking expensive meeting rooms or footing the bill for travel expenses. Plus, video conferencing helps to reduce a business's carbon footprint by eliminating the need for staff members to travel to meetings. Our iPlanTables Wall Mount Touch Screen Monitor workstation brings all team members together for real-time collaboration.
Imagine the possibilities of increasing your company's productivity and efficiency while saving time and money. By utilizing video conferencing platforms like Zoom, your company can elevate its game to the next level. So, what are you waiting for? Reap the benefits of video conferencing and take your company to new heights today by setting up an iPlanTables Wall Mount Touch Screen Monitor workstation in your conference room.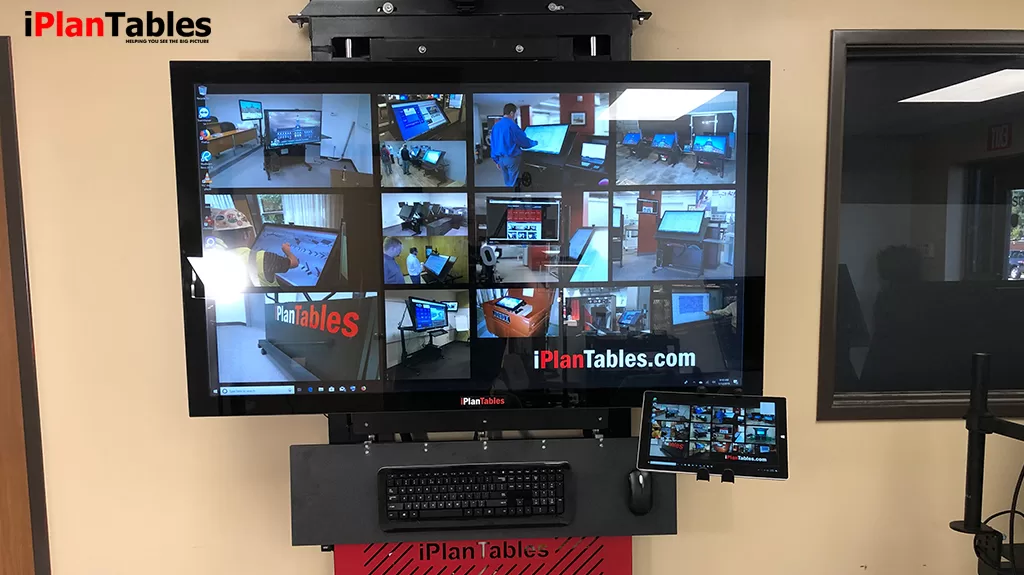 Engage Your Audience Like Never Before with iPlanTables' Interactive Touch Screen Presentations
Your presentations don't have to be boring anymore! With iPlanTables' Wall Mount Touch Screen Monitor workstations, create an immersive and captivating experience for your audience. Bid farewell to static slides and welcome visually stunning, interactive presentations that keep your clients and colleagues engaged.
With touch screen technology, our workstations enable the delivery of dynamic content in a visually compelling way. Leave a lasting impression on your clients with presentations that are not only informative but also immersive. From brainstorming sessions to project demonstrations, our collaborative touch screen fosters a culture of innovation and productivity, making your meetings a success.
Imagine the energy in the room as you actively collaborate and brainstorm with your colleagues using our Wall Mount Touch Screen Monitor workstations. Interactive presentations and touch screen technology spark creativity and inspire new ideas. No matter where you are, our workstations help you to connect and collaborate with your colleagues, driving your projects forward.
Upgrade your conference room with an iPlanTables' innovative Wall Mount Touch Screen Monitor workstation and take your presentations to the next level. With endless possibilities for interactive content, you can rest assured that your audience will be captivated with your message.
Collaboration Meets Convenience – How iPlanTables' Wall Mount Touch Screen Monitor Workstations Elevate Your Meetings
Meetings are the backbone of the business world, but they can quickly become bogged down with outdated technology, unorganized information, and inconvenient sharing methods. With iPlanTables' Wall Mount Touch Screen Monitor workstations, collaboration meets convenience in ways you never thought possible.
Our innovative touch screen technology makes information sharing a breeze – no more fumbling with cords or cables or passing around printed documents. With the touch of a finger, any document, presentation or web page is easily viewable to all attendees, providing an effective flow of information and ensuring that everyone is on the same page.
But that's not all – our workstations are also designed to enhance the collaborative aspect of meetings. Collaborate in real-time with your colleagues, brainstorming ideas or working together on projects in an interactive and visually stunning way. The touch screen technology enables presenting immersive and engaging content to your audience, leaving a lasting impression and fostering engagement.
With iPlanTables' wall mount touch screen monitor workstations, you can take control of your meetings, elevating them to the next level of productivity and collaboration. Invest in the future of your meetings, upgrade today!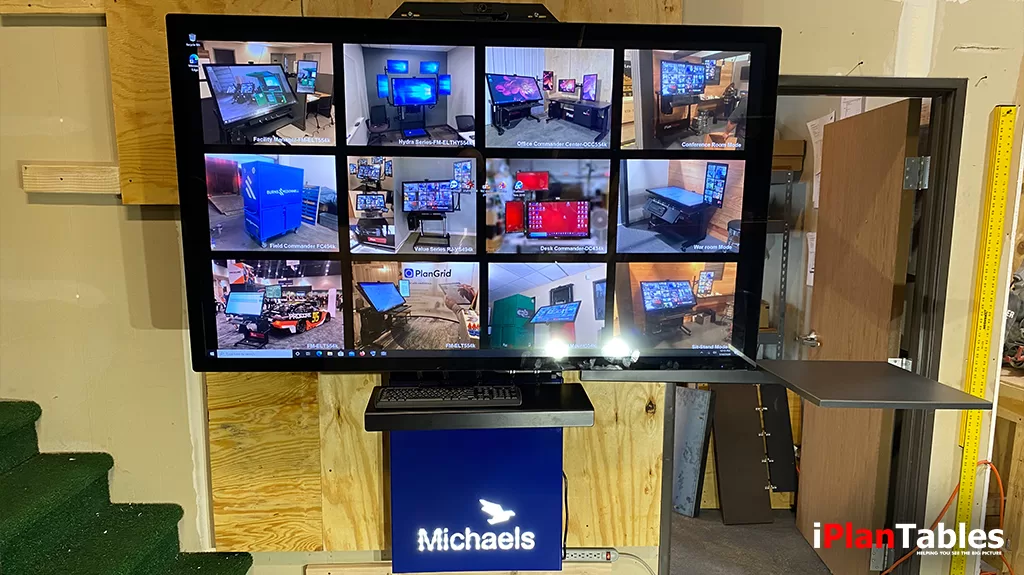 Transform Your Meetings with Stunning Conference Room Technology – Take the Lead in Elevating Engagement and Collaboration!
Are you tired of dull and outdated conference room technology that fails to engage your meeting participants? Upgrade to the latest in touch screen display technology and revolutionize how you present and collaborate with your team.
Our touch screen displays feature ultra-bright and razor-sharp images that enhance every meeting participant's collective viewing experience. Say goodbye to visually outdated technology and hello to stunning displays that bring your presentations to life.
The benefits of incorporating audio-visual content in your meetings cannot be overstressed. Audio-visual content is aesthetically pleasing, interactive, and easy to understand, resulting in longer engagement time compared to traditional slides. Raise your presentations to the next level with our sophisticated technology and create a lasting impact that will leave a lasting impression.
From smooth collaboration to making information accessible to all, our touch-screen displays are perfect for any setting, including classrooms, boardrooms, and even training rooms. Upgrade to our visually stunning conference room technology and take the first step to elevate your meetings for meaningful and effective engagement.
Transform Your Workspace into a Virtual Conference Room with Conference Room Web Cam – Enhance Collaboration and Increase Productivity Now!
Are you looking to upgrade your workspace and make it into a virtual conference room? Look no further than using a Conference Room designed Webcam, the perfect addition to your iPlanTables Wall Mount Touch Screen Monitor Workstation. With this powerful combination of product technologies, you'll be able to take your collaboration to the next level and maximize productivity in any setting.
Our upgraded Conference Room webcam camera offers up to 1080p resolution at 30 frames per second which produces sharp images that everyone can see clearly. The accompanying audio technology utilizes two stereo microphones that provide crystal clear sound quality so everyone can follow along regardless of their location. Moreover, it has a built-in speakerphone that allows for hands-free calls so working remotely is safer and easier than ever before.

Add a Conference Room Webcam to your iPlanTables Wall Mount Touch Screen Monitor Workstation today and transform it into an efficient virtual conference space for all your collaboration needs. Stop wasting valuable time on ineffective communication and start enhancing team collaboration with powerful audio-visual technology.
Invest in iPlanTables Touchscreen Monitors to Create an Interactive Collaboration Environment
Unlock the Potential of Teamwork with These Outstanding Features:
55", 65", 75" 4K Wide-Format Touchscreen Wall Mounted Monitors
Self-Contained i7 Small Form Factor External PC with 8GB RAM, 512GB Hard Drive and 4GB Video Card – Included with the PC Monitor Mount
Electric Tilt Out to 45 Degrees for Easy Accessibility
Wireless Keyboard & Mouse – For Quick Interaction
Optional Side Table for Additional Space – Attaches to the PC Wall Mount with Touchscreen Monitor
Stylus Kit – Includes iPlanTables Stylus, Microfiber Cloth and Cleaning Solution
Customized Cover Plate with Your Company Name and Colors – Enhance Corporate Identity and Branding
Optional Side Monitor to Run Meeting from the Side – Streamlines Communication
HD Webcam – Easily Connects to Wall Mount Monitor
UPS Battery Back Up & Surge Protector – Ensure Smooth Operation of Device
Have You Invested in the Right Display Solution for Your Conference Room?
The modern office requires a display that can technologically equip the workspace and deliver essential business results. That is why an interactive display like the iPlanTables touch screen wall mount monitor is an invaluable addition to any conference room. Its unique features help streamline processes while enhancing efficiency, engagement, and participation.
Discover how you can use this workstation to empower your organization's meeting spaces and make remarkable improvements. Contact us today to discuss how our innovative solutions can elevate your business success!
For more details for us on Facebook