Do you know the importance of a good workstation for your productivity and overall health? Working long hours on subpar equipment can result in fatigue, discomfort, and decreased work quality. That's why iPlanTables offers the ultimate solution for anyone seeking a modern and comfortable workspace with its 4K touchscreen monitor electric lift electric tilt workstations.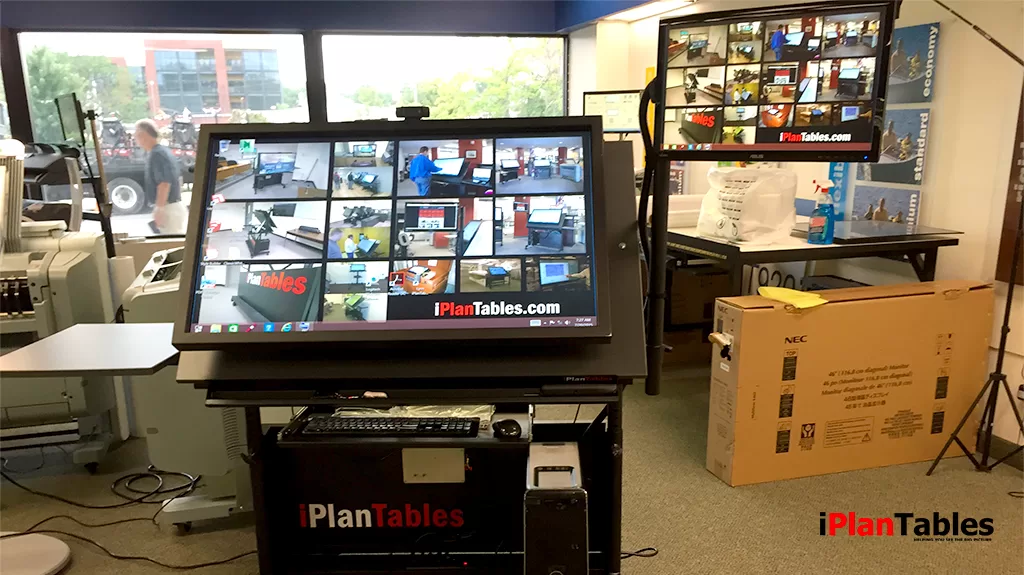 Boost Your Productivity with iPlanTables 4K Touchscreen Monitor Workstation
Comfortable workstations are essential to the productivity and overall well-being of an employee. When you are working at a desk, you spend hours sitting and staring at a computer screen, which can be detrimental to your health and productivity. A comfortable workstation can make a significant difference in how you feel at the end of your workday, positively affecting your mood and motivation.
Importance of Comfortable Workstations:
Studies show that a worker's performance and productivity is affected by their physical well-being and workspace environment. Ergonomic workstations have been proven to reduce employee sickness and absenteeism, with employees who use ergonomic chairs and workstations experiencing a 30% increase in productivity.
Benefits of iPlanTables Workstations: Choosing iPlanTables large 49- or 55-inch 4k touchscreen monitor workstations is a game-changer when it comes to employee productivity and comfort. The workstation's 4k touchscreen monitor provides clear and crisp images, reducing eye strain, while the electric lift and tilt mechanisms help users achieve optimal posture and reduce neck, back and eye strain.
iPlanTables customizable accessories, like monitor arms with multiple side monitors, and ergonomic sit-stand desk chairs, allow users to tailor their workstation to meet their specific needs, resulting in an efficient and effective workspace. Not to mention, the workstation's sleek and modern design adds to the overall ambiance of the workspace, promoting an enthusiastic and dynamic culture.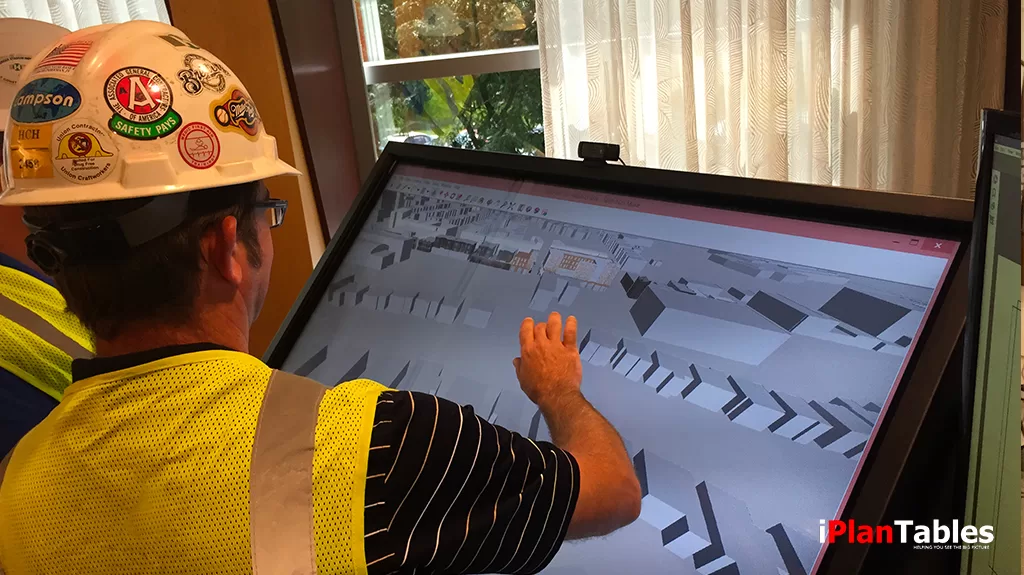 Don't take our word for it! We have hundreds and hundreds of satisfied customers, many who have ordered multiple iPlanTables workstations for their plan reviewers, building development departments, project managers, estimators – the list goes on.
It's important to invest in a comfortable and ergonomic workstation to reduce discomfort and increase productivity. Research has shown that ergonomic workstations result in not only increased productivity but also in a healthier, more motivated, and happier employee. iPlanTables 4k touchscreen monitor workstation incorporates all the necessary elements for an efficient and custom-built workstation, resulting in a productive and comfortable workspace. With innovative technology and efficient design, you can elevate your workspace and productivity with iPlanTables.
When it comes to work that requires the use of multiple tools or software, having a robust and reliable computer system is essential. Unfortunately, many businesses try to save costs by resorting to outdated or low-quality workstations. Let's explore the hidden costs of using such workstations for your employees.
The Impact of Outdated Technology: First and foremost, low-quality workstations can have a massive impact on your employees' productivity and job satisfaction. Slow, outdated computers can cause significant frustrations, and it can take longer than necessary to complete simple tasks. This can lead to employees feeling unproductive, demotivated, and lead to a decrease in overall job satisfaction.
Not only do outdated workstations impact an employee's productivity, but it can also have a substantial impact on a company's bottom line. According to a survey of IT managers, 42% of employees experienced technology issues that result in a loss of productivity, which translates to a loss of up to 42 hours per year per employee. Additionally, time spent dealing with technology issues can cost companies up to $5,000 per employee each year.
Upgrading to iPlanTables Workstations: iPlanTables 4K touchscreen monitor electric lift and tilt workstations provide the ultimate solution for upgrading your employees' workstations. With a 4k touchscreen monitor, electric lift and tilt mechanism, and customizable accessories, these workstations result in an efficient and effective workspace.
Investing in iPlanTables workstations can significantly improve your employee's productivity, job satisfaction, and motivation. Efficient workstations can also reduce the number of technology issues faced by employees, resulting in less downtime and fewer lost working hours.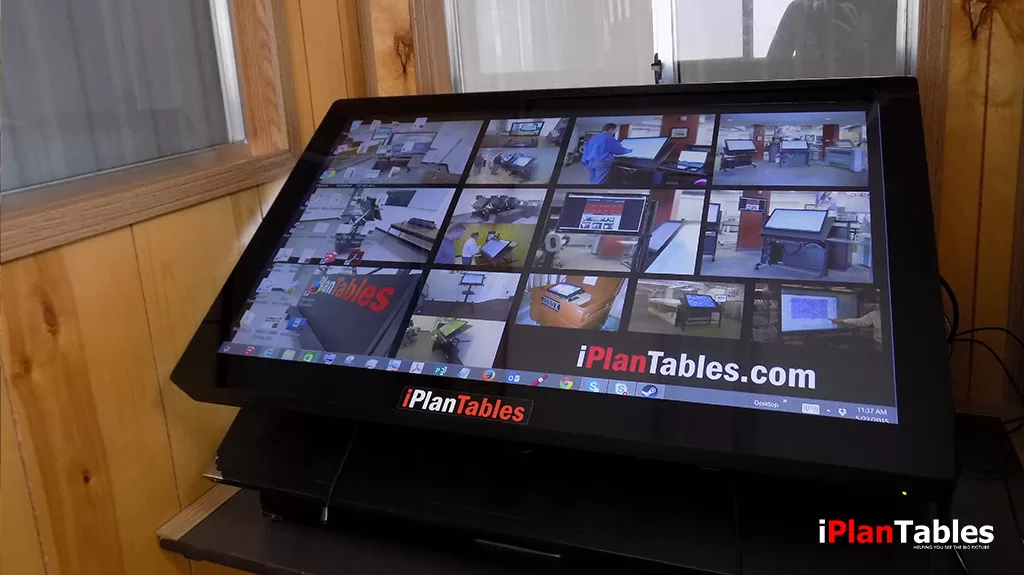 Most importantly, upgrading to iPlanTables workstations gives you peace of mind, knowing that the equipment you invest in is of the highest quality, built for longevity in mind and compatible with your existing Windows software programs.
Using low-quality workstations can cost your business more than just their initial cost. It can cause frustration, decrease job satisfaction, and result in a loss of productivity and money. On the other hand, iPlanTables workstations offer a powerful and reliable solution for upgrading your employees' workspace, leading to increased motivation and productivity, among other benefits. Don't let outdated workstations hold you and your employees back, upgrade to iPlanTables workstations today.
Revolutionize Your Workspace with iPlanTables' 4K Touchscreen Monitor Electric Lift Electric Tilt Workstations
With an ever-increasing need for technology to be integrated into workplaces, businesses must adapt to modern equipment to maximize their potential. Traditional workstations can be inflexible, cumbersome and may not optimize work practices. That's why iPlanTables' 4K Touchscreen Monitor Electric Lift Electric Tilt Workstations are the perfect solution to revolutionize your workspace.
Introducing iPlanTables' 4K Touchscreen Monitor Electric Lift Electric Tilt Workstations: iPlanTables' innovative workstations integrate powerful capabilities, including an electric lift and tilt function, and a 4K touch screen monitor. The workstations are customizable with a range of accessories to help customize to your employees' workspace demands.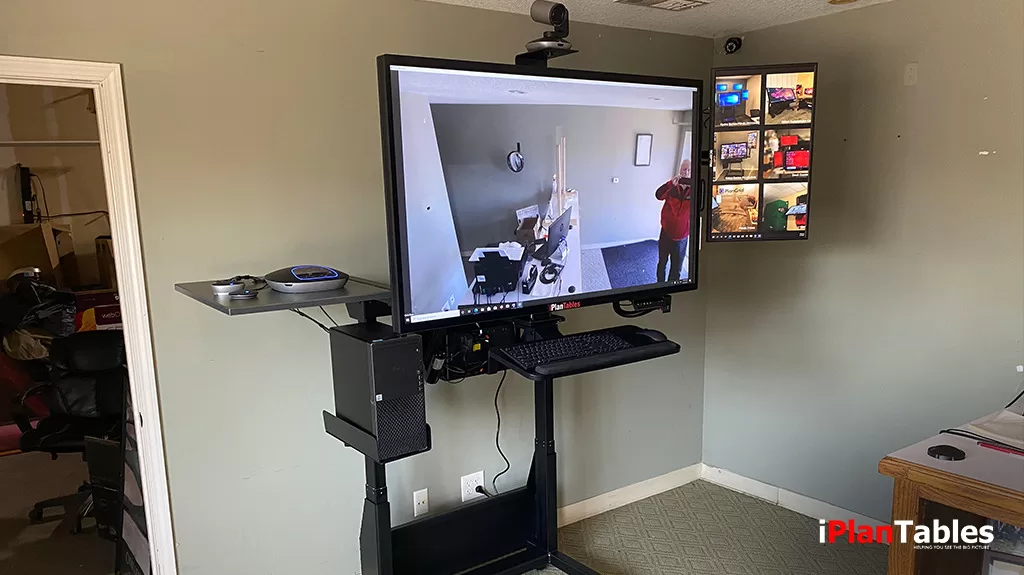 These features help to maximize productivity, streamline workflow, and give you an advantage over traditional workstations.
Unlike traditional desks, iPlanTables offers a 4K touchscreen monitor that provides a crystal-clear display and responsive interface for a streamlined workflow. Furthermore, the electric lift and tilt capabilities of the workstation ensure that you can easily customize it to your ergonomic needs and preferences, increasing overall comfort and productivity.
One of the standout features of iPlanTables' workstations is that they can be personalized to meet specific needs, leading to enhanced productivity and efficiency. The electric lift and tilt functions help to maintain an ergonomic workspace and reduce neck, back, and eye strain. Additionally, the 4K touch screen display monitor enhances color clarity, resulting in a streamlined workflow and increased productivity.
One of the most impressive features of iPlanTables is the multiple pre-set height adjustments that allow for easy switching between users with minimum effort. No more wasted time adjusting your workstation every time you move around. With its powerful electric motor and tilt capability, the workstation shifts quickly, maximizing your productivity and minimizing time wastage.
Employees who spend significant amounts of time sitting can develop various health problems like carpal tunnel, back and neck pain, and posture-related problems. iPlanTables touch screen monitor display workstations address these issues with customizability and ergonomic design, leading to improved posture and a healthier working environment. In addition to the impressive features highlighted above, iPlanTables offers a range of customizable accessories to enhance your workspace further. The workstation can be outfitted with multiple side monitors, monitor arms, Apple TV, Sit-Stand desk chair, and more, providing a personalized solution that fits your exact needs.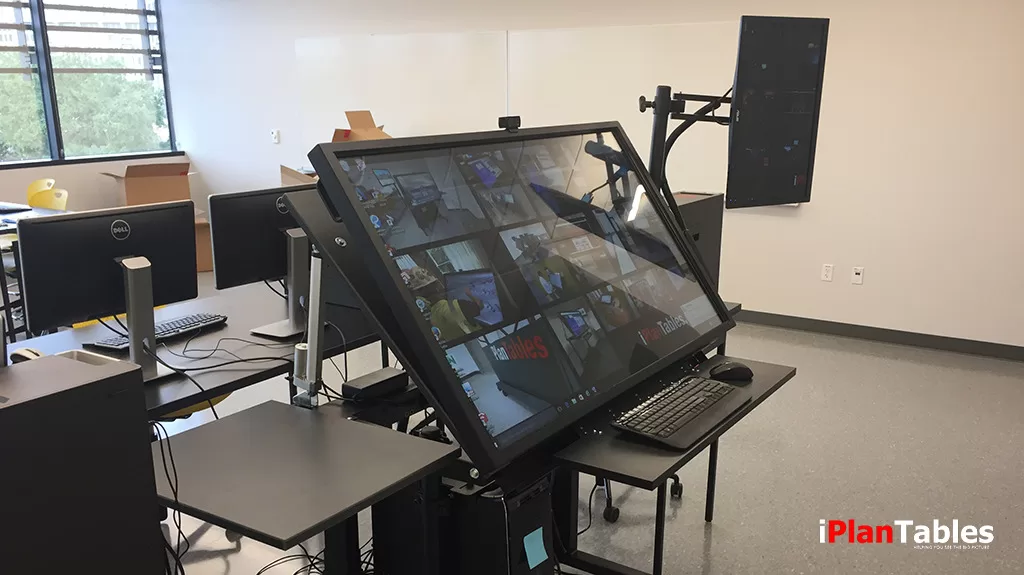 With the flexibility of the electric lift and tilt, adjustments can be made promptly, providing time efficiency, and reducing disruption to workflow. Ultimately, upgrading to iPlanTables' 4K Touchscreen Monitor Electric Lift Electric Tilt Workstations leads to an energetic and engaged workplace culture that values efficiency, adaptability, and personalized customization.
iPlanTables' 4K Touchscreen Monitor Electric Lift Electric Tilt Workstations offer superior capabilities that optimize workflow and are a must-have for any business looking to streamline productivity. From a versatile workspace to reduced strain on employee health, iPlanTables provides the perfect balance to overcome traditional workstation challenges. Through a range of customizable accessories and features, iPlanTables workstations are the catalyst to an efficient, dynamic workplace culture.
Investing in iPlanTables' 4K touchscreen monitor electric lift electric tilt workstation is the ultimate solution for anyone seeking a modern and efficient workspace. With myriad features that promote comfort, productivity and versatility, this workstation is an excellent investment for businesses and professionals looking to take their productivity and work quality up a notch. Upgrade your office space with iPlanTables today!

For more details follow us on Facebook