Electric sit stand are quickly becoming a popular choice for modern offices, job trailers, construction sites, even home offices. They offer many benefits over traditional desks, including improved productivity, health, and comfort. Electric Sit stand desks are also very versatile, as they can be easily adjusted to suit the user's needs.
Whether you're looking for a way to improve your workdays or simply want a more comfortable way to work, an electric sit stand desk may be the perfect solution.
The desks will also be height-adjustable, allowing them to be lowered and raised. They're simple to use, and standing at work offers many health benefits. They can help increase your blood flow and improve your posture. Sit-stand desks allow you to move around throughout the day, which can help increase your productivity.
iPlanTables offers a variety of sit-stand desks that are perfect for any office. With our wide selection, you're sure to find the perfect electric sit stand desk for your needs. With a height adjustable desk, you can start enjoying the benefits of a more productive workday!
There are many different styles of adjustable desks to choose from. Our touchscreen workstations range from fixed to height adjustable desks and are designed to help all plan reviewers, contractors, subcontractors, project managers, engineers – anyone using wide-format documents. They help cope with thousands of document pages quickly, precisely, and pleasantly.
Click below for a guide to iPlanTables adjustable workstations, whether you work from home or in the workplace.
Sit Stand Desk – The Secret to Productive Work Days
Some benefits of using an iPlanTables sit stand desk :
Touchscreens are intuitive for humans and can be twice as fast as a mouse.
The health benefits of adjustable workstations are well-documented, and it is significantly more enjoyable for professionals who must sit at their workstations for long periods.
A multiple monitor advantage is added to an iPlanTables workstation to help distinguish the content – dividing the wide-format page and utilizing smaller monitors for other everyday duties.
Studies have shown that a sit stand desk promotes productivity, concentration, and creativity.
Allows you to take breaks from sitting for long periods.
It boosts productivity and concentration.
You can choose to sit or stand.
Sit-Stand Desk – For Maximum Flexibility, Choose the iPlanTables Sit-Stand Desk
iPlanTables looks forward to discussing your shift to a "better than paper" solution, whether a height adjustable desk workstation for individual use or a wall-mount touch screen application for training or conference room mode.
Are you looking for a few high-quality Sit-Stand Desks? Below you can find information on some of our models.
iPlanTables Value Series/Adjustable Workstation
Affordable Sit-Stand Workstation with Great Performance
A True Economical iPlanTables Sit-Stand Workstation, Adjustable Tilt from 45 to 90 Degrees with Sit-Stand Rising to 6 Feet in Height.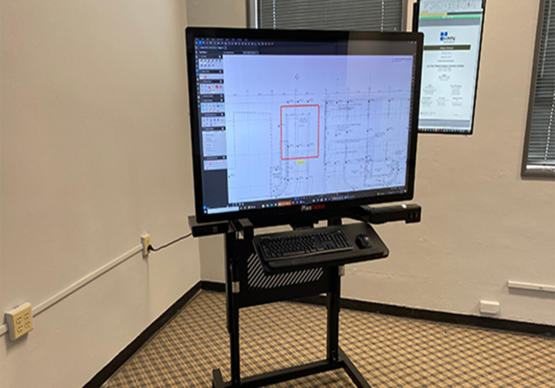 Affordable Sit-Stand Workstation Stands Designed and Fabricated by iPlanTables in the USA
Electronic Lift & Tilt Workstation
Adjustable Sit-Stand Workstation up to 72-Inch Height, with Electric Lift
65″, 55″, 49″ or 43″ 4K Wide-Format Touchscreen Monitor Available
45 – 90 Degree Electric Tilt
One Additional 24-inch Rotating Side Monitor Optional
i5 External PC Included with 8GB RAM, 512GB Hard Drive, 4K Video Card
HD Webcam
UPS Battery Back-Up
Wireless Full-Size Keyboard & Mouse
Surge Protector
Casters for a Cheap Workstation Mobile Solution
Stylus Kit with iPlanTables Stylus, Microfiber Cloth, and Cleaning Solution
Dual Sit-Stand iPlanTables Office Suite Workstations.
4-Monitor Setup Desk Suite Combo Creates a Complete Office Sit-Stand Desk iPlanTables Workstation Command Center – Key Information is Always Accessible. This 4 Monitor Workstation Commands Your Daily Information.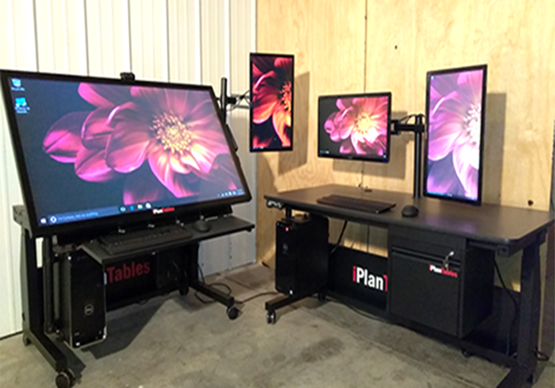 Combines one iPlanTables Facility Manager Electronic Lift & Tilt Workstation with a Companion 30″ x60″ Electric Lift Sit-Stand Desk and Three 24-Inch Rotating Side Monitors
55″ or 49″ 4K Wide-Format Touchscreen Monitor Available with Quad Monitor Setup
i7 External PC Included with 32GB RAM, 1 TB Hard Drive, 6GB Video Card
HD Webcam
UPS for Reliable Battery Back-up for this iPlanTables 4 Monitor Computer Setup
Articulating Keyboard Surface
Wireless Full-Size Keyboard & Mouse
Surge Protector
Casters to Move this 4 Screen Monitor Setup
Stylus Kit with iPlanTables Stylus, Microfiber Cloth, and Cleaning Solution
iPlanTables Facility Manager Series
Our affordable sit-stand workstation mobile cart, designed and fabricated by iPlanTables in the USA, is an adjustable height desk that tilts from 0 to 90 degrees with an articulating keyboard tray. It's also the Best Sit-Stand Desk for Conference and Training Areas — Lifts to 79-inches High. Choose iPlanTables Industrial Workstations for Maximum Flexibility.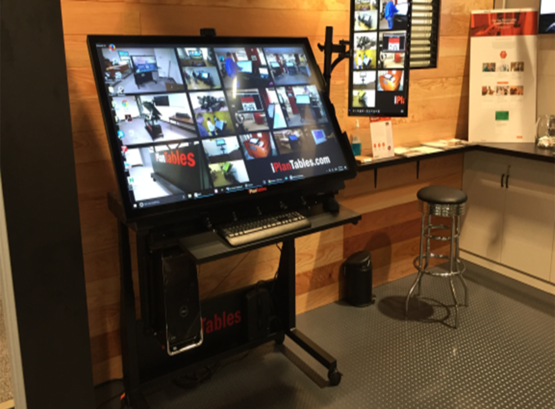 Our #1 Seller – a Complete Turnkey Workstation
Mobile Cart – 0 to 90 Degrees Electric Lift & Tilt
55″, 49″, 43″ 4k Wide-Format Touchscreen Monitors Available
Includes One 24-inch Rotating Side Monitor for a Multiple Monitor Sit and Stand Desk Workstation
i7 External PC Included (We Never Use Internal PCs) with 16GB RAM, 1 TB Hard Drive, 4GB Video Card
HD Webcam
UPS Battery Back-Up
Articulating Keyboard Surface
Wireless Full-Size Keyboard & Mouse
Surge Protector
Casters
Stylus Kit with iPlanTables Facility Manager Series Stylus, Microfiber Cloth, and Cleaning Solution
For more details follow us on Facebook