In the fast-paced world of plan reviewing and construction, or working with any wide-format document or image, you need a workstation that not only keeps up with your demands but also provides solutions to your most pressing challenges. iPlanTables offers state-of-the-art features, including 4K touch screen monitors, ensuring that you experience unmatched clarity and efficiency in handling your documents.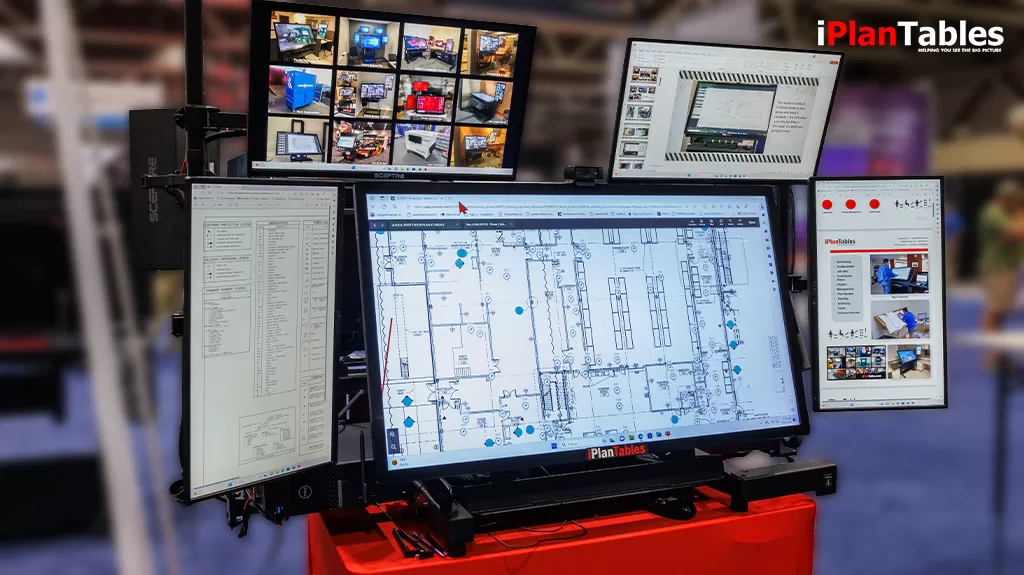 Unlock Paper-Based Document Challenges
Working with paper-based documents is a time-consuming process. It involves manual indexing, storing, retrieving, and handling of these documents, which can greatly hamper efficiency.
The iPlanTables Solution: 4K Touch Screen Monitors for Unmatched Efficiency
With iPlanTables, you can quickly access digital files, eliminating the need for physical storage and manual handling. Flip pages and find what you need in seconds, not hours.
From This…

To This… Click on the Video below to see our stalwart iPlanTables model — Facility Manager:
Secure. Efficient. Unbeatable Document Management

Paper documents are susceptible to damage from environmental factors and can easily be misplaced or lost.
The iPlanTables Solution: iPlanTables stores your files digitally, protecting them from physical damage and loss.
"You Don't Like Half-Size Prints-Why Would You Use Half-Size Monitors?"
Streamlined Communication with iPlanTables 4K Touch Screen Workstations

The iPlanTables lineup of workstations with customized 4k touch Screen monitors effortlessly tackles one of the biggest challenges in plan reviewing, building code enforcement, construction, engineering, archiving – communication.
Sharing paper-based documents among team members can be a logistical nightmare, especially when team members are located in different places.
The iPlanTables Solution: iPlanTables promotes real-time collaboration. Multiple users can view and edit the same document simultaneously, no matter where they are. Changes are saved and synced instantly, keeping everyone on the same page.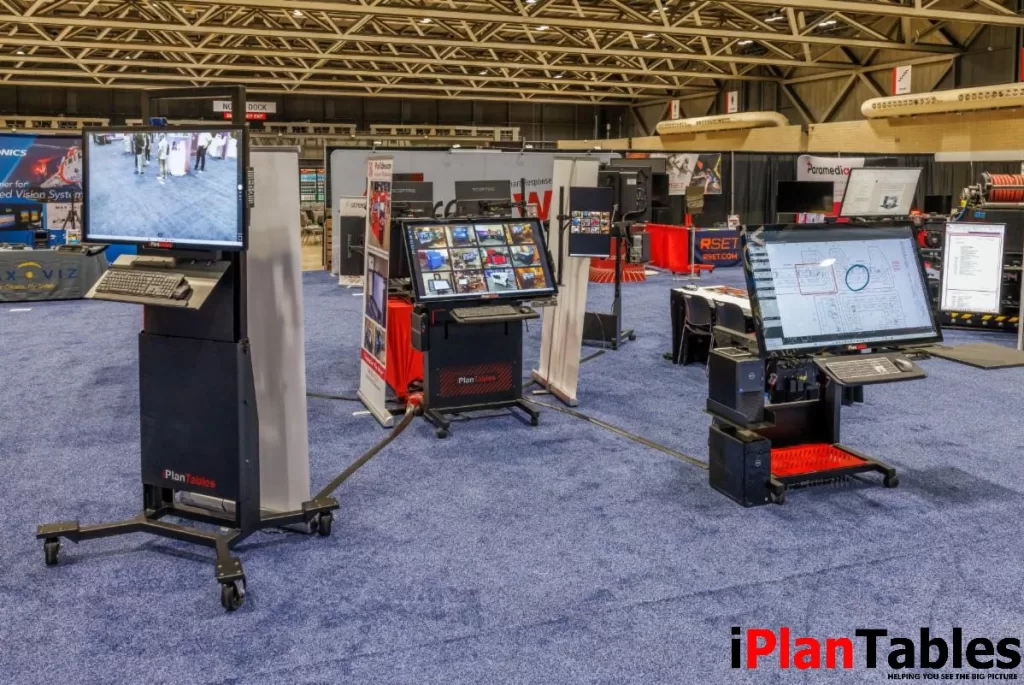 Innovative and Simple

With iPlanTables, innovation meets simplicity. Every component and accessory is thoughtfully designed to enhance functionality while being incredibly easy to use.

Experience efficiency like never before with the iPlanTables 4k touch screen monitor workstations – where your needs meet our innovation.

iPlanTables is not just a workstation – it's your ultimate solution to plan reviewing and construction plan challenges. Imagine a workspace where document management is a breeze, not a burden – that's what iPlanTables delivers.
Superior organization? Check.
Effortless and easy access? Absolutely.
Time and space savings? You bet.
Remember, with iPlanTables, it's not just about doing work; it's about doing work smarter.

Click on the link below to schedule a personalized live interactive demo webinar for you and your team. Pick a convenient time — allow about 30 minutes:
iPlanTables designs and fabricates its integrated mobile stands in the USA.

iPlanTables also partners with all major software's including Procore, Bluebeam, PlanGrid, ePlanSoft, PlanSwift and in fact we work with any Windows or browser-based software.

Looking forward to talking soon about your current process and how we might be able to help you save time and money by streamlining into a digital workflow.
Follow us on Facebook