The construction industry of today has advanced greatly from what it was in the past, drastically changing the way we approach collaboration, planning, and project execution. Major contributing elements to these game-changing improvements are technologies like a 4k touch screen plan table, which provides an exciting method for accessing information as projects progress.
At iPlanTables, you can find a high-quality touch screen plan table – perfect for reviewing ultimate construction details! Not only that, multiple support formats are provided with our product so construction plans, drawings and specifications documents (with standard and wide formats) can be handled effortlessly.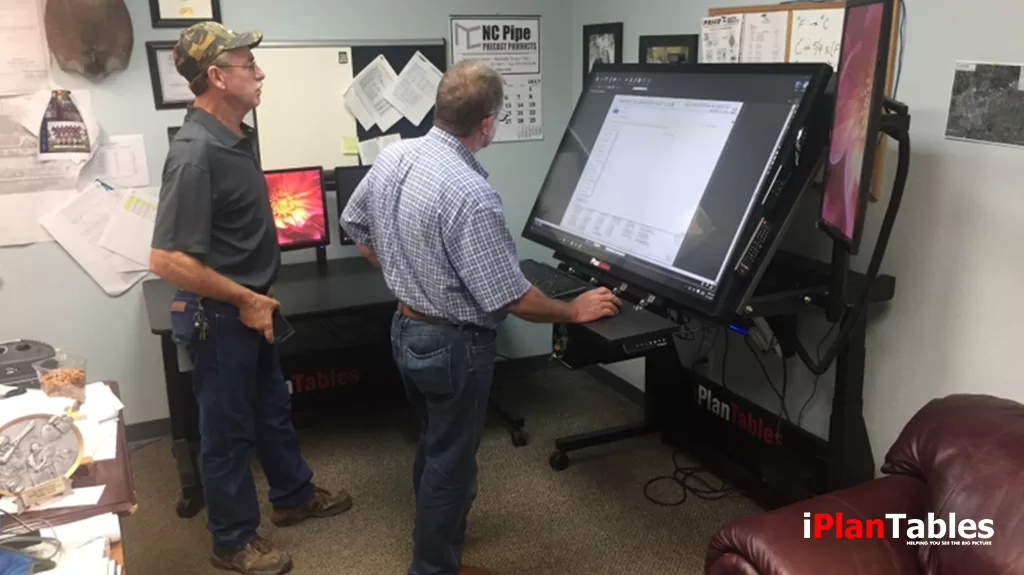 Make every moment of your project review moment count; choose a touch screen plan table designed to equip you with successful technology and instant access to detail. When you want an instantly accessible view of all specific requirements satisfied with real-time review accuracy then make sure you pick a Touch Screen Plan Table from iPlanTables.
Ultimate User Experience in Mind
Are you looking for a convenient and innovative plan table solution? Look no further. Our revolutionary, cutting-edge touch screen plan tables are designed especially with the user experience in mind – something you won't want to miss out on!
Our iPlanTables brand Touch Screen Plan Table Workstations are making waves in the construction industry because of their user-friendly features that makes it easier than ever to stay organized and invest your time in projects that generate profits for your business. The extras we offer also make it hassle free to review design output and get twice as much utility out of these easy–to–use touch screen display workstations.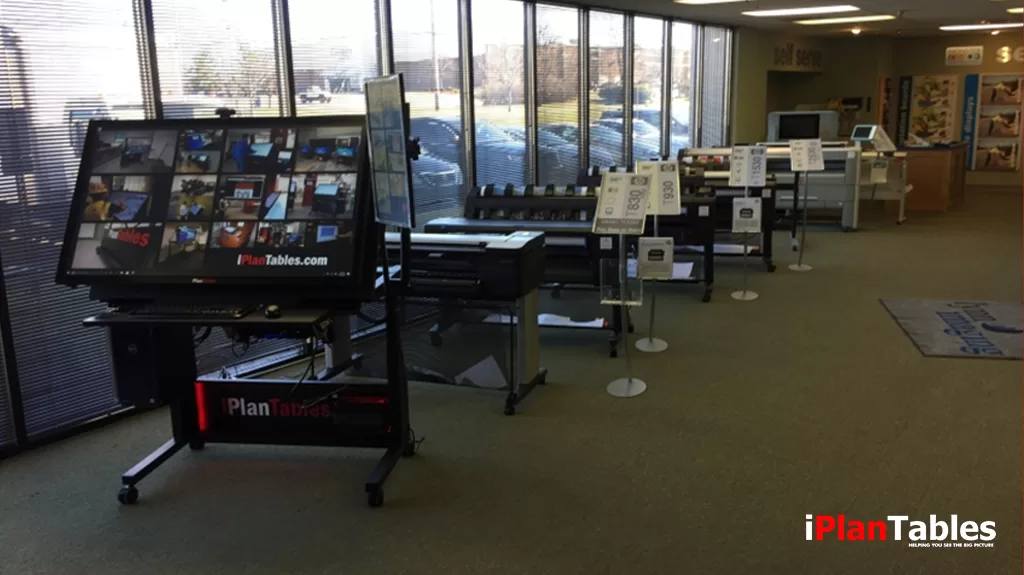 The best part is that you can use our fantastic workstation everywhere, both indoors in an office, or even at a jobsite trailer or building. Whether you're using one monitor with multiple outputs or changing settings with a few quick touches there's truly something different to love about our tables. Touch screen plan tables don't come better, more dependable than ours when it comes to revision management and efficient productivity, which makes them a good choice for both inexperienced employees and seasoned veterans.
Your satisfaction is always first and foremost at iPlanTables: take advantage of premium components and features, including 4k touch screen monitors in sizes ranging from 43-inches to 65 inches, battery back-up, webcam, and vital side monitors. That's why the iPlanTables brand Touch Screen Plan Table Workstation is the clear choice whether you're searching for a dependable touchscreen table or an inclusive setup ready to streamline many tasks quickly and efficiently!
High-Quality Image Display
Are you looking for an image display that's rich in detail, clarity and resolution? Look no further than iPlanTable's Ultra High Definition (UHD) 4K displays. Not only do these displays provide unparalleled clarity for viewing construction plans and engineering drawings, you will also notice extraordinary color depth, sharp blacks, vivid whites and true-to-life detail — allowing the precise visualization of the most intricate scrutiny. Assuring you of perfect blending of texture, tone and brightness – always resulting in a full and faithful representation of the document. The drawing. The photograph. Each displayed in their most natural form.
Ease of Use
If you're looking for simplicity, iPlanTables' 4k touch screen plan table is perfect for you. Our plan table is designed to provide an easy, intuitive user experience. Gone are the days of complicated keyboards and mice that leave a sour taste! You can now use advanced features such as pinch zoom and rotation with a single touch, making it easy to navigate quickly through documents large or small. No learning required – our product allows editing and annotating with ease which makes it simpler than ever before! Use your current Windows-based software! Whatever your project is, our plan table will be essential in helping you reach your goals with greater freedom and convenience!
When investing in a touch screen plan table for your office or construction site, it's essential to ensure that the tool can interface seamlessly with the devices and software programs you currently use. With iPlanTables, you can rest assured that our touch screen plan table is fully compatible with Windows and can use any software program you're currently using. With our workstations, there's no need for any additional software – simply plug in and access your documents, drawings, and plans with ease. From CAD software to Adobe PDF, to MS Office programs, our touch screen plan table supports it all, making it the go-to tool for all your office and construction needs. Experience the ultimate convenience, efficiency, and compatibility with iPlanTables 4k touch screen plan table.
With our touch screen plan table, you can invite project stakeholders to view, markup, and comment on construction plans from anywhere, at any time using your existing software or we can recommend some options for you.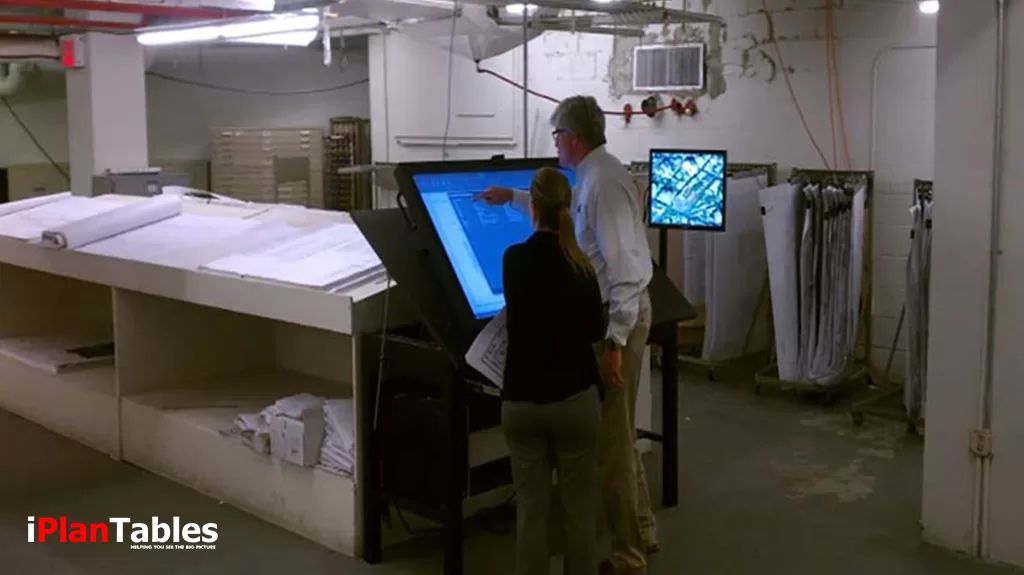 Compact and Portable Construction sites often have limited space, and bulky equipment can take up valuable real estate. iPlanTables' touch screen plan table is compact and portable, freeing up space for other important tools and equipment on the site. Our workstation can be easily relocated, making it ideal for field and office work.
Highly Durable and Rugged Construction sites can be tough environments, with the danger of dirt, dust, and debris damaging equipment. iPlanTables' touch screen plan table builds models that are built to withstand tough challenges with a durable metal frame and a rugged design. Our field plan tables are resistant to outdoor elements so you won't have to worry about damage during heavy use on busy job sites.
Custom Configuration to Meet Your Needs At iPlanTables
At iPlanTables, we know that every office has their own distinct needs and requirements. Our top priority is making sure whatever our touch screen plan table is used for, you'll get a setup and configuration designed just for you. Our range of different set ups provides an answer to the demands of any and all customers — from ones who need a rugged jobsite version all the way up to a more advanced in-office boardroom or conference room workstation edition. No matter where you are and no matter what your situation is, our customizable plan table will be able to create exactly what you need!
Multi-Purpose Capabilities
iPlanTables' touch screen plan tables offer an unprecedented level of multi-purpose capabilities for professionals in the construction industry. In addition to the valuable tool of reviewing construction plans, users benefit from enhanced productivity when accessing other important data — from code books to wide spreadsheets and drawings while still managing multiple projects at the same time! That's why architects, engineers, developers and general contractors cannot go wrong with touch screen plan tables. They take multifunctionality to a whole new level!
When it comes to touch screen plan tables, iPlanTables is the go-to brand for the most advanced, high-quality touch screen workstations available in the market. Our touch screen plan tables are durable, customizable, and portable – making them perfect for use in the field, office or even in the conference room. With intuitive touch-screen technology, and crystal-clear image displays, the iPlanTables Brand Touch Screen Workstation is the ideal solution for collaborating, reviewing and annotating construction plans, drawings, specs, code books, wide-format spreadsheets and documents. Upgrade your office processes and workflows today with iPlanTables and experience the difference in performance, productivity, and ease of use.
For more details follow us on Facebook