Why choose the iPlanTables 4K Touchscreen Wall Mount?
Articulating Touchscreen Wall Mount Functionality: Our device provides an all-new approach to managing and collaborating on wide documents with ease. An industry first! Setting the standard for viewing plans and drawings, iPlanTables Wall Mount monitor comes equipped with an innovative feature: an advanced articulating design that is the only one in the industry. The adjustable electric tilt options provide smooth, effortless maneuvering, allowing your team to work on wide documents with ease. No more wrestling with oversized construction plans and designs, or struggling to share plans with colleagues.
The Perfect Conference Room Upgrade! Ensure your meeting space truly stands out. Our Wall Mountable monitors workstation is available in 55-inch, 65-inch, and a showstopping 75 inches. Built for today's elite teams — and designed to collaborate seamlessly and unlock new levels of productivity.
Time and Cost Savings: By streamlining the management of wide-format documents, the iPlanTables Touchcsreen Monitor Wall Mount saves your business valuable time and money. Less hassle means more focus on what really matters—your projects.
Perfect for Online Meetings and Presentations: In today's digital age, virtual collaboration is essential. Harness the power of virtual collaboration to increase convenience and cost-efficiency. iPlanTables Wall Mount facilitates real-time meetings for teams. Clear communication and efficient decision-making are enabled by easy document display and discussion.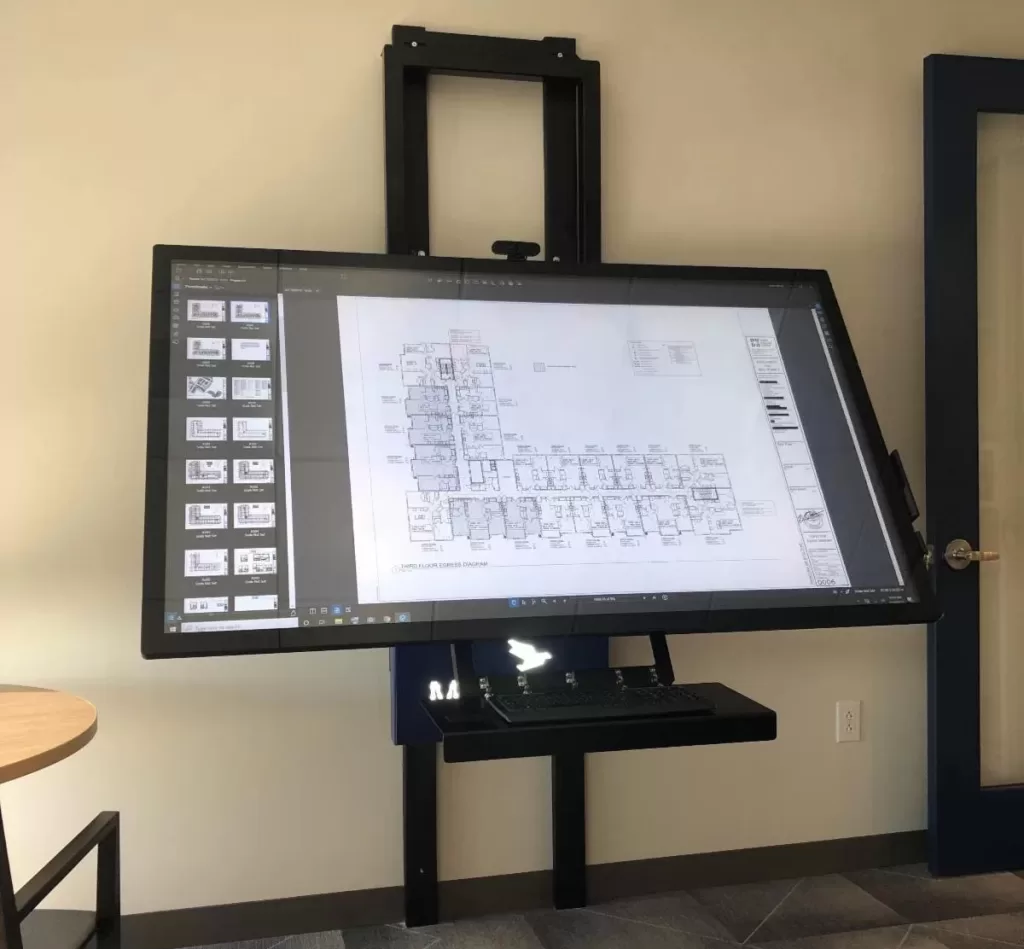 Innovation not Imitation
Compatibility and Effectiveness: The iPlanTables Wall Mount is compatible with all Windows-based software. Its sturdy design ensures secure document use. Ideal for construction industry professionals, plan reviewers, and anyone struggling to manage data on small monitors.
Efficient Design: With this efficient design, you can maximize and optimize space usage to fulfill all of your needs – from sharing documents with others in a conference room to examining plans up close.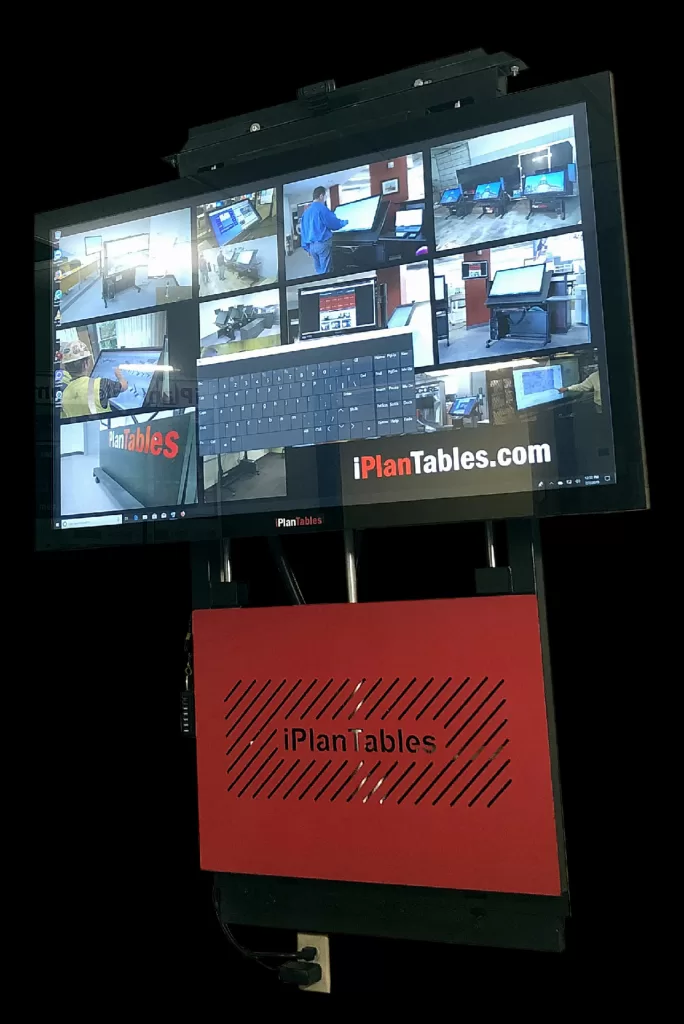 Unveil the Future of Seamless Collaboration with iPlanTables 4K Touchscreen Wall Mount
Easily transition from training mode to 45-degree collaboration mode with just a click of the remote. Witness the power of iPlanTables touchscreen wall mount in action! Click the link below now to watch the video and learn more about how iPlanTables can transform your workplace. Our Wall Mount model can be personalized with your own company nameplate and color.
Embrace the iPlanTables Revolution for Better Collaboration Now
Get the most out of your meetings with our collaborative touchscreen technology, delivering dynamic and visually appealing presentations. From brainstorming sessions to project demonstrations, our collaborative touch screen fosters a culture of innovation and productivity, making your meetings a success.
Don't let unwieldy documents slow your business down. Embrace the future of document management with the iPlanTables Touchscreen Wall Mount and watch your team's productivity, collaboration, and efficiency soar!
Upgrade your document management system today and experience the difference the iPlanTables Touchscreen Wall Mount can make. Click the link below to learn more.
At iPlanTables, our mission is to give businesses like yours a reliable source of technology solutions that will improve collaboration efficiency and boost productivity levels. So why wait?
To get started today, simply click below to set up a convenient time on our calendar to talk about your current office setup and processes and how we can help.
Follow us on Facebook.